Organic T-shirt Printing & Embroidery, for your business or brand.

Professional digital mockups and every order checked by an expert as standard. You can expect quality & service like no other.

How many items do you need?
Trusted by the worlds best:
Organic T-shirt Printing & Much More
Sustainable t-shirt printing isn't a marketing campaign for us, nor a set of nicely curated pages. From day one our business has been built with sustainability in mind. 
Whether you need organic t-shirt screen printing, embroidered organic hoodies or even organic polo shirts, we've got you covered. In fact, we stock the largest range of organic, ethical and Fairtrade garments in Europe. This combined with revolutionary eco-friendly printing undertaken here in the UK, alongside the most environmentally sound embroidery threads in the world, we're the market leader. All of the products are specifically designed with printing in mind making these a great choice for ethical & sustainable printed or embroidered clothing.
We have no minimum order, ensuring our award-winning organic T-shirt printing is accessible to anyone, whether you need 1 product or 1000+.

Social Responsibility
To ensure the highest ethical standards, our product range is ethically certified; our production factories are pro-active, holding social responsibility programmes and being members of the Fair Wear Foundation (FWF). FWF are an independent non-profit organization that works with companies and factories to improve labour conditions for garment workers.
All of the facilities involved in manufacture are regularly audited for social compliance and are actively monitored, to ensure the high level of standards required for FWF membership are met (the findings are reported and publicly available). In addition a number of projects are undertaken each year to consistently push towards better standards across the industry.
Sustainable Manufacturing
A number of measures have been implemented to ensure the highest standards across all of the products. This starts with the raw materials, choosing low impact cotton, 100% organic cotton, bamboo, Tencel® Lyoce, and recycled polyester to name a few of the materials used across the products. Additionally all products with the EarthPositive® label are regarded carbon neutral (Carbon Trust certified), with the production facilities powered entirely by wind turbines.
All fabrics across the product range are dyed with organic approved chemicals, with use of low-water and controlled waste discharge processes; both certified to OEKO-TEX 100 Class I, and conforming to REACH.
The organic cotton products are dyed in a zero-discharge dyehouse, which operates a closed-loop water system.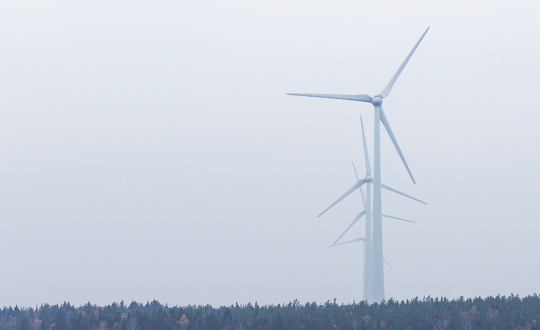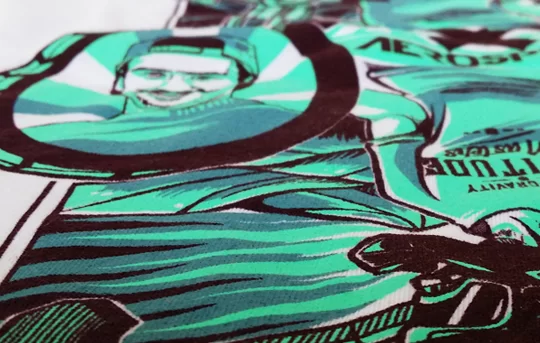 Market Leading Print & Embroidery Technology
Printing & embroidery can be very resource and material intensive, so at A.M. Custom Clothing, making this element of our production as environmentally friendly as possible is crucial. We use some of the most advanced print technology in Europe, ensuring optimum efficiency and minimal environmental impact. A by-product of this technology is the superior quality we're able to deliver.
We have no minimum order so whether you're just starting out or are a global brand you can benefit from our eco friendly organic t-shirt printing.
How many products do you need?
Printed Ethical
T-Shirts
For Twinings
Organic T-Shirt Printing
for Elephant Branded
Ethical Long Sleeve Tops
for Uber Eats
Embroidered Organic Hoodies
for Elephant Branded
Wholesale Organic Printing in the UK & Europe
Organic certification isn't just for fruit and vegetables. We stock one of the widest ranges of organic cotton products in the UK and Europe respectively. This range includes organic cotton ethical T-shirts, that can be purchased blank or printed with your logo or design. 
Whether it's for uniforms for your team, merchandise, or promotional items, purchasing organic clothing products helps to protect the people making your products as well as the environment. These are an amazing way for your brand to show the world you practice the values you preach.
Moreover, organic cotton is super soft and durable. When combined with our market-beating print and embroidery technology, you can ensure garments that look and feel the part.
Printing on Organic Clothing
Getting the best print results is all down to the machinery and inks you use, which is why we only use the best. We use eco-friendly inks, combined with innovative technology to deliver the highest quality with the smallest environmental footprint possible. Choosing the ethical option doesn't mean having to compromise on quality.
How Much Do Organic T-shirts Cost?
The price of organic T-shirts is becoming increasingly competitive, with a marginal difference between organic T-shirts and conventional cotton T-shirts. In some instances, products like organic polo shirts are actually more economical than their conventional cotton counterparts. 
The only time there is a significant price difference is on items like hoodies and sweatshirts, due to the nature of these products, the price difference is still a little higher compared to conventional cotton and polyester blends.
As a result of economies of scale, the more you buy the greater the savings. So when purchasing 25 or more of our organic clothing in bulk the price difference becomes smaller.
But don't just take our word for it: "The T-shirts are great quality, we were very proud to be wearing them during our events".
Divine Chocolate
How Can A.M. Custom Clothing Help With Organic Clothing?
A.M. Custom Clothing was founded with the mission to improve access to organic and ethical clothing. Our focus is supplying wholesale ethical organic T-shirts, sweatshirts, polos, and other garments to businesses, universities, charities, and other organisations to help them to achieve their sustainability targets.
Frequently Asked Questions About Printing on Sustainable Organic Clothing
Organic cotton T-shirts are the most eco friendly when compared to bamboo. 
While bamboo is better for the environment than synthetic materials like polyester, it's far from perfect. As you can imagine turning a tough wood-like plant, such as bamboo, into a T-shirt is a lengthy process and requires a lot of water and energy. 
Additionally, a number of chemicals need to be used to soften the bamboo, which in some instances, can harm ecosystems. It's these elements that make organic cotton the best choice from a sustainability perspective.
We only recommend bamboo T-shirts in instances where it's being used as an alternative to a synthetic fabric like polyester. Polyester is made from plastic, making bamboo a better and more eco-friendly option.
Want to know more? You can read more about
Bamboo vs Organic Cotton T-shirts
to better assess which option is best for you if you are considering bamboo.
Recycled T-shirts are a fantastic innovation, allowing us to re-use plastic bottles in clothing products like T-shirts. In the context of clothing, this plastic is called 'polyester' (PET) or 'recycled polyester' (RPET) when it's made from recycled bottles.
However, from a sustainability standpoint, custom organic T-shirts are a better option. While recycled plastic is better for the environment than new plastic, it is still inherently a plastic. 
Recycled polyester products still give off microplastics that can end up in our oceans and there are limits to how many times they can be recycled. 
With this in mind, we always advise using organic cotton for your custom T-shirts where possible. Organic cotton is a natural material, making it better for the planet at all stages of its lifecycle.
It's important to understand that while organic cotton is typically the best option for the environment, it's not always practical or suitable for the use case. Sportswear is an excellent example of a situation where recycled polyester T-shirts may be the best fabric choice, standing as a far better alternative than virgin polyester or synthetic materials. For this reason, we do stock recycled polyester T-shirts and clothing products, ensuring we're providing the best options for all use cases. 
You can, of course, use organic cotton for your sportswear. However, it won't have the same wicking properties as recycled polyester clothing products.
There isn't a simple answer to this question as it really depends on the circumstances.
If you're doing a long print run with a single colour design, screen printing your organic T-shirts could be deemed as the most eco-friendly option because the production time is significantly quicker than other print methods, making it far less energy-intensive. 
Combine this with eco-friendly phthalate-free ink and factories powered by renewables would make this the best option. 
However, if doing a short run of 10 T-shirts, DTG printing would be the best option, as while it would take a little more time per T-shirt, the materials and energy demand overall would be lower. DTG printing uses water-based NeoPigment inks that are non-toxic, biodegradable, and vegan, making it a great option.
Embroidery is another method to consider. If doing a larger production run, this is a great process and we use the most environmentally sound threads available.
So in short, there is no 'most eco-friendly print' option. It's entirely dependent on your order quantity, your artwork and the fabric composition.
In short, there is no 'best print method' for your T-shirt printing. The best print method depends on the order size, the artwork being printed and the fabric composition. 
We offer a range of print methods, the most popular among these are screen printing, DTG printing, vinyl, and transfer printing, as well as embroidery. Each one has its own merits, with some working better than others in certain circumstances. 
For example DTG printing would be perfect for a small run of printed organic T-shirts, whereas screen printing would likely be better for a larger run of 1,000. 
Vinyl, transfers, and embroidery lend themselves to small orders of products like coats, where DTG and screen printing are not possible. 
We don't expect you to be a print expert, so for this reason unless, you specify otherwise, our expert print team will always select the most suitable print method for your order, that will ensure you get the best print results.
This is dependent on the artwork and quantity of organic T-shirts you were buying. However, typically we'd either Direct-to-garment (DTG) print organic T-shirt, or on large volumes we'd screen print.
You can find out more about what print method will work best for your order in our help centre. However, we don't expect you to be a print expert; so for this reason unless you specify otherwise, our expert print team will always select the most suitable print method for your order, that will ensure you get the best print results.
Many people believe that using organic cotton T-shirts is expensive, however that isn't the case. 
The price of printing onto organic T-shirts and garments is becoming increasingly competitive, with the difference between organic cotton products and standard cotton being quite small, particularly on items like T-shirts, where in some instances it can be as little as a few pence.
Prices for a large order of organic screen printed T-shirts can be as low as £3.61 + VAT per product.
At A.M. Custom Clothing, we've been selling ethically produced, organic and Fairtrade clothing for the best part of a decade and have built a huge selection of sustainable and ethical options. 
You can buy our organic clothing, and ethical T-shirts directly from our online store. You'll also find a range of recycled items, including T-shirts, sweatshirts and bags. 
If you're after a bulk order of 25 or more, you can request a quote.
Organic cotton is typically a higher grade when compared to conventional standard cotton. Therefore, it typically has a softer hand feel. This higher quality also ensures exceptional print results when you buy personalised sustainable clothing with your own logo or design.
A T-shirt doesn't need to be heavy in weight or super thick to be durable, organic cotton T-shirts are testament to this. They'll last just as long, if not longer than conventional cotton T-shirts, even ones that are heavier.
It's important to understand that the thickness of a T-shirt isn't a complete or accurate indicator of quality. The cotton used is the best indicator. 
With our organic T-shirts, you can rest assured that 100% quality organic cotton is used in the manufacture.
There are two important factors in sourcing the best print company for your organic T-shirts.
The first factor is print quality. If a supplier is using cheap inks or low quality machinery, the odds are your prints are not going to come out well and they won't be durable. 
Do your research and ensure the supplier you choose is using top quality machinery and inks. That way you can be sure you're buying T-shirts that look great and will last.
You can read more about our print machinery and inks on our eco friendly t-shirt printing & embroidery page. 
The second factor is the garments themselves. The quality of T-shirts can vary quite drastically from supplier to supplier, so we'd always recommend purchasing a sample or a smaller order first to ensure you're happy with them. 
Our organic collection has been handpicked so you can be sure all of the garments are to the highest quality standards.
All of our organic products are certified by reputable third party organisations, ensuring you have a 100% guarantee that the T-shirts on your order are made from organic cotton. These products are also ethically accredited, ensuring the highest sustainability and ethical standards are upheld.
Our core range of organic T-shirts and clothing products are vegan certified by PETA, ensuring no animals or animal products are used in the production of the garments.
We strive to reduce our environmental impact and use of plastic. With this in mind we typically ship orders in cardboard boxes, without any individual bagging, ensuring no plastic is used.
Complete Transparency 
We believe in complete transparency, which is why you can view detailed supply chain information, enabling you to see the product origins.
With over 4000 brands & an ever changing dynamic supply chain it's impossible for us to provide detailed supply chain information on every single product & supplier. If you are interested in more information on any of our products, please get in touch to request more information.