Sustainable custom corporate clothing & uniforms
Sustainable custom corporate clothing, for your business or brand.

Professional digital mockups and every order checked by an expert as standard. You can expect quality & service like no other.
How many items do you need?
Sustainable custom corporate clothing & uniforms
Sustainable custom corporate clothing, for your business or brand.

Professional digital mockups and every order checked by an expert as standard. You can expect quality & service like no other.
How many items do you need?
Trusted by the worlds best:



Printing clothing for brands, universities, charities and bands
Printing clothing for brands, universities, charities and bands
Embroidered wholesale clothing for brands, universities, charities and companies - copy
Corporate Branded Clothing for Your Company
We keep things simple, to get started just let us know how many items you need. 
If you'd like to learn more about corporate branded clothing with A.M. Custom Clothing, scroll down and read on.
A one-stop shop for corporate clothing and workwear
Whether you need T-shirt printing, jacket embroidery or complete customisation, we can help.
With huge capacity, dedicated account managers and a wide variety of services, we're the one-stop shop for all of your needs. We provide a different calibre of service that others struggle to rival. This helps to keep things simple and all in one place. 
At A.M. Custom Clothing, our core values are innovation, sustainability and customer-centricity. We pride ourselves on market-beating retail level services and transparent communication. This is why we're the trusted supplier to many of Europe's biggest brands.
Company branded clothing with no minimums and huge capacity
No matter what the size of your company, you can order with A.M. Custom Clothing. We have no minimum order, so you could purchase as little as one single embroidered fleece. This is perfect for both small teams and larger companies looking to top up their workwear. 
We also have the capacity to print and embroider 5000+ products a day, making us a great choice for larger enterprise businesses, with multiple teams and departments.
Need Support?
Not sure what you need, or need some support? Get in touch with one of our experts.
Why Us?
Not sure if we're right for you? Take a look at some of our recent customers and what they had to say here.
You can also find out more on what makes us a little bit better than your average screen printer here.
Company swag for your teams, wherever they are
With remote working increasing and teams often being distributed geographically both nationally and internationally, corporate uniforms and company swag is often one of the elements underpinning company culture and uniting departments. It's also one of the elements that can become very complex.
With years of experience in supplying brands across the globe, we make supplying your teams simple, no matter where in the world they are. When working with A.M. Custom Clothing you can expect:

Global shipping for worldwide teams
Delivery to individual staff addresses or regional offices
Storage and fulfilment services
Custom company order portal options
All services in one place for ease and convenience
Ability to order your corporate uniforms online
With production facilities located in both the UK and EU, we're experts in global fulfilment.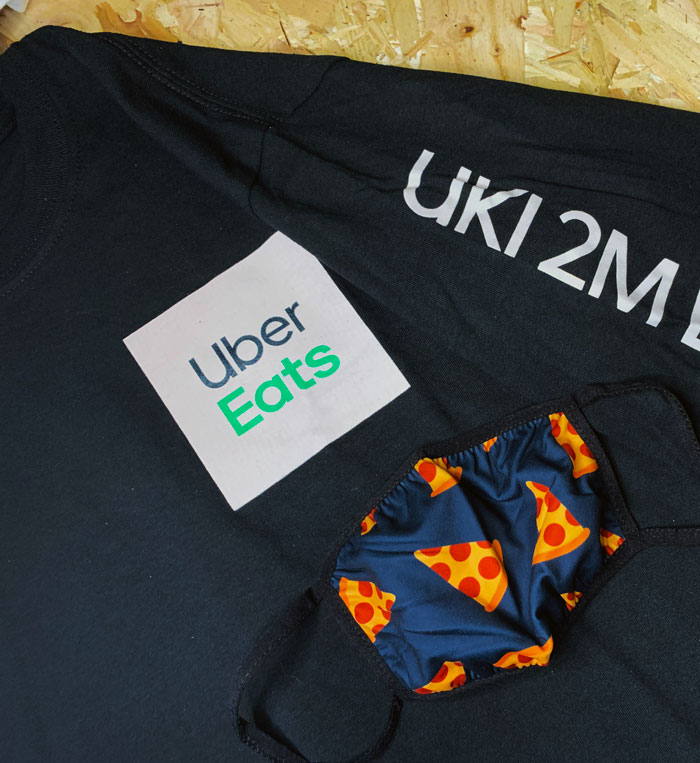 Popular corporate workwear options
We stock over 17,000+ product options, however, some of our most popular products for corporate uniforms include: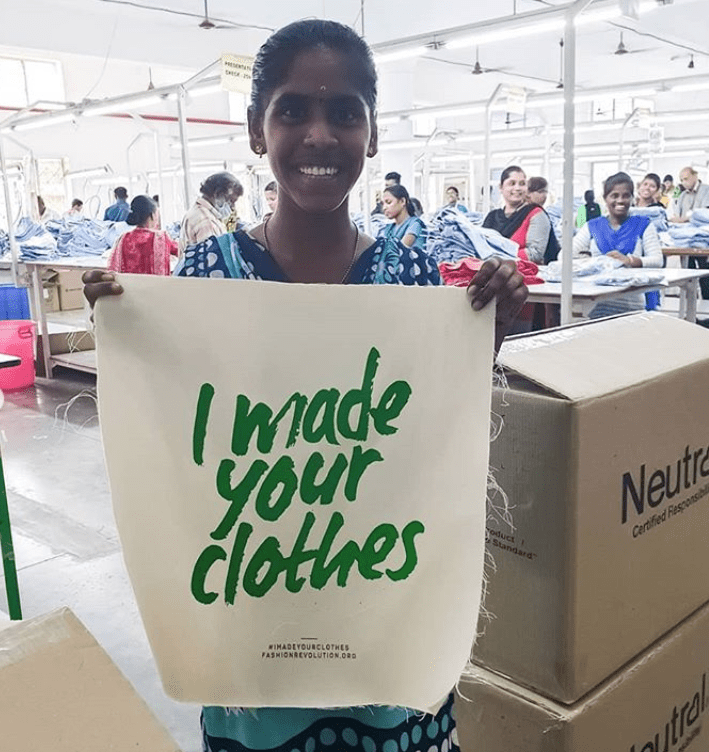 Sustainable branded corporate wear
We aren't working towards sustainability; our business is built on it.
Going green isn't a marketing campaign for us, or just a set of nicely curated pages. From day one of business, it's been our main focus, it's in our DNA. 
We cover all bases, with products made from natural fibres like organic cotton and recycled cotton, right through to synthetic options such as recycled polyester. Through this broad range of fabric options, we offer the widest range of environmentally and ethically sourced custom clothing items in Europe. This ensures our customers are able to access the products they need without compromising on their values. 
Your corporate branded workwear is also another element that can help get you closer to Net Zero, with many of our ranges produced in facilities powered entirely by renewables.
You can find more details about our award-winning commitment to genuine sustainability on our Environment and Ethics pages.
Premium corporate clothing
Company culture is quickly becoming an integral part of building brands that thrive in today's economy. No longer are oversized poorly fitted staff uniforms the expectation.
Brands are now leading the way when it comes to fashion, with many going above and beyond to provide their staff with premium corporate clothing that they are proud to wear.
We don't just specialise in unbranded wholesale clothing that you can add your logo to. We also offer major brands like Patagonia, Nike, North Face, Helly Hanson, and many other premium outdoor labels. If there is a brand you're looking for, don't hesitate to get in touch with our team.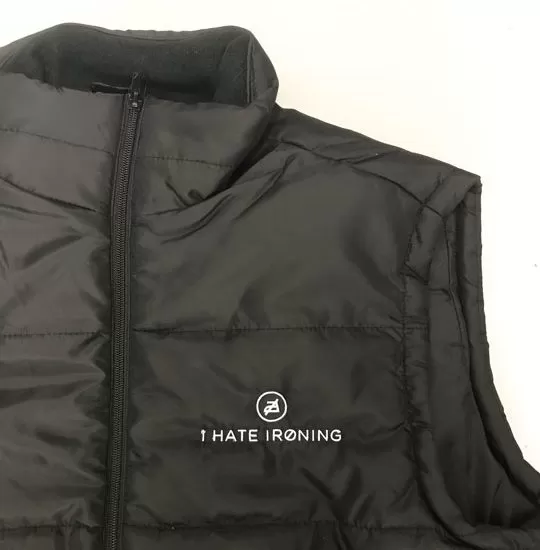 Why trust A.M. Custom Clothing with your corporate clothing?
The best quality 
Not all prints are born equal. Machinery can vary greatly with some setups costing just a few hundred pounds and others worth hundreds of thousands of pounds. With this in mind, it's hardly surprising that there can be such differences in quality.
Quality is often dependent on technology and the people using it. This is why our expert print team use some of the leading screen print technology available in Europe, ensuring unrivalled precision and quality. 
Your brand is everything and first impressions count, so when it comes to your printed clothing, don't settle for second best.
We've been regarded by Digital Arts Magazine as one of the "Best places for T-shirt printing" and by Forbes Magazine as "The go-to supplier for ethical and environmentally sound custom clothing and branded uniforms."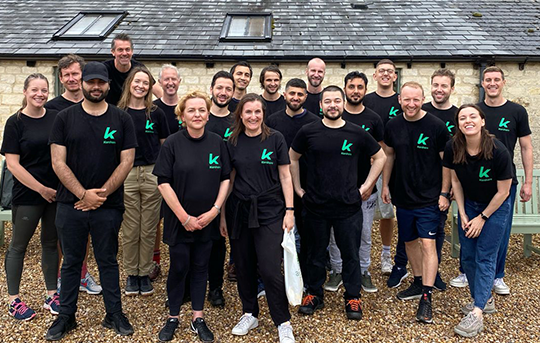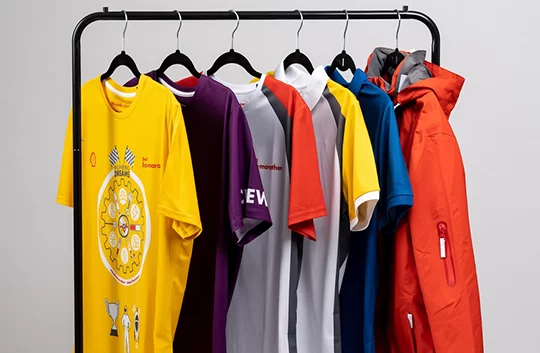 Lightning-fast quotes and easy online ordering
Ordering corporate branded workwear online shouldn't be hard. Yet it often is, with confusing setup fees and antiquated quoting systems slowing everything down.
We're all about making things as simple as possible. Thanks to our pioneering technology, we'll have a bulk order quote in your inbox within seconds. Alternatively, if you're looking to make a small order, our DTG technology means you can purchase printed garments online.
With A.M. Custom Clothing, ordering corporate uniforms has never been easier.
Every order checked and great customer service
While our process may feel a little automated, there is lots going on behind the scenes. 
No matter how big or small your custom screen printing order, you can rest assured you'll get the same brilliant service, from our award-winning team.
On every bulk order, you'll be assigned a dedicated account manager and graphic designer, ensuring you're supported at every stage of your order by someone who knows your order inside out. 
Unlike others, we don't just send your order straight to print, we'll provide you with professional digital mockups free of charge and have our graphic design and print teams check it over before it goes into production. 
This ensures nothing goes to print until you're 100% happy.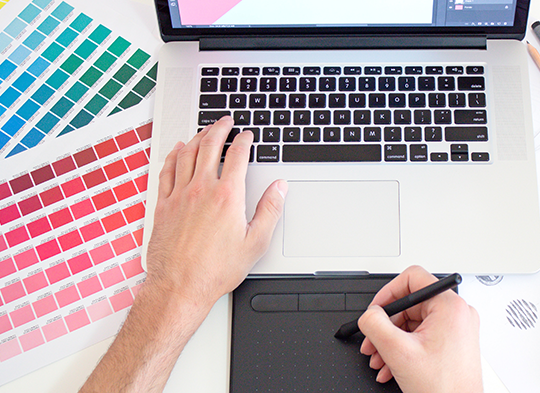 Behind the scenes
You can get a behind the scenes look at all of our market leading print technology in the video below.
Frequently Asked Questions about Corporate Branded Clothing
Helpful articles from the Blog
How many products do you need?