All-Over T-Shirt Printing UK
All-over printed t-shirts, for your business or brand.

Professional digital mockups and every order checked by an expert as standard. You can expect quality & service like no other.
Trusted by the worlds best:



Printing clothing for brands, universities, charities and bands
Printing clothing for brands, universities, charities and bands
Embroidered wholesale clothing for brands, universities, charities and companies - copy
Need all over T-shirt printing, with full print coverage? Dye Sublimation printing is the answer.
All-over printing has taken the fashion industry by storm. This has seen many of our fashion clients grace the pages of leading publications, including Vogue and GQ.
We're experts when it comes to sublimation printing, specialising in all-over t-shirt & vest printing. This process isn't just for fashion brands; it's perfect for any business, brand or band looking to stand out.
We can print all-over 1 side or both sides of your t-shirt. Additionally, our use of revolutionary new technology ensures no large white gaps under the arms (something common with sublimation printing).
Sublimation inks only stick to polyester, so we always advise going for 100% polyester t-shirts for the best results. We can also print onto poly-cotton blends, however, the print won't be as vibrant compared to our 100% polyester products.
Quality is everything, so don't leave it to chance. As a market-leading supplier to some of the largest brands, we're a production partner you can trust.
6 Reasons to Sublimation Print
1. All over printing.
2. Cost effective for larger volumes.
3. Lasting finish that won't crack or peel off.
4. Stunning Inks that do not fade easily after washing.
5. Fast turnaround times & free digital mockup with all orders.
6. Highest retail quality, with all of our printing & finishing undertaken here in the UK.
Need Support?
Not sure if sublimation printing is right for you, or need some support? Get in touch with one of our experts.
Why Us?
Not sure if we're right for you? Take a look at some of our recent customers and what they had to say here.
You can also find out more on what makes us a little bit better than your average sublimation printer here.
Get a Quote
Think Sublimation Printing is for you?
Request a quote today, and we'll aim to get back to you in under an hour! 
All-Over Sublimation Print T-Shirt Examples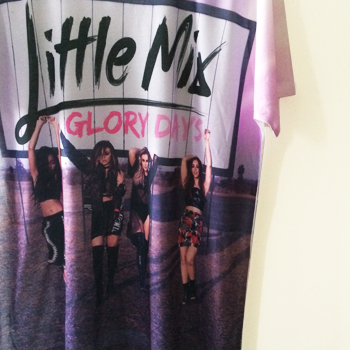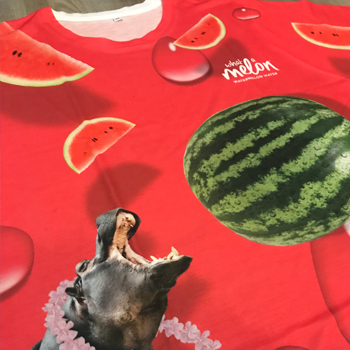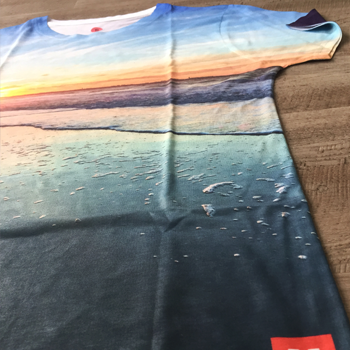 How Sublimation Printing Works
The process starts with the artwork being printed onto high release paper substrate, this imagery is then placed under heat and pressure, with the heat allowing for the solid inks to become gasses, which can then transfer into the fabric of the garment.
The technique allows allover printing, meaning coverage of print across the entire garment, in full colour. Superior softness is maintained across the fabrics, as a result of the inks being absorbed into the products, unlike many other print techniques.
All-over T-shirt printing with no minimum order
Yes, you read it right, we have no minimum order for all-over T-shirt printing! Whether you need a single custom all-over printed T-shirt for a giveaway or thousands for merchandise, we can help.
Quick Tips?
Not sure what format your artwork needs to be in for Sublimation & DTG Printing? Find out more here.
Need some design advice? Our Design Resources section is filled with lots of tips and tricks.
Behind the scenes
You can get a behind the scenes look at all of our market leading print technology in the video below.
Please fill out the form below to get started.
We've made buying custom products easy with this handy form, just enter your requirements, and we'll get back to you in minutes! We know it looks long, but this form will take less than 2 minutes and will enable us to get pricing and details over to you quicker.
Frequently Asked Questions About All-Over T-shirt Printing
Generally, if you require all-over printing, we'll use a process called dye sublimation printing. The process of all-over sublimation printing allows you to get seam-to-seam print coverage on your custom T-shirts. 
This process is perfect for creating striking T-shirts that stand out from the crowd.
Compared to standard T-shirt printing, all-over T-shirt printing can be quite complex, so we don't sell these products in our Online Shop. 
We keep things easy, just fill out the form at the bottom of this page and we'll send you our all-over T-shirt printing guide, which contains lots of helpful information and tips, alongside our sublimation print pricing.
If you're happy with the pricing, just send us your designs and let us know how many all-over printed T-shirts you want.
Once you've paid for your order, we'll send you professional digital mockups to ensure you're happy with everything before it goes to production.
It really is that easy!
If you want all-over print coverage, yes. Dye-sublimation printing is lightweight, so much so the fabric feels almost the same as it would have prior to printing. 
Sublimation prints are absorbed into the T-shirt's fabric instead of sitting on top of it. This means that the print is soft and can move/stretch with the fabric without being damaged. 
This makes dye sublimation the ideal choice for all-over print coverage, compared to screen printing, which is far better suited for placement prints.
On the other hand, if you just need a small logo or graphic printing onto the front (or back) of a T-shirt, screen printing or DTG printing is likely more suitable than dye sublimation printing.
What lasts longer sublimation or screen printing?
We use the very best inks and machinery, with this in mind, both print methods should last the lifetime of the garment. If you need all-over printing, dye sublimation will be the most suitable production method.
No, screen printing doesn't really lend itself to all-over coverage. With this in mind, we don't offer all-over screen printing, and recommend choosing T-shirt sublimation printing to get all-over print coverage.
In short, no. For sublimation printing, we advise printing onto 100% polyester garments to achieve the best results. It's not possible to sublimation print onto cotton garments as the inks will only stick to polyester. 
While it is possible to sublimation print onto some poly-cotton blend products, we don't recommend it as inks will appear slightly faded.
We do not offer sublimation printing onto other types of fabrics and can't print onto products you supply us with.
If you require printing onto other fabrics, let us know and we'll suggest a suitable alternative print method.
All-over T-shirt printing is made possible with a really cool scientific process called sublimation printing. To make this work, we initially print your design onto a "high release paper substrate". We then place this paper above and below the T-shirt. 
The T-shirt and papers are then placed under heat and pressure, which facilitates a chemical reaction where the solid inks become gasses and then transfer into the fabric of the garment. This is one of the few chemical reactions where the solid doesn't turn into a liquid before becoming a gass. That's pretty cool, right?!
The end result is your T-shirts with all-over print coverage!
You might be wondering, how much does all-over T-shirt printing cost? All-over T-shirt printing can cost as little as £3.51 if you're ordering in bulk, making custom all over print T-shirts very affordable. All of the printing is done here in the UK using our market-leading machinery.
Just fill out the form at the bottom of this page, and we'll send you our all-over printing templates and our dye sublimation T-shirt printing guide. This will give you all of the information you need to make your T-shirt ideas a reality.
Sublimation garments start off white. Your design and colours are applied to it with all-over coverage. If your design has a black background or significant amounts of solid black, we'd recommend reading this article on sublimation printing black T-shirts.
Sublimation inks are literally absorbed into the fibres of your T-shirt. So when you combine this with our market-leading technology, you can be confident that your sublimation printing should last the lifetime of the garment.
For all-over T-shirt printing, yes sublimation printing is a better option as DTG printers don't allow for all-over print coverage. 
However, for a full-colour placement print, DTG is often a great choice.
We offer thousands of different product choices with a whole host of different print and embroidery options. However, if you're looking for all-over printed clothing, then T-shirts are the only option we have available for use as fashion and merchandise. While these T-shirts are made from polyester they don't have the sporty football shirt style shiny feel to them, making them ideal for fashion and merchandise products. 
If you're looking for all-over sportswear, we do have a wider range of products that we're able to all-over print. If you'll find more information on this on our sublimation sportswear page.
Yes, our standard sublimation T-shirts are great for sport, or if you'd like something made from performance fabrics, head over to our sublimation sportswear page.
Unfortunately not. For all-over printing, generally a process called dye sublimation is required. The dye sublimation inks do not stick to cotton, and only stick to polyester. As a result we're not able to offer all-over printing onto Fairtrade or Organic T-shirts, as both are made from cotton.
As polyester is a synthetic fibre, this cannot be certified as organic or Fairtrade.
While you may have more commonly heard of 3D printing in relation to the cool technology that's now allowing us to print 3D objects from our homes. It's also a term some use when describing all-over T-shirt printing, this terminology is more common in the US than it is here in the UK. 
So if you hear someone describing your T-shirts as 3D printed you now know what they mean!
If you searched Google for all-over T-shirt printing UK, we likely popped up in your results, as all of our standard T-shirt printing is done here in the UK. The only exception to this is sometimes where a cut and sew process is required for custom-designed sportswear. 
We have locations across the UK including, London, Manchester, Chester, Edinburgh, Birmingham, Wales and more, this ensures we're able to provide you with a rapid service no matter where you are in the UK. We can also ship and deliver globally, so whether you're in the UK, Europe or further afield, you can still benefit from our market leading products and print quality.
White creases and gaps under the arms of sublimation printed T-shirts has been a common problem in the industry for years. However, you will be glad to know that we use some of the most advanced technology available in Europe, which allows us to achieve all-over print coverage with virtually no white creases/gaps.
Due to the nature of sublimation printing, you may find that the print fades slightly towards the seams, this is unavoidable. This is less noticeable on busier designs, such as an all-over printed photograph but will be more obvious where blocks of solid colour are used. This is industry standard, and our market-leading technology ensures this is as minimal as possible with this print method.
On occasions, you may find small white creases in the design. We use market-leading technology to reduce this but it's not totally un-avoidable 100% of the time.
You can read more information on how we minimise gaps fading, alongside seeing examples of our work in our Standard Sublimation Printing Coverage and Recommendations Guide.
Additionally, through having no minimum order, you can purchase single units prior to a bulk order so that you can test your design before committing to that bigger order.
We get a lot of requests for cut and sew, but, in most instances, it's not necessary. If you require all-over printed T-shirts, generally our standard options will be more than sufficient. If you're unsure on whether you need cut and sew production, just get in touch with us using the form below and we'll be able to advise you. 
Or if you'd like to compare both options yourself, our Sublimation Printing Vs Cut and Sew guide is a great place to start.
We print the body of the T-shirt and sleeves at the same time, under one giant press so it's not possible to have sleeves designed differently to the body of the T-shirt on our standard products. 
The T-shirt body design needs to flow onto the sleeves. This same rule applies for the collar and hems of the T-shirt. We also can't offer unprinted contrast sleeves either.
We find printing your designs in this way allows for the best print coverage results and optimal accuracy. If you're unsure if your design is suitable, check out our guide on Sublimation Printing - Sleeve Design, where you'll find more information and visuals to explain what is and isn't possible.
Yes, they can. You could have a totally different design on the front of the T-shirt compared to the back.