UK Embroidery Service for workwear, uniform & merchandise
Sustainable custom embroidered t-shirts & clothing, for your business or brand.

Professional digital mockups and every order checked by an expert as standard. You can expect quality & service like no other.
How many items do you need?
UK Embroidery Service for workwear, uniform & merchandise
Sustainable custom embroidered t-shirts & clothing, for your business or brand.

Professional digital mockups and every order checked by an expert as standard. You can expect quality & service like no other.
How many items do you need?
Trusted by the worlds best:



Printing clothing for brands, universities, charities and bands
Printing clothing for brands, universities, charities and bands
Embroidered wholesale clothing for brands, universities, charities and companies - copy
We keep things simple, just let us know how many products you need, and we'll send you in the right direction.
We use Madeira Threads, the gold standard for embroidery threads. As a result you are guaranteed the highest quality products, manufactured using the most ethical and environmentally friendly processes, through a responsible supply chain.
Additionally due to the highest quality in colour fastness & tenacity, we can ensure your embroideries are durable and you need replacements less frequently.
If you need a durable, professional finish at a low cost Embroidery may be the right option for you.
The quality of your Embroidery is highly reliant upon two elements, firstly like with most print methods, it's about having the best machinery for the job; however, it doesn't stop there, digitisation is also a critical part of the process in ensuring the highest quality. Digitisation is the process of converting your 2D vector artwork into thread or stitches for the machines to embroider.
At A.M. Custom Clothing we use the latest embroidery technology available in Europe, ensuring you get the best results; which is why we supply some of the UK's biggest brands and organisations with their embroidered clothing.
With quality and sustainability being at the heart of what we do, we choose to only use Madeira Threads. Madeira Threads are the gold standard of threads in our industry; with threads that deliver outstanding quality, whilst also meeting the highest environmental standards. You can find out more about these standards here.
We can embroider a whole host of products, from something as basic as polo shirts, right through to bags and coats; whether it's for work wear, corporate clothing or even for retail brands. As a result of the quality we deliver, our embroidery will normally outlast the garments.
3 Reasons to Embroider
1. Cost effective for larger volumes.
2. Lasting finish that won't crack or peel off.
3. Highest quality, with all of our printing & finishing undertaken here in the UK.
How Embroidery Works
Once your design work is digitised in a suitable format, it can be loaded into our computerised embroidery machines for sewing. Providing a highly durable finish that creates an impression of quality & style.
Excellent for polos, jackets, caps, knitwear etc.
Need Support?
Not sure if Embroidery is right for you, or need some support? Get in touch with one of our experts.
Why Us?
Not sure if we're right for you? Take a look at some of our recent customers and what they had to say here.
You can also find out more on what makes us a little bit better than your average Embroidery company here.
Quick Tips?
Not sure what format your artwork needs to be in for Embroidery? Find out more here.
Need some design advice? Our Design Resources section is filled with lots of tips and tricks.
Custom Embroidered Hoodies

Custom Embroidered Workwear Caps

Custom Embroidered Tote Bags

Custom Embroidered Sweatshirts

Embroidered polo shirts UK
How to get a T-shirt embroidered
Embroidered T-shirts have been commonplace in the world of workwear for a long time now, whether it's for uniform in a restaurant, or for mechanics in a garage. However, we are seeing embroidery becoming a popular choice for many other customers too, whether for promotional items, or even branded merchandise. 
While embroidery can sometimes be a little more expensive than print, when you're looking for quality, durability and prestige, embroidery is the way to go. 
While in the past polos have been often associated with casual wear, culture is changing and they're rapidly replacing formal shirts in the workplace. 
We're seeing market leaders like Google embrace casual wear in the office, and others are following their lead. This is due to the increased comfort they deliver, combined with the fact that they're just easier to move and work in. 
At A.M. Custom Clothing, we're now seeing polos being used by staff at challenger banks, in the head offices of delivery conglomerates, among other places where they may have once looked out of place.
Below we'll cover the basics when it comes to getting your polos embroidered, so you can ensure you know the in's and out's of the topic before placing your order for embroidered polo shirts.
Creating design work for embroidery
What size should you embroider?
When creating your design for embroidery, we recommend keeping it as simple as possible. 
Unlike printing, embroidery uses threads, which are much thicker than ink particles. This means any small or intricate details may be lost when the design is stitched into the fabric. If you keep things simple, you can ensure your finished product will come out as close to the original design as possible.
At A.M. Custom Clothing, we also usually advise our customers to keep their embroidered designs small. This is especially important when applying it to polos. 
Polo shirts are typically quite thin, so a big complex embroidery is going to feel really heavy on the front and is likely to pull the front of the polo down. This heaviness is likely to be pretty uncomfortable as is the backing on the embroidery with this kind of coverage. 
If you're designing for workwear and you want a big company logo across the back, we'd recommend print, as there is nothing more frustrating for workers than their uniform rubbing or feeling uncomfortable during a full day's work. 
That being said, if you've got a nice small logo positioned on the left breast of a polo, it can look really smart. If you do want larger embroidery areas, we'd advise applying this only to heavier items like sweatshirts and hoodies, or even softshell jackets. 
Still unsure on what size to have your embroidery? Check out our article on 'what size should I print or embroider my logo'.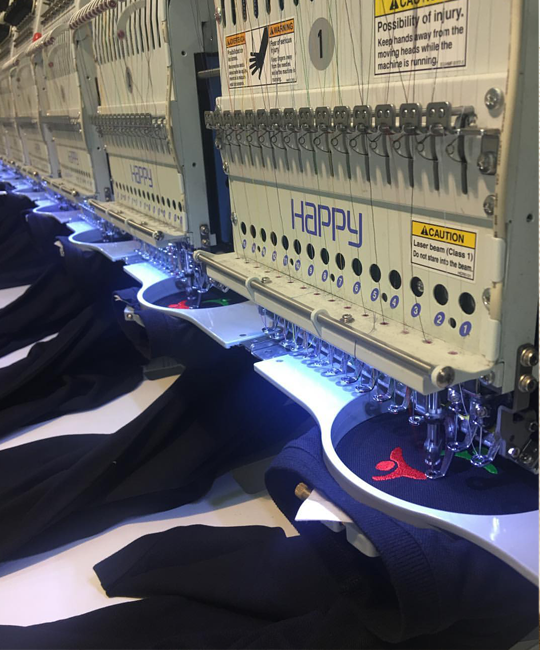 Pantone Matching for Embroidery
If you have a company Pantone colour, please note, threads don't come in every Pantone (there are just too many). 
Instead, we use an industry-standard Pantone matching system, that allows us to find the closest thread to your Pantone reference. So it'll be close to your colour, but it won't be an exact match. This is the same wherever you buy your embroidered polos.
If you're unsure about artwork formatting, we'd recommend looking at our polo shirt printing artwork guide, for more information. 
Embroidery file requirements
With polo printing, requirements for artwork files are pretty specific, however, surprisingly embroidery is actually more straightforward. 
You can submit almost any image file type for embroidery, and it will generally be okay for digitising (something we'll cover later on). We typically advise sending files over in PNG or AI format for embroidery, JPEG files can also be used.
When you send us your artwork for your embroidered polo or other garments, our team will convert it into a special file that is read by the embroidery machine. This is known as digitisation.
What is digitising for embroidery?
Digitising (or digitizing) is the process of converting your artwork file into a file that embroidery machines can use to work out the needle path. 
Digitisation defines the quality of your embroidered logo

This is a really critical part of the process because it plays a significant role in the final quality and appearance of your embroidered polo shirts. 
The quality and durability of your final will be defined by the quality of the digitisation and the embroidery machine used. So when it comes to embroidery, it's worth investing a little more upfront to ensure your embroidered polo shirts that will last your team years, rather than falling apart in a matter of months or less. 
Some companies make things difficult for buyers with pricing based on confusing stitch counts (who knows how many stitches are in their logo?!), as well as adding surprise setup fees on at the end. 
We prefer to keep things simple: all we need to know is whether it's a big logo or a small one to get you a price. We don't charge setup fees, and you can even place your embroidered polo shirts order online. 
At A.M. Custom Clothing, we're firm believers in making print and embroidery accessible and easy for anyone who needs it.
Behind the scenes
You can get a behind the scenes look at all of our market leading print & embroidery technology in the video below.
Your quantity and budget for embroidered polo shirts and other clothing
Knowing how many items you need plays a big part in getting an accurate quote from your polos embroidery supplier. A single embroidered T-shirt could be £35 or more, compared to 100 embroidered T-shirts which could be as little as £3.50. 
The quantity makes a huge difference when getting a quote, and is why without it most suppliers won't be able to give you a quote. 
What if I don't know how many embroidered items I want?
If you really don't know how many items you want, but do know what budget you have, we'd recommend letting your supplier know your budget. They'll then be able to help you work out how to get the most out of your money, alongside being able to guide you to options that may be more budget-friendly if needed. 
If you have a very small budget it may be that DTG printing would be better for you due to it being cheaper on smaller quantities compared to embroidery.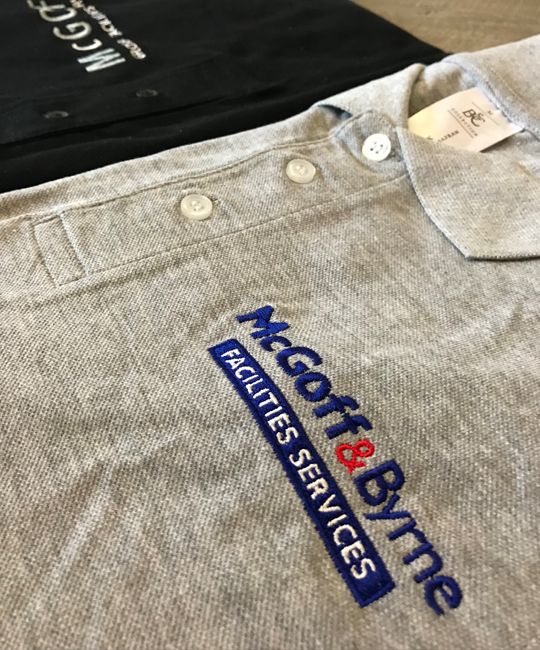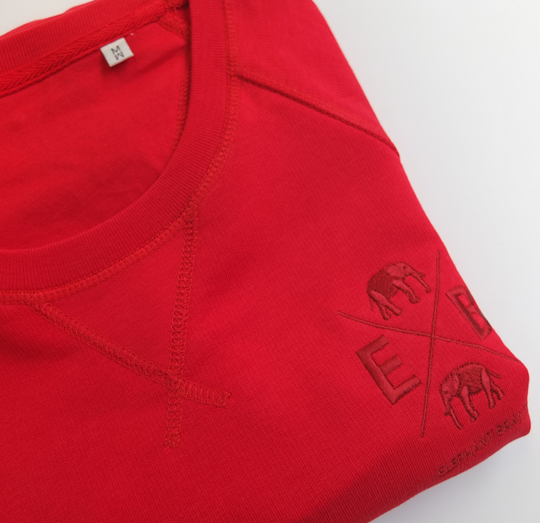 Can I get samples of embroidered T-shirts and other garments?
It is usually possible to get samples of embroidered garments, though this depends on the supplier you choose. At A.M. Custom Clothing, we allow customers to buy single units of embroidery, though we often advise them that there are sometimes better options. 
If you want embroidery samples, be aware that these will be significantly more expensive than a bulk order. This is because the time involved in processing a single unit is generally almost the same as processing 100 units or more. 
You have to account for staff involved in quoting, customer service, mockup designing, digitising, setting up, picking and packing your order. 
As you can see, there are a lot of people involved in the production of your embroidered clothing, all of whom have to be paid. When you purchase 100 or more items with embroidery, these costs can be spread across the entire order, making the price per unit significantly lower.
Still unsure whether to opt for print or embroidery, check out our article here on 'Printing or Embroidery: What's the best option for your garments?'
Helpful Articles from the Blog
If you're as enthusiastic as us and want more articles like these, head over to our blog for more Embroidery articles.
How many products do you need?