Ethical and Sustainable Wholesale T-Shirt Screen Printing & Embroidery
Bulk T-Shirt Manufacture
Whether you require t-shirt printing, embroidery, finishing or totally bespoke manufacture, we can help.
How many items do you need?
Trusted by the worlds best:



Printing clothing for brands, universities, charities and bands
Printing clothing for brands, universities, charities and bands
Embroidered wholesale clothing for brands, universities, charities and companies - copy
Bulk T-shirt manufacturing for brands big and small
Whatever you need, big or small, we have just the thing. Choose from over 17,000 pre-made items or get something completely bespoke. No matter what you need, here are some of the reasons why you can trust us with your brand.
No minimum order
No matter how big or small your business is, we can help.
Premium standards
Industry-leading machinery, inks and threads mean retail quality, every time.
Built on sustainability
From day one of business it's been our focus, it's in our DNA. 
Responsive support
Our team of print and design experts are here to support you every step of the way.
When speed matters
Our pioneering technology means you can order online, or get a quote in seconds, 24/7.
Bulk T-Shirt Manufacturing
Orders of 1-5000 products
If you're looking to place a bulk order of 25 - 5,000 T-shirts, simply request a quote for T-shirt manufacturing. Based on your requirements, a dedicated account manager will be able to produce a quote for you and guide you through the purchase process.
If you only need a few items (fewer than 25 products), off-the-shelf products like those found in our online shop are generally the best option for small and large brands alike. With this we give you access to over 17,000 product options, with no minimum order quantity, the vast majority of which can be custom printed or embroidered.
We're renowned as organic T-shirt manufacturers and hold the most comprehensive range of sustainable and organic wholesale clothing in Europe.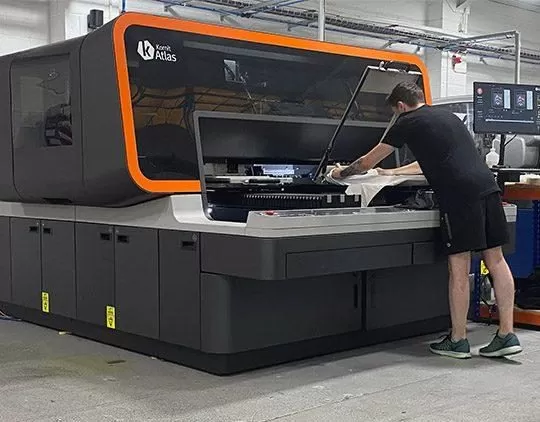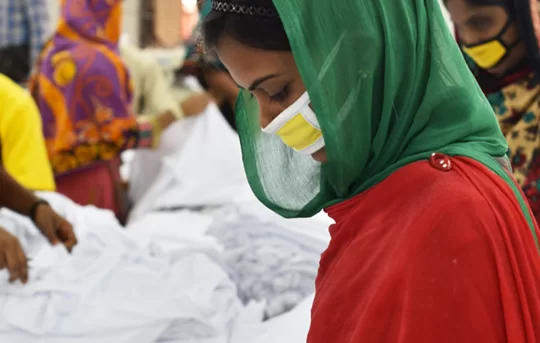 Commercial T-shirt manufacturing
Orders of 5000+ products
Looking to place an order of 5000 or more products for your brand? Bespoke manufacturing might be right for you. If you need bespoke-manufactured clothing products including T-shirts, sweatshirts and hoodies, made to your exact specification, please get in touch.
Whether you are looking for your own garment made from scratch, or to add or alter one of our existing products, we have you covered. We can also provide commercial T-shirt printing onto our pre-made garments, with large bulk discounts available.
Our factories have the flexibility to deal with orders large and small with the ability to process up to 30,000 garments per day.
Sustainable modern T-shirt manufacturing 
We aren't working towards sustainability; our business is built on it. Unlike many, "going green" has never been a marketing campaign for us, a polished policy statement, or just a set of nicely curated pages. It's in our DNA. 
We cover all bases, with products made from natural fibres like organic cotton and recycled cotton, right through to synthetic options such as recycled polyester. Through this broad range of fabric options, we offer the widest range of environmentally and ethically sourced printed T-shirts in the UK and Europe. This ensures you can access the products you need without compromising on your values. 
We've also invested heavily in our print technology, so we can minimise our environmental impact and maximise quality.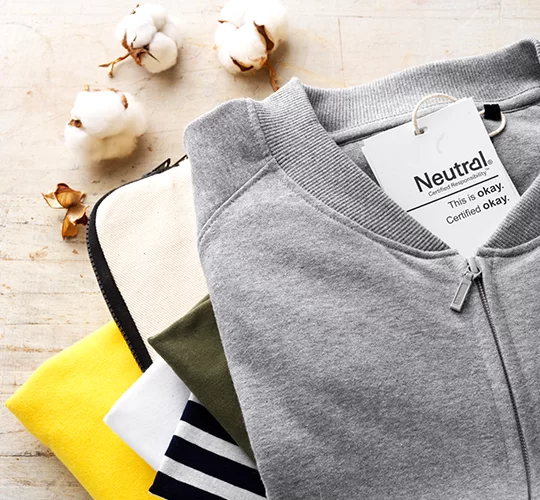 White label T-shirt manufacture for brands
We appreciate that, as a brand, you may not wish to have manufacturer's labels on your products, therefore we're one of the few T-shirt manufacturing companies that have re-branding options for quantities as small as 25 products. On larger bulk orders we can help you completely re-brand your garments with custom labelling options.
If you're a fashion brand on a tight budget, read through our 'Starting a T-shirt Brand Guide' for tips on how to keep costs down when considering relabelling.
Bulk T-shirt manufacturing for the world's best brands
We're proud to have partnered with some of the biggest brands in Europe. Get inspired with case studies from some of our other customers' customised T-shirts below.
Find out how we produced screen printed T-shirts for the world's leading online luxury fashion retailer. >>
Find out how we helped this sustainable streetwear brand take Europe by storm. >>
Frequently Asked Questions about bulk T-shirt manufacturing
How many products do you need?
We keep things simple, just select the quantity you need below, and our experienced team will ensure you get the appropriate print method for your order.
Want to use a specific print process?
If purchasing custom printed garments, our system will use a number of variables to calculate the best and most appropriate production process. This keeps things nice and easy for you, and ensures you don't have to spend years gleaning the knowledge of a printer before making your order. Your order is then checked over by our expert team, ensuring the most appropriate process has been assigned and that your artwork is in the suitable format. Please note all of our print processes are of the highest quality and durability, so perfect for whatever you need. If you do require a specific print method to be used, you'll find details on how to do this & more information here.

"The go-to supplier for ethical and environmentally sound custom clothing & branded uniforms."

"Leading the way in Fairtrade with A.M. Custom Clothing"

"Another business with a canny growth strategy is Chester based, A.M. Custom Clothing, which provides personalised, printed garments."

"What sets this company apart is their option of fair-trade, organic and recycled garments to choose from"