Recycled T-shirts and sportswear
DTF printing service for your business or brand.

How many items do you need?
DTF printing with professional digital mockups and every order checked by an expert as standard. You can expect quality and service like no other.
Trusted by the worlds best:



Printing clothing for brands, universities, charities and bands
Printing clothing for brands, universities, charities and bands
Embroidered wholesale clothing for brands, universities, charities and companies - copy
DTF printing (Direct to film printing)
We're specialists when it comes to DTF printing. We use the latest technology, right here in the UK, to deliver the best print quality and finish. Here are some of the reasons why you can trust us with your brand.
No minimum order
No matter how big or small your business is, we can help.
Premium standards
Industry-leading machinery, inks and threads mean retail quality, every time.
Built on sustainability
From day one of business it's been our focus, it's in our DNA. 
Responsive support
Our team of print and design experts are here to support you every step of the way.
When speed matters
Our pioneering technology means you can order online, or get a quote in seconds, 24/7.
What is DTF printing? 
DTF, or direct to film, is a process that involves printing designs onto a specialised film using commercial print machines. These prints are then directly transferred onto the garment using a heat press, ensuring high precision and accurate replication of the original design on various fabric types.
The DTF printing process involves several steps. First, the design is printed on the film, with a white layer serving as the base and vibrant colours layered on top to achieve optimal vibrancy and accuracy. A powder is then applied to the printed film, acting as an adhesive during the transfer process. After a matter of seconds in a heat press, the film is firmly attached to the clothing. Once cooled, the film can be peeled off, leaving behind a flawless DTF application.
DTF Printing offers exceptional versatility, allowing printing on a wide range of fabrics. It addresses the challenges faced by alternative print methods when customising polyester garments, as it can deliver complex, high quality prints even on traditionally difficult materials. Furthermore, it's lightweight and soft to touch compared to alternative application methods and traditional transfers.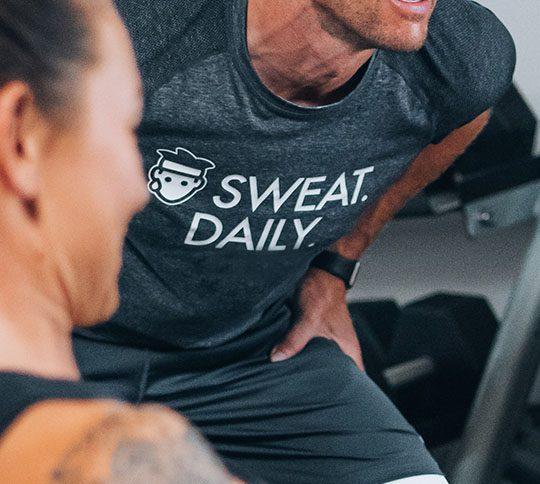 DTF printing is perfect for...
One off or small quantity orders
Merchandise and retail products
Logos designs with complex details
The benefits of DTF printing 
We use some of the most advanced DTF print technology in Europe, ensuring high quality prints that stand the test of time. Other advantages include:
Provides greater flexibility over colours and quantities

Multiple colours can be used, without limitation

Won't crack or fade over time

Quality results on light or dark fabric

Works on sportswear and other challenging fabrics, removing traditional limitations.
The disadvantages of direct to garment printing
Like all decoration methods, DTF printing does have its disadvantages. They include:
Not as economical on bulk order volumes

Cannot Pantone match colours

Fewer print location options

Heavier than DTG printing
Unsure of which decoration method to choose? Don't worry, our experienced team will ensure you get the appropriate print method for your order.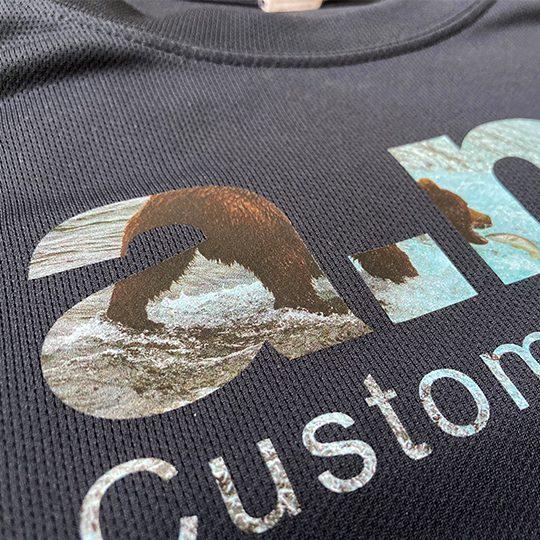 Quality and feel of DTF printing
With DTF printing, you can expect a high-quality finish that's soft to the touch compared to typical heat press transfer prints. This ensures a lighter weight feel which is perfect for sports products and mixed blend products where standard DTG printing isn't suitable.  
Direct to film printing removes the design and colour restrictions typically associated with heat transfer printing. With DTF printing you can print complex designs like photographs, the process is also well suited for simple designs like logo's or text.
How much does it cost to DTF print? Is it expensive?
DTF printing is typically lower in price than traditional heat transfer printing, wholesale DTF printing prices for T-shirts can be as low as £5.20, with all production undertaken here in our UK printing facilities.
Products that can be DTF printed

DTF printing works best on polyester, recycled polyester and other synthetic materials.
We can DTF print onto a wide range of clothing items, however, our most popular products include the following:
Frequently asked questions about DTF printing
Behind the scenes
You can get a behind the scenes look at all of our market leading print technology in the video below.
How many products do you need?
We keep things simple, just select the quantity you need below, and our experienced team will ensure you get the appropriate print method for your order.
Want to use a specific print process?
If purchasing custom printed garments, our system will use a number of variables to calculate the best and most appropriate production process. This keeps things nice and easy for you, and ensures you don't have to spend years gleaning the knowledge of a printer before making your order. Your order is then checked over by our expert team, ensuring the most appropriate process has been assigned and that your artwork is in the suitable format. Please note all of our print processes are of the highest quality and durability, so perfect for whatever you need. If you do require a specific print method to be used, you'll find details on how to do this & more information here.

"The go-to supplier for ethical and environmentally sound custom clothing & branded uniforms."

"Leading the way in Fairtrade with A.M. Custom Clothing"

"Another business with a canny growth strategy is Chester based, A.M. Custom Clothing, which provides personalised, printed garments."

"What sets this company apart is their option of fair-trade, organic and recycled garments to choose from"