Printed & embroidered events merchandise
Printed & embroidered events merchandise
We've worked with numerous high caliber global agencies & brands including: 

Event T-shirt printing, event merchandise and more.
We keep things simple,  just select the quantity you need below, and we'll send you in the right direction!
If you have print expertise and require a specific print method to be used, you'll find details on how to do this and more information here. If you'd like to learn more about our event T-shirt printing and event merchandise, read on.
We specialise in working with agencies & events companies, dedicated to making branded merchandise & uniforms simple.

When it comes to events, we know you're looking for the cheapest t-shirt printing, without compromising on quality or your deadline. We offer that and much more.
We use the latest technology to deliver market-beating products and services, alongside unparalleled customer service.
We do everything from bulk t-shirt printing, to custom hi-vis vests for staff and everything in-between. We offer all this with speedy lead times and dedicated account management - ensuring we do all the heavy lifting.

Great prices, un-compromised value.
Dedicated account manager & designer.
Quick lead times & responsive communications.
Eco and ethical options available.
  Speed
Need prices fast? Fill out the form at the bottom of this page for a 100% no obligation quote. We keep your details safe & will never pass them on.
We aim to respond to all quote requests in under 1 hour. 
 Need support?
Visit our Help Centre or Get In Touch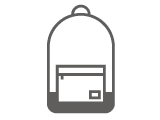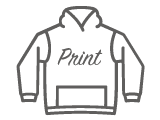 Screen + Digital Printing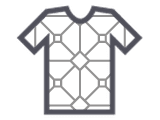 All-Over Sublimation Printing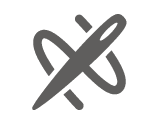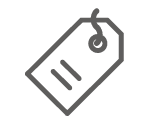 Event staff T-shirts
Products like custom event T-shirts and branded jackets are generally a necessity to ensure your staff can be easily identified, however, they don't have to be boring or uncomfortable. Whether it's just a basic T-shirt with the word staff printed across the back or something emblazoned with a creative design to make your staff stand out from the crowd, we can help. 
Our wide product range ensures all of your team are covered; whether it's custom workwear for bar staff, event security or for volunteers, nothing brings a team together like custom branded event clothing.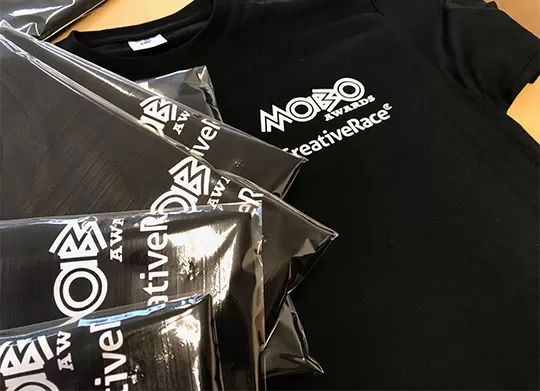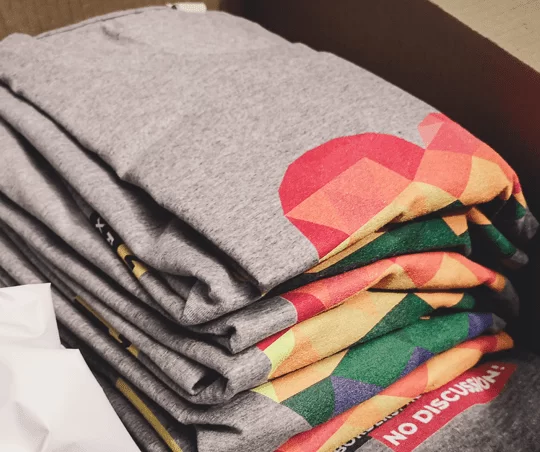 Promotional T-shirt printing with no minimum order
Giving away free T-shirts is not a new idea, but it's certainly a good one. Free and promotional T-shirts always go down a storm and provide you with a way to have walking billboards - as recipients will wear their free T-shirts out and about, long after your event has finished.
There are many great ways to use custom promotional T-shirts for advertising, including festival merchandise, trade show merchandise and expo merchandise.
No matter how big or small your brand, agency, or event is, we can help. We have no minimum order if you order DTG printed T-shirts through our online shop and the capacity to print thousands of products every day. Our UK and European print facilities ensure fast turnaround times, no matter where in the world your event is.
Virtual Event Merchandise
Since the start of 2020, virtual events have been on the rise at an unprecedented scale. 
A great way to make attendees feel like they are part of something bigger is through branded event clothing. Whether it's a gift pack you send before the event or something you send after to say thank you. Real-life products and merchandise are a great way to bring the digital and physical worlds together and give your attendees more value.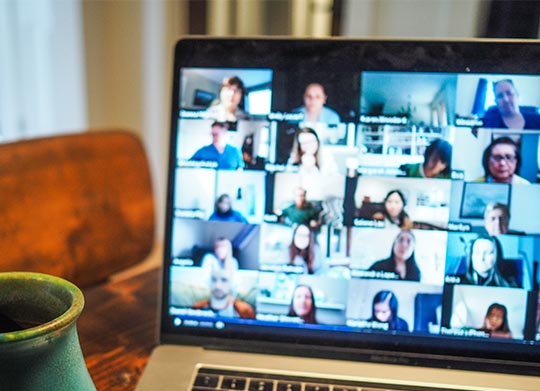 Popular products for event management clothing
If you're unsure on what you need, let us help. We can print and embroider onto a wide range of clothing items, however, our most popular products for events include the following:
Why trust A.M. Custom Clothing with your custom event T-shirts and merchandise?
The Best Quality Printing Company
Not all prints are born equal. Machinery, materials and setups can vary greatly. Your fans are everything and first impressions count, so when it comes to your printed T-shirts, don't settle for second best.
We've been regarded by Digital Arts Magazine as one of the "Best places for T-shirt printing" and by Forbes Magazine as "The go-to supplier for ethical and environmentally sound custom clothing and branded uniforms."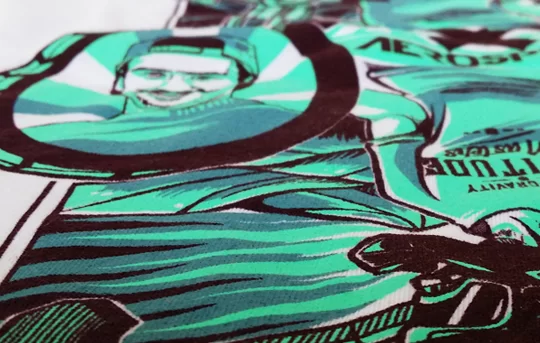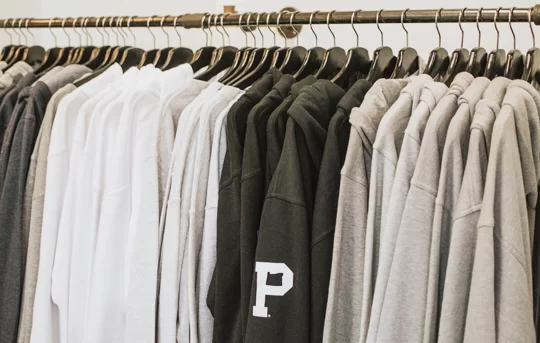 Lightning-fast quotes and easy online ordering
Ordering custom printed T-shirts online shouldn't be hard. Yet it often is, with confusing setup fees and minimum orders, combined with antiquated quoting systems, slowing everything down.
We're all about making things as simple as possible. Thanks to our pioneering technology, we'll have a bulk order quote in your inbox within seconds. Alternatively, if you're looking to make a small order, our online shop has everything you need to purchase your custom printed T-shirts. 
With A.M. Custom Clothing, ordering custom event T-shirts has never been easier.
Every order checked and great customer service
While our process may feel a little automated, there's lots going on behind the scenes. 
Unlike others, your online order doesn't just go straight from your cart to our printers, every order is checked by a graphic designer and print expert. 
This ensures that your artwork files are print-ready and everything runs smoothly. If we think there is anything wrong or that it won't come out well, we'll get in touch with you before anything goes to print. 
This means that we won't print your custom printed clothing until you're happy with it. 
On bulk orders you'll be assigned a dedicated account manager and graphic designer, ensuring you're supported at every stage of your order, by someone who knows your order inside out.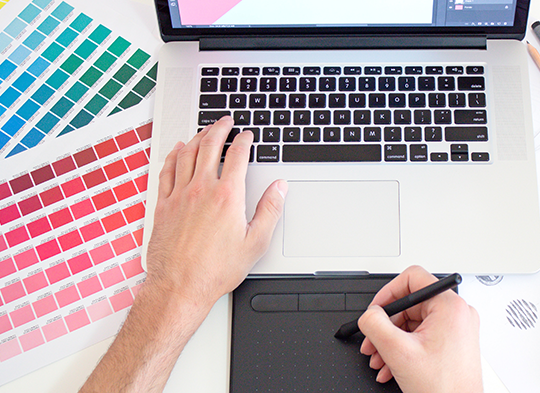 Please fill out the form below to get started.
We've made buying custom products easy with this handy form, just enter your requirements, and we'll have a tailored quote with you within minutes. We know it looks long, but this form will take less than 2 minutes and will enable us to get an accurate quote to you quicker.