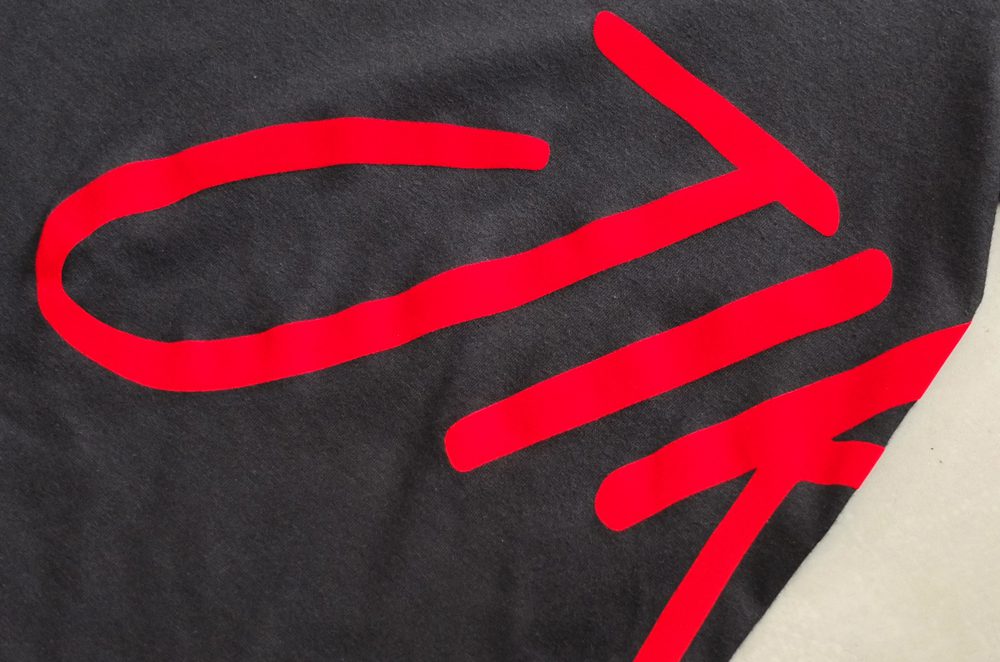 Custom Flock Printing UK
Flock printed t-shirts & clothing, for your business or brand.

Professional digital mockups and every order checked by an expert as standard. You can expect quality & service like no other.
Trusted by the worlds best:



Printing clothing for brands, universities, charities and bands
Printing clothing for brands, universities, charities and bands
Embroidered wholesale clothing for brands, universities, charities and companies - copy
If you're you're looking to give a simple design a premium feel, flock printing might be just what you're looking for.
Flock printing provides a velvet like textured feel, that is slightly raised off the surface of the garment, delivering a more premium quality feel to the garment while remaining quite cost effective.
As a result of the process being quite similar to vinyl printing, designs to be flock printed should ideally be simple shapes or lettering, making use of solid block colours.
Complex designs, or designs with lots of colours are not suitable for flock printing.
5 Reasons to Screen Print
1. Cost effective for smaller volumes.
2. Durable finish.
3. Velvet feel finish.
4. Does not fade easily after washing.
5. Highest quality, with all of our printing & finishing undertaken here in the UK.
Need Support?
Not sure if Flock printing is right for you, or need some support? Get in touch with one of our experts.
Why Us?
Not sure if we're right for you? Take a look at some of our recent customers and what they had to say here.
You can also find out more on what makes us a little bit better than your average Flock printer here.
Get a Quote
Think Flock Printing is for you?
Request a quote today, and we'll aim to get back to you in under an hour! 
How Flock Printing Works
The process starts with your artwork being digitally traced into our software, allowing a digital cutter to be able to cut the design out from a sheet. The Flock can then be removed from its backing sheet, and simply heat pressed onto the garment.
Flock is the most appropriate solution for simple design work, and comes available in an array of colours.
This method provides a luxurious raised velvet like texture. This is also an effective means to print onto darker colours.
This process is not appropriate for more complex design work or photographs.
Quick Tips?
Not sure what format your artwork needs to be in for Flock & Vinyl Printing? Find out more here.
Need some design advice? Our Design Resources section is filled with lots of tips and tricks.
Behind the scenes
You can get a behind the scenes look at all of our market leading print technology in the video below.