Garment Finishing UK
Sustainable custom printed t-shirts, fulfilled on-demand, for your business or brand.

With incredible service, innovation & sustainability as standard. We make garment finishing, warehousing, picking, and packing easy.

Garment Finishing UK
Sustainable custom printed t-shirts, fulfilled on-demand, for your business or brand.

With incredible service, innovation & sustainability as standard. We make garment finishing, warehousing, picking, and packing easy.

Trusted by the worlds best:



Printing clothing for brands, universities, charities and bands
Printing clothing for brands, universities, charities and bands
Embroidered wholesale clothing for brands, universities, charities and companies - copy
Focus on building your brand, let us handle the rest.
Are you a clothing brand that wants someone to handle all the logistics so you can focus your marketing? Or are you a business that has employees all over the world and wants to provide them with clothing to help them feel part of your team?
Perhaps you're a restaurant that needs new uniforms regularly or a musician who wants to sell merchandise to your fans. Do you run a community or club and want to generate extra revenue through clothing sales?
Whoever you are, we make it easy to create custom printed T-shirts, hoodies, and sweatshirts and ship them around the UK and the rest of the world.
Our fulfilment services are typically used by the following types of clients:
Brand | Bands | Record Labels | Retailers | Restaurants | Events Companies | Marketing Agencies | SMEs | Individuals.
How Our Clothing Dropshipping and Fulfilment Service Works
Our clothing dropshipping and fulfilment service means you can take a hands-off approach to selling clothing products.
Our system ensures you get the best value from the products you sell and they are immediately available with no production delays.
Step 1: Fill out the form below and we'll send you our complete fulfilment price list for free.

Step 2: When you're ready to get started, place an order through our online shop or request a quote.

Step 3: We'll integrate into your online shop so that orders come through to us automatically (alternatively, you can just email them to us).

Step 4: We'll print your products in bulk and we'll ship the products to our fulfilment centre ready to be shipped to your customers.

Step 5: Start taking orders and we'll get the products to your customers in a jiffy.
With our dropshipping and fulfilment service, there's no waiting around for several days while your T-shirts or hoodies are printed. They're ready to go so you can offer speedy delivery to your customers.
Get In Touch for Fulfilment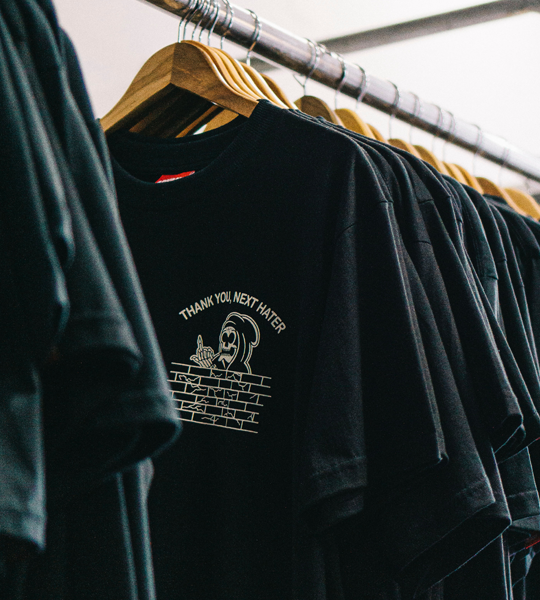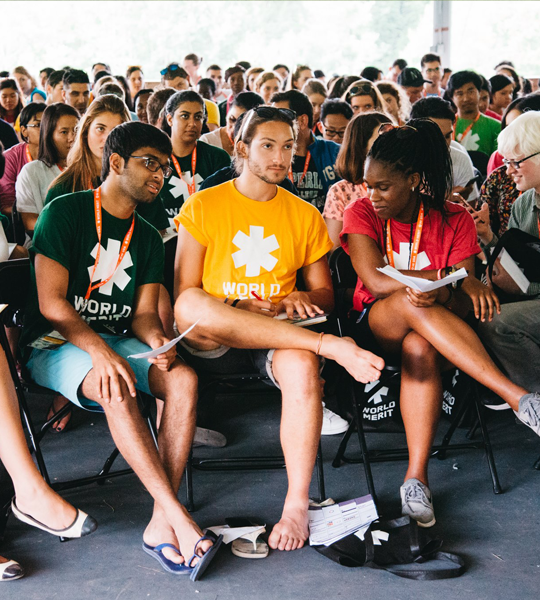 Not Just a Service For Clothing Brands
Our clothing dropshipping service is not just for fashion brands. We work with restaurants, events companies, and service businesses who use our fulfilment services to get workwear and uniforms to their teams at a moments notice.
We will print (or embroider) their clothing, store them in our fulfilment centre, and ship them to their teams. This is great for businesses like restaurants and cafes that need uniforms quickly for new starters and delivery companies with employees around the country (or the world). It's also perfect for record labels and others who require products shipped to events and venues at a moments notice.
Our service is also great for gifting your customers and staff with branded merchandise.
Whether it's rewarding customers for referrals, case study content, reviews or even for onboarding, custom branded merchandise can convert customers into brand advocates. For your employees, it can be a great way to welcome new staff, reward excellence and generally make them feel part of something awesome.
Get In Touch for Fulfilment
Fulfilment vs Print On Demand
We get many requests from customers looking for a print on demand service, but they often find that the restrictions that come with such a setup are too much and restrict their creativity. That's why we created our clothing dropshipping fulfilment service. It offers greater flexibility, faster turnaround times, and the benefits of economies of scale.
Print on demand offers the distinct benefit of having low upfront costs, meaning you don't have to risk much money at the early stages of your business. However, it typically means you're limited to a single print area with no option of any other type of customisation.
Print-on-demand services typically cost much more per unit as you do not benefit from the economies of scale that come from printing clothing in bulk.
This on-demand printing also means it can take several days (or even weeks) for your customers to receive their purchases.
Purchasing your products in bulk means that it's ready to ship as soon as a customer presses the buy button. You'll also have more freedom in how your products are decorated, opening up the option for different finishes, print options, and even embroidery.
For a full breakdown on the benefits of fulfilment vs print on demand, check out the table below.
| | | |
| --- | --- | --- |
| | Fulfilment | Print On Demand |
| Economies of scale from print in bulk | Yes | X |
| Instantly available stock | Yes | X |
| DTG printing | Yes | X |
| Screen, Vinyl and transfer printing | Yes | X |
| Sportswear | Yes | X |
| Embroidery | Yes | X |
| No upfront stock purchases | X | Yes |
| Custom packaging | Yes | X |
| Express shipping options | Yes | X |
| Integrate with multiple ecommerce platforms | Yes | Yes |
| Picking packing and warehousing services that support omnichannel retailers | Yes | X |
Get In Touch for Fulfilment
Retail Level Garment Finishing, For Your Business or Brand
If you require retail-quality garment finishing, then our garment finishing service is just what you need.
We're a one-stop-shop for retail-quality production, with everything you could need. We offer everything you need, including:
Swing tags
Bagging
Stickers
Barcoding
Our service is ideal for retailers both big and small.
Swing Tags
Our swing tags are manufactured to the highest quality, and while we have a minimum order of 100+ tags, you'll be surprised by the great value for money on this quantity.
If you already have your own swing tags and just require the application of these, that's no problem.
Folding & Bagging
For a professional finish, we can fold and bag your products. We have a minimum order of just 25+ units for our folding and bagging service, using our standard poly bags. Our standard poly bags are transparent and sealed with an adhesive strip, providing a professional finish. Bagging does not come as standard (as part of our goal to reduce plastic), if you require bagging, please let your account manager know.
Stickers & Barcodes
We can supply and apply stickers and barcodes, whether it's size/product code stickers or barcodes, we can help. We have a range of finishes available, as well as the ability to make bespoke stickers to your size and shape requirements.
Calculate Your Price
Think garment finishing or relabelling is for you?
Head over to our handy price calculator to get your price in seconds!
Need Support?
Not sure if Garment Finishing is right for you, or need some support? Get in touch with one of our experts.
Why Us?
Not sure if we're right for you? Take a look at some of our recent customers and what they had to say here.
You can also find out more on what makes us a little bit better than your average Garment Finishing company here.
Frequently Asked Questions About Fulfilment, Dropshipping and Garment Finishing
Want to know more about dropshipping and fulfilment for clothing businesses? Here are some of the questions we're most frequently asked by our customers.
Starting a custom T-shirt dropshipping business is easy with A.M. Custom Clothing. Once you've created your designs, just follow the five steps listed above.
In many respects, buying your garments in bulk and using a fulfilment service like ours is much better than print on demand. 
Firstly, your customers will receive their orders significantly faster. Most print-on-demand services can take several days to turn around a single order, particularly during the busiest times of the year (like Christmas and Black Friday). With a fulfilment dropship service, the products are ready to ship immediately so your customers won't be waiting very long. 
Fulfilment dropship is more flexible in terms of the types of clothing you can use and the decoration methods available. With print on demand, you're typically restricted to a handful of cotton garments, a single print area, and only DTG printing.
There is a common misconception that it's possible to start a T-shirt business with no money by using a print-on-demand service. This simply isn't true. 
Even if you're not paying to produce stock upfront, you still need to invest money into things like building your website and marketing. 
If you have no money at all to invest in your new venture, starting a business selling T-shirts likely isn't for you.
There's no one-size-fits-all solution for starting a successful clothing business as it all depends on the types of products that you're selling and who your customers are.
However, with so much competition in the market, it's important that you make yourself stand out. We've put together a guide on how to start a fashion brand that will give you some handy pointers while you get started.
While it's always best to get advice from a qualified accountant or solicitor about the best legal structure to use for your business, you shouldn't need to register a limited company to start selling T-shirts and other clothing products online. 
You may still choose to do so though if you feel it is right for your needs.
The beauty of our fulfilment service is that it'll work with almost anything. Whether you're dropshipping t-shirts on Shopify, Etsy, Amazon, Magento, WooCommerce we can help. 
Or maybe you reward your customers who sign-up to your paid newsletter, or start a trial of your software, again we can help. 
Because we print your orders in bulk and only manage fulfilment, unlike conventional print-on-demand services, we don't require you to use technical plugins, API integrations nor do we limit you to any single platform. Meaning complete flexibility and minimal limitations when it comes to custom t-shirt dropshipping.
Print on demand is where your order is only printed once an order has been placed on your shop. We do not offer this. 
Our fulfilment service is designed for those looking to take advantage of economies of scale, without having to commit to in-house storage & distribution.
With our fulfilment service stock is purchased and printed on a wholesale basis (not on demand), generally with a minimum order quantity of 25 units. We have over 17,000+ product options available, so in most instances, we can meet your needs.
We provide a complete fulfilment service, providing barcoding, storage and distribution to your customer base, wherever in the world they are.
Our service includes pay as you go pick and pack service, with over 70,000 sq ft of space. With a variety of shipping and courier options and the facility for complete automation, we're an ideal partner.
In short, fulfilment is where you place a bulk order upfront and then have that order kept in our fulfilment centre. When an order is placed on your online shop we pick, pack and ship your orders so you don't have to.
Learn more about Fulfilment
Fill out the form below and our fulfilment team will be in touch. We know it's a long form, but we need all of those details to provide the most suitable advice and service to you.