Screen Printed T-Shirts for bands, brands and businesses
Sustainable custom printed t-shirts & clothing, for your business or brand.

Professional digital mockups and every order checked by an expert as standard. You can expect quality & service like no other.
How many items do you need?
Trusted by the worlds best:



Printing clothing for brands, universities, charities and bands
Printing clothing for brands, universities, charities and bands
Embroidered wholesale clothing for brands, universities, charities and companies - copy
T-shirt Screen Printing and Much More
We keep things simple, just select the quantity you need below, and our experienced team will ensure you get the appropriate print method for your order. 
If you have print expertise and would like us to use a specific print method, you'll find details on how to do this and more information here. If you'd like to learn more about screen printing, read on. 
We use some of the most advanced screen print technology in Europe, ensuring minimal wastage and optimal production efficiency.
With 100% Phthalate free eco friendly screen printing inks & sustainability at our core, you can ensure stunning screen printed t-shirts that don't cost the earth.
Want to learn more about our Custom Screen Printing Services?
If you need 50 to 25,000 garments printing, screen printing is likely to be the most economical and durable print method. 
Screen printing T-shirts is both an art and a science, and if done right using the best machinery, it results in a high quality, striking finish that will stand the test of time.
Are most T-shirts screen printed?
The economies of scale that come with custom screen printing mean that this process is still a firm favourite for producing bulk orders of printed T-shirts. Due to the nature of the screen printing method, it is best suited to less complex designs with fewer colours, however, it becomes extremely cost-effective on orders over 50 units and can be applied to almost all types of fabric. 
Additionally, we can Pantone match our inks to your requirements.
While many people want to know what "the best print method" is, it's important to remember that there isn't really a 'best'. It's more about what is fit for the purpose. 
If you're looking for small volumes or have a complex full-colour design like a photograph, DTG printing is likely a better option. 
Screen Printing Explained
What are screen printed T-shirts? 
To explain this we need a brief look into the history of the T-shirt. While T-shirts are a comparatively new idea, screen printing dates back to the 900s AD in China and other Asian countries. Its age is why it's one of the most well-known print processes. 
Screen printing is a relatively simple process. It works by pushing ink through a mesh surface (the screen) onto a product, adding your design. 
The versatility of the process means that it isn't just limited to garments. In fact, screen printing onto T-shirts didn't become popular until Disney began using the technique to add its famous cartoon characters onto garments that it later sold as merchandise.
Today, the process is a little more complex with automated machinery and advanced technology but the basic principles are very much the same. Unlike with DTG, the ink is printed onto the fabric (not into it), leaving you with a slightly raised finish, this means that screen printing has a slightly texturised feel to it. This is why it is often the process of choice for branded logo T-shirts found in retail stores, band T-shirts as well as the classic university hoodies and merchandise.
If you're unsure on whether screen printing is right for you, don't worry, our expert team will always help advise you on the best process for your order.
Need Support?
Not sure if screen printing is right for you, or need some support? Get in touch with one of our experts.
Why Us?
Not sure if we're right for you? Take a look at some of our recent customers and what they had to say here.
You can also find out more on what makes us a little bit better than your average screen printer here.
With print facilities in Chester, London, Manchester, Glasgow & Wales we can help, whether you're in the UK or international.
Quick Tips?
Not sure what format your artwork needs to be in for Screen Printing? Find out more here.
Need some design advice? Our Design Resources section is filled with lots of tips and tricks.
Don't worry, we make things easy. Our team of experts will select the most appropriate print method for your logo or design (unless specified otherwise). Shop Now.
How Screen Printing Works
Screens are made by putting a chemical emulsion on a mesh surface. Vector artwork is taken from a software package like Adobe Illustrator and printed out on a film type paper or vellum. 
The screen is then exposed on a light table with the artwork under it. The light solidifies the chemicals around the design, and where the light failed to pass through, the chemical breaks down. The screen is then rinsed out and what is left is the area where the light hit.
The product is placed on a platen and multiple screens are used to build up the colours of the print. Once a screen is placed on a product, a squeegee is then pulled over that screen's ink colour which pushes the ink onto the fabric of the product. 
That screen is then carefully lifted off the product. The platen with the product is then moved under a flash unit where it dries. Upon curing, the shirt platen is brought back and the next colour screen is swung over the top of it.
When screen printing, one colour at a time is applied so the cost will increase with each additional colour applied. This can be less economical in smaller volumes.
Fairtrade T Shirt Screen Printing for Oatly Brand

Fairtrade Organic Screen Printed T-Shirts

Organic Screen Printed T-Shirts
Can screen printing be sustainable?
Our business was built on sustainability from day one, with a commitment to sustainable screen printing and organic products woven into the DNA of our company.
We use some of the most advanced screen print technology on the market, ensuring minimal wastage and optimal production efficiency. This also helps us to deliver exceptional quality for all of our screen prints.
When it comes to inks, we ensure our screen printing is as eco-friendly as possible. We use several different options, but as standard, we use plastisol inks for our  screen printed garments. 
As specialists in eco-friendly screen printing, we prefer plastisol as they generate far less waste and use much less energy than water-based inks. However, we can offer both options if you have a preference. 
Many cheaper solvent-based inks contain harmful compounds and endocrine disruptors (phthalates) that are damaging to the environment. When you buy screen printed garments from us, you can be sure that our inks are 100% Phthalate-free.
For environmental and ecological reasons we would always recommend 100% Phthalate-free plastisol inks over water-based and special inks when screen printing T-shirts or other garments.
We also use renewable energy at a number of our UK print facilities and overseas factories. Our UK offices are also powered entirely by renewable energy, helping us to leave a smaller environmental footprint.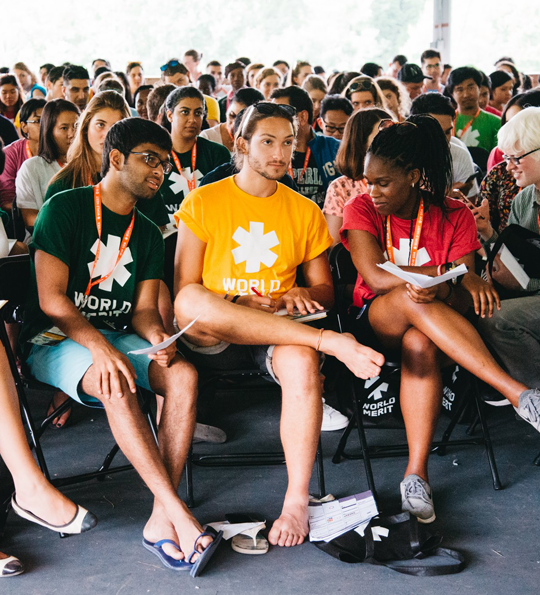 Products that can be screen printed
The beauty of screen printing is that it works on almost any product, making it a great option no matter whether you need custom printed coats, tote bags or T-shirts.
We can screen print onto a wide range of clothing items, however, our most popular products include the following:
Is screen printing cheap?
Screen printing is one of the most economical print methods when printing in bulk, and with all production done here in our UK screen printing facilities, it can be one of the fastest ways to produce large orders of printed garments.
How much does it cost to screen print T-shirts?
The price for a wholesale screen printed T-shirt can be as low as £2.24. The more colours you have in your design and the smaller the order quantity, the higher the price will be. 
For the best price, keep your designs simple with as few colours as possible.
How much does it cost to screen print hoodies?
The price for a screen printed hoodie can be as low as £8.70. This price is based on our most popular ethical hoodies. Again, if your design has more colours in it, or if the quantity is quite low, the price will increase.
For the best price, keep your designs simple with as few colours as possible.
Screen printing pros and cons
Not sure if screen printed T-shirts are right for you? The table below provides a brief overview of the pros and cons compared to other production methods.
| | |
| --- | --- |
| Advantages | Disadvantages |
| Extremely economical when printing in bulk volumes | Not suitable for small orders (minimum order quantity is generally 25+ products) |
| Fast turnaround time on large orders | Less suitable for complex designs with lots of colours |
| Pantone matching available | Slower than DTG on small/mid-sized print runs |
| Printed in the UK | |
| Highest retail quality | |
| Eco-friendly inks and low waste process | |
| Works on almost all fabrics | |
Behind the scenes
You can get a behind the scenes look at all of our market leading print technology in the video below.
Why screen print with A.M. Custom Clothing
The Best Quality Screen Printing Company
Not all prints are born equal. Machinery can vary greatly with some setups costing just a few hundred pounds and others worth hundreds of thousands of pounds. With this in mind, it's hardly surprising that there can be such differences in screen print quality.
Quality is often dependent on technology and the people using it. This is why our expert print team use some of the leading screen print technology available in Europe, ensuring unrivalled precision and quality. 
Your brand is everything and first impressions count, so when it comes to your printed clothing, don't settle for second best.
We've been regarded by Digital Arts Magazine as one of the "Best places for T-shirt printing" and by Forbes Magazine as "The go-to supplier for ethical and environmentally sound custom clothing and branded uniforms."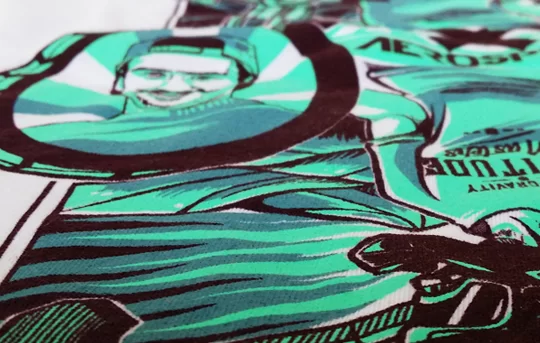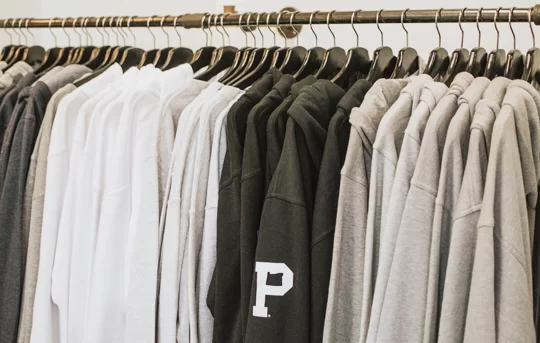 Lightning-fast quotes and easy online ordering
Ordering screen printed T-shirts online shouldn't be hard. Yet it often is, with confusing setup fees and antiquated quoting systems slowing everything down.
We're all about making things as simple as possible. Thanks to our pioneering technology, we'll have a bulk order quote in your inbox within seconds. Alternatively, if you're looking to make a small order, our DTG technology means you can purchase printed garments online.
With A.M. Custom Clothing, ordering screen printed T-shirts has never been easier.
Every order checked and great customer service
While our process may feel a little automated, there's lots going on behind the scenes. 
No matter how big or small your custom screen printing order, you can rest assured you'll get the same brilliant service, from our award-winning team.
On every bulk order, you'll be assigned a dedicated account manager and graphic designer, ensuring you're supported at every stage of your order by someone who knows your order inside out. 
Unlike others, your order doesn't just go straight to print, we'll provide you with professional digital mockups free of charge and every order is checked by a graphic designer and print expert prior to production. This ensures nothing goes to print until you're 100% happy.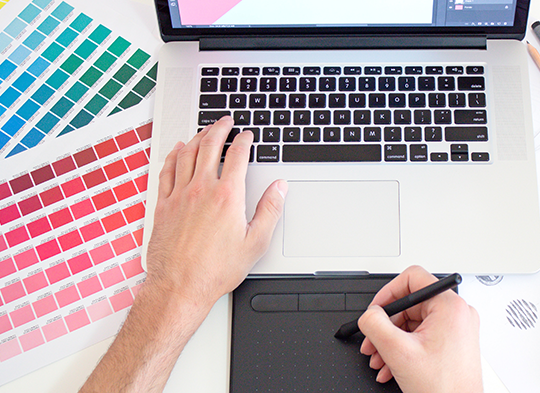 Screen printing near me
Despite our small size, we pack a punch. Whether you need screen printing in London, Glasgow, Manchester, Wales, Chester or possibly even further afield in Europe or the world we can help. With both UK and international coverage, we're your local screen printing service no matter where you are in the UK or the world. 
How many products do you need?
Frequently Asked Questions About Screen Printing T-shirts
Sustainability is in our DNA and has been the basis of our business since day one. We do all we can to ensure our screen printing is as eco-friendly as possible.
We utilise some of the most advanced print technology in the industry and eco-friendly inks to ensure optimal efficiency, minimal waste, and the smallest possible environmental footprint. You can find more information on our approach to sustainable printing on our eco-friendly printing and embroidery page.
Our screen printing is done here in the UK, where our small but close-knit team are paid a fair (and living) wage with good working conditions. 
This, combined with our organic and ethical product ranges, ensures that from start to finish, your order is made in accordance with the highest ethical standards.
As the old adage goes, how long is a piece of string? There are a number of variables that have an impact on the length of time it takes to print your order. However, the most important one is the Production Queue. 
The production queue is the number of orders that are scheduled before your order; this is our way of ensuring every order is treated fairly. In some instances, we might be able to turn your order around in a matter of days, during busier periods it may well take a few weeks. 
If you have a deadline for your bulk order, always let us know at the quoting stage, so we can ensure it can be met.
The durability of a screen print is often down to what inks were used and the proper application and curing of the print. Our expert team only use the best screen print inks, ensuring optimal quality and durability. 
If cared for properly and washed according to the garment's instructions, your screen print should last as long as the clothing it is attached to. If you have had cheap screen printed T-shirts crack in the past, this may be a result of the inks used.
Screen printing vs DTG printing (digital)
One of the most frequent questions we get is "should I go for screen printing or DTG printing?".
In regard to quality, DTG is on par with screen printing; so when it comes to choosing the right print method, it's less about which is 'better' and more about which is most suitable. 
Many print companies try to argue that one method is better than the other but, generally, this is because they only offer one option. The reality is that both serve different purposes and work better in different situations.
If you're bulk printing large volumes with a simple design, then screen printing is likely the best option for you. However, if you want smaller volumes or have a very complex design, DTG may be better suited.
What lasts longer screen printing or DTG?
DTG and screen printing are both fantastic print processes and have their own unique benefits and use cases. However, one thing that is consistent is their durability, both processes should last the lifetime of the garment.
Is screen printing better than heat press?
For simple designs on large volumes, screen printing is likely a more suitable choice than heat press transfers. However, if you're printing a complex design with lots of colours onto a small order of polyester coats or sportswear heat pressing a vinyl transfer or digital transfer would likely be the best option. 
This is just one example of where the design and quantity plays a significant role in dictating the best production method. If you're ever unsure on the best print method for your order just ask our expert team.
T-shirt screen printing and embroidery
There are a few factors that come into play when deciding between screen printing and embroidery, the first is the fabric type and design size.
If the fabric is light (such as a T-shirt), but the design is large, then we'd generally recommend screen printing. A large embroidery can be very heavy, especially on something like a T-shirt. 
On sweatshirts, hoodies, coats and other heavier items, a large embroidery wouldn't be a problem and might actually be the best option. With fabrics like fleece, screen printing isn't possible, so embroidery is the only choice.
The second element to consider is design intricacy. For intricate designs with finer details screen printing is generally the best option as the ink pigments are far smaller than threads. With threads being a lot thicker than ink pigments, it's harder to get the same level of detail. So if you have small intricate text or design elements it's likely best to choose screen printing.
The last factor to consider is personal preference. In some instances, like a simple design on a cotton hoodie, both print or embroidery would work well. In that case, it's entirely down to which one you prefer, as both decoration methods are highly durable and look great.
The minimum order for screen printing on T-shirts, sweatshirts and other garments is generally 25 products per style. However, if you're not quite ready to place an order of 25 units, it's no problem we have an array of other print methods like DTG and transfer printing which have no minimum order and can be purchased quickly and easily online. 
If you're unsure of what print method is right for your order quantity or the number of colours in your design you may find our help centre article explaining what print method will be used on your order helpful.
Unless you're placing a very large order of hundreds/thousands of products we'd advise against having multiple sizes of your design. Choosing to do that means you miss out on economies of scale. 
For example, if you buy 50 T-shirts, but 25 of those items have the print at one size, and 25 have the design at a different size, you'll end paying for two 25-unit orders and not one 50-unit one.  
Ultimately people buy and wear products because they either love the brand or design, not because the design is 10mm larger than the competing brand's design.
Please note, in almost all instances an order can be a mix of T-shirt sizes, without an impact on the price.
Helpful Articles from the Blog
If you're as enthusiastic as us and want more articles like these, head over to our blog for more screen printing articles.
Want a specific print process used?
If purchasing custom printed garments, our system will use a number of variables to calculate the best & most appropriate production process. This keeps things nice and easy for you, and ensures you don't have to spend years gleaning the knowledge of a printer before making your order. Your order is then checked over by our expert team, ensuring the most appropriate process has been assigned and that your artwork is in the suitable format. Please note all of our print processes are of the highest quality and durability, so perfect for whatever you need. If you do require a specific print method to be used, you'll find details on how to do this & more information here.