Screen Printed T-Shirts for bands, brands and businesses
Sustainable screen printed T-shirts and clothing, for your business or brand.

Professional digital mockups and every order checked by an expert as standard. You can expect quality and service like no other.
How many items do you need?
Trusted by the worlds best:



Printing clothing for brands, universities, charities and bands
Printing clothing for brands, universities, charities and bands
Embroidered wholesale clothing for brands, universities, charities and companies - copy
Screen printing T-shirts and clothing
Not all screen printing is created equal. With us, you get years of screen printing experience, premium grade inks and some of the latest print technology ensuring the best quality and finish. Here are some of the reasons why you can trust us with your brand.
No minimum order
No matter how big or small your business is, we can help.
Premium standards
Industry-leading machinery, inks and threads mean retail quality, every time.
Built on sustainability
From day one of business it's been our focus, it's in our DNA. 
Responsive support
Our team of print and design experts are here to support you every step of the way.
When speed matters
Our pioneering technology means you can order online, or get a quote in seconds, 24/7.
What is screen printing? 
Our screen printing service is relatively simple. It's a process of transferring a stencilled design by pushing ink through a mesh screen and onto a product, most commonly, fabric. 

The versatility of the process combined with the use of specialised inks means that screen printing services are not just limited to garments. It is also possible to print onto many other objects, such as wood and plastic.

Unlike with DTG, ink is printed onto the fabric (not into it), leaving you with a slightly raised finish. This means that screen printing has a slightly textured feel to it. This textured finish is often the favoured choice for branded logo T-shirts found in retail stores, band T-shirts as well as classic university hoodies and merchandise.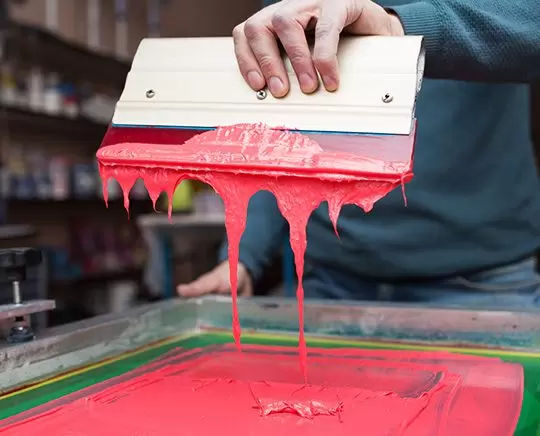 Screen printing is perfect for...
Large order quantities of 50 to 25,000+
Merchandise and retail products
The benefits of T-shirt screen printing 
When purchasing custom clothing, it is important you choose a decoration method that fits your requirements. To help you decide, some advantages of our screen printing service include:
Extremely economical when printing in large volumes

Fast turnaround times on large orders

Pantone matching available

Eco-friendly inks and low waste process

Works on almost all fabrics
The disadvantages of screen printing
Like all decoration methods, screen printing services have disadvantages. The main ones are:
Not suitable for orders under 25 garments

Less suitable for complex designs with lots of colours

Slower than DTG on small/mid-sized print runs
Unsure of which decoration method to choose? Don't worry, our experienced team will ensure you get the appropriate print method for your order.
Making screen printing sustainable
Our business was built on sustainability from day one, with a commitment to sustainable screen printing and organic products woven into the DNA of our company. We use some of the most advanced screen print technology, ensuring minimal wastage, optimal production efficiency and superior quality. This is why some of the world's most environmentally conscious businesses trust us with their brand.
When it comes to inks, we aim to be as eco-friendly as possible. Many cheaper solvent-based inks contain harmful compounds and endocrine disruptors (phthalates), that are damaging to the environment. That's why we use 100% Phthalate free screen printing inks. We also use renewable energy at a number of our facilities here in the UK and overseas. We're not simply adapting to the needs of the future, we are the future.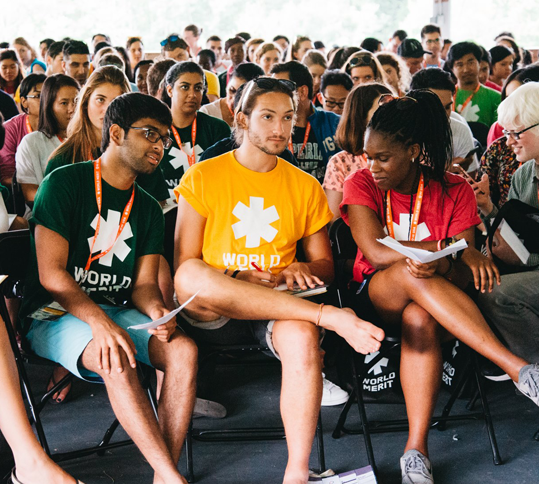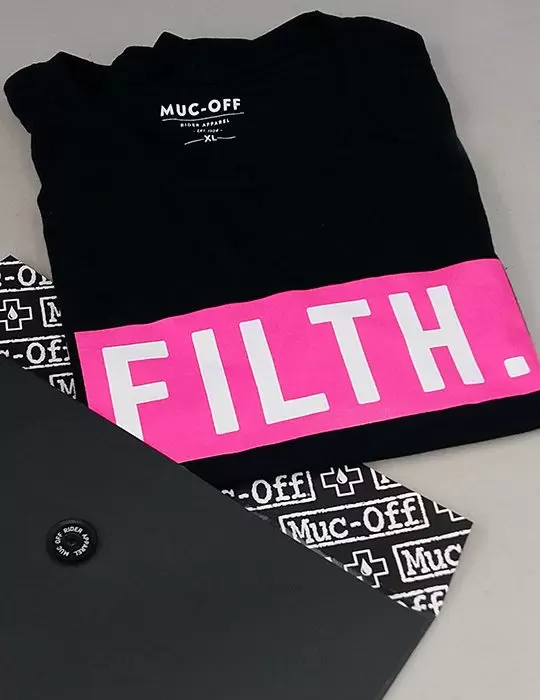 Quality and feel of screen printing
Your brand is everything and first impressions count, so when it comes to your screen printed clothing, don't settle for second best. Our expert team uses some of the leading screen print technology available in Europe, ensuring unrivalled precision and quality. 
Screen printing is one of the most economical print methods when printing in bulk, and with all production done here in our UK screen printing facilities, it can be one of the fastest ways to produce large orders of printed garments.
How much does it cost to screen print T-shirts and hoodies?
T-shirt screen printing can start from as low as £2.24. The price for a screen printed hoodie can be as low as £8.70.

For the best price, keep your designs simple with as few colours as possible.
Products that can be screen printed
The beauty of our screen printing service is that it works on almost any product. T-shirt screen printing, as well as hoodies, tote bags and coats are all excellent garment choices for this decoration method.
Fairtrade T Shirt Screen Printing for Oatly Brand

Organic Screen Printed T-Shirts

Fairtrade Organic Screen Printed T-Shirts

Organic Screen Printed T-Shirts

Organic Screen Printed T-Shirts
See how the world's best use A.M. Custom Clothing
We're proud to have partnered with some of the biggest brands in Europe. Get inspired with case studies from some of our other customers' screen printed products below.
Find out how we produced a range of ethically sourced merchandise including masks, hoodies, T-shirts and polo shirts that students, staff and supporters would want to wear. >>
Find out more about how we helped connect a global community of change makers through screen printed T-shirts. >>
Frequently asked questions about screen printing T-shirts and clothing
Behind the scenes
You can get a behind the scenes look at all of our market leading print technology in the video below.
How many products do you need?
We keep things simple, just select the quantity you need below, and our experienced team will ensure you get the appropriate print method for your order.
Want to use a specific print process?
If purchasing custom printed garments, our system will use a number of variables to calculate the best and most appropriate production process. This keeps things nice and easy for you, and ensures you don't have to spend years gleaning the knowledge of a printer before making your order. Your order is then checked over by our expert team, ensuring the most appropriate process has been assigned and that your artwork is in the suitable format. Please note all of our print processes are of the highest quality and durability, so perfect for whatever you need. If you do require a specific print method to be used, you'll find details on how to do this & more information here.

"The go-to supplier for ethical and environmentally sound custom clothing & branded uniforms."

"Leading the way in Fairtrade with A.M. Custom Clothing"

"Another business with a canny growth strategy is Chester based, A.M. Custom Clothing, which provides personalised, printed garments."

"What sets this company apart is their option of fair-trade, organic and recycled garments to choose from"