DTG printed t-shirts UK no minimum
Sustainable DTG printing, for your business or brand.

DTG printing with professional digital mockups and every order checked by an expert as standard. You can expect quality and service like no other.
How many items do you need?
Trusted by the worlds best:



Printing clothing for brands, universities, charities and bands
Printing clothing for brands, universities, charities and bands
Embroidered wholesale clothing for brands, universities, charities and companies - copy
Direct to garment printing (DTG printing)
Not all DTG printing is created equal. We use the latest technology to deliver the best print quality and finish. Here are some of the reasons why you can trust us with your brand.
No minimum order
No matter how big or small your business is, we can help.
Premium standards
Industry-leading machinery, inks and threads mean retail quality, every time.
Built on sustainability
From day one of business it's been our focus, it's in our DNA. 
Responsive support
Our team of print and design experts are here to support you every step of the way.
When speed matters
Our pioneering technology means you can order online, or get a quote in seconds, 24/7.
What is direct to garment printing (DTG)? 
Direct to garment printing is the process of printing logos and designs directly onto garments. With this method, it is possible to print onto a wide range of clothing types, with an unlimited number of colours and designs. And with our market-leading technology, you'll get the best possible results for your DTG printed clothing when you buy from A.M. Custom Clothing.

With direct to garment printing, the ink is injected into the fabric, allowing your design to stretch and move as the garment is worn over time. This means, unlike traditional screen printing, the durability of DTG printed clothing is typically much longer. 

With no minimum order quantity and a lot of flexibility, direct to garment printing is ideal for those with highly detailed design work such as full-colour photographs, or those requiring small order volumes.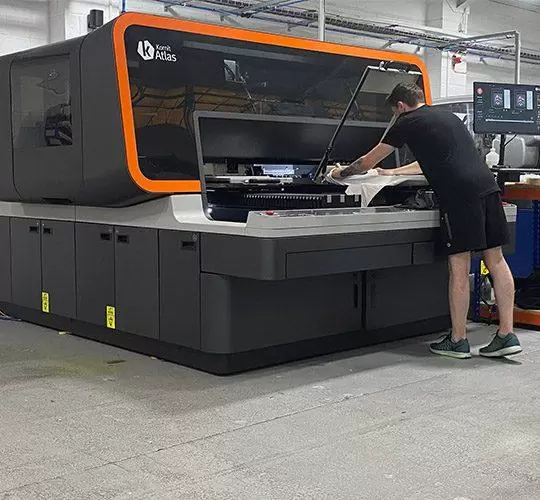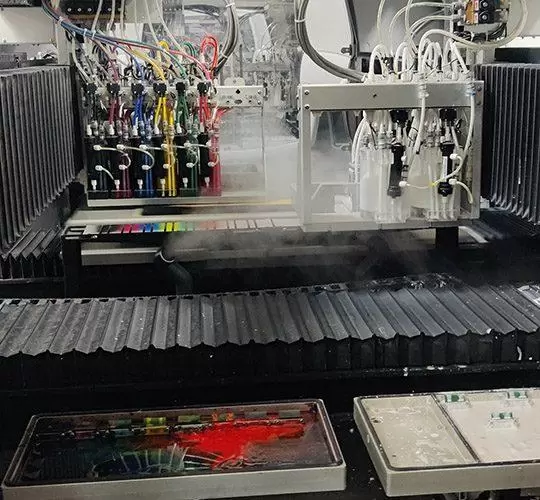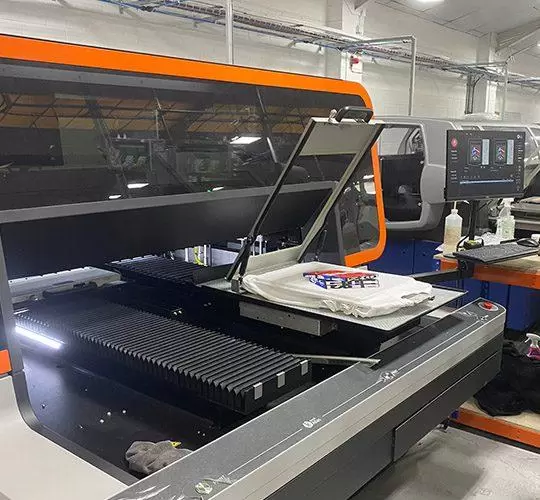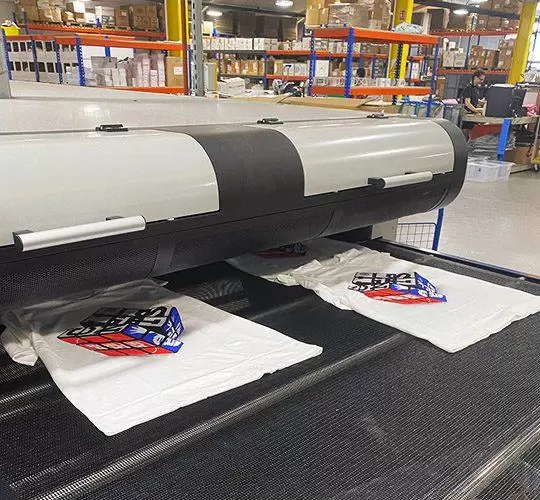 DTG Printing
Step 1. Clamping T-shirt in place
DTG Printing Machine
Step 2. Pre-treat & printing
DTG printing is perfect for...
One off or small quantity orders
Merchandise and retail products
The benefits of direct to garment printing 
We use some of the most advanced direct to garment printing technology in Europe, ensuring minimal wastage and optimal production efficiency. Other advantages include:
Provides greater flexibility over colours and quantities

Multiple colours can be used, without limitation

Won't crack or fade over time

Quality results on light or dark fabric

Eco-friendly inks and low-waste process
The disadvantages of direct to garment printing
Like all decoration methods, DTG printing does have its disadvantages. They include:
Not as economical on bulk order volumes

Cannot Pantone match colours

Fewer print location options

Garments are required to be 70+% cotton
Unsure of which decoration method to choose? Don't worry, our experienced team will ensure you get the appropriate print method for your order.
The most eco friendly DTG printing
With Kornit Atlas and Kornit Avalanche HD6 printers, we're able to offer some of the most advanced and environmentally-friendly print technology available in Europe. Our water-based NeoPigment™ inks are free of heavy metals, formaldehyde, and APE, making them non-toxic and biodegradable. Our DTG printing is significantly less water-intensive than other print processes, with zero water wastage.
Get stunning printed t-shirts that don't harm the environment with our biodegradable ink and energy-saving processes.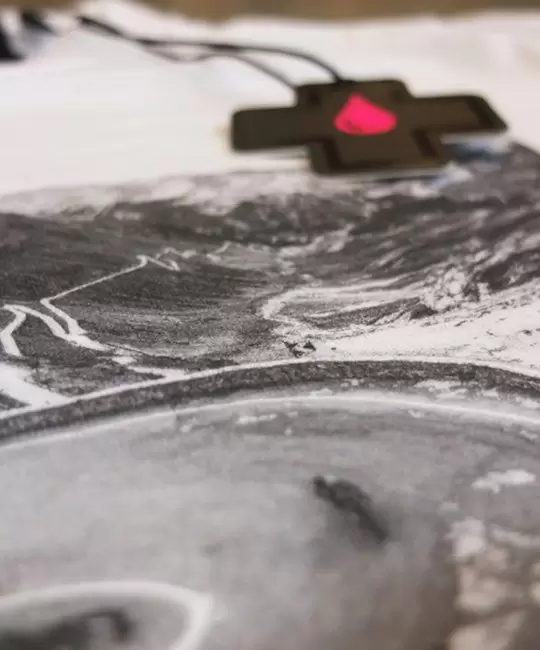 Quality and feel of DTG printing
When DTG printing, ink is embedded into the fabrics providing a finish that is typically softer than other print methods. The ink cannot crack or peel off over time.

With DTG printing, you can expect a high-quality finish that's soft to the touch, as the water-based inks sit within the fabric, rather than on top of it. This ensures increased durability, making direct to garment printing ideal for merchandise and retail products. 

When using direct to garment printing on dark fabrics, a base coat is required. In this instance, the print may feel slightly raised when compared to an identical print on a white garment.
How much does it cost to DTG print? Is it expensive?
With prices coming in much lower than traditional print methods, wholesale DTG printing prices for T-shirts can be as low as £5.20, with all production undertaken here in our DTG UK printing facilities.
Products that can be DTG printed

DTG printing works best on products with a high percentage of cotton. For the best results, we advise opting to print onto products with at least 70% cotton.
We can DTG print onto a wide range of clothing items, however, our most popular products include the following:
DTG T-Shirt Printing Onto Dark Colours

DTG T-Shirt Printing Onto Dark Colours

Digital Printing T Shirts

DTG T-Shirt Printing Onto Dark Colours

Retail DTG Printed T-Shirt Merchandise

DTG T-Shirt Printing Onto Dark Colours

Organic DTG T-Shirt Printing

Bulk Ethical Printed T-Shirts

DTG T-Shirt Printing Onto Dark Colours
See how the world's best use A.M. Custom Clothing
We're proud to have partnered with some of the biggest brands in Europe. Get inspired with case studies from some of our other customers' DTG printed products below.
Find out how we produced screen printed T-shirts for the world's leading online luxury fashion retailer. >>
Frequently asked questions about DTG printing
Behind the scenes
You can get a behind the scenes look at all of our market leading print technology in the video below.
How many products do you need?
We keep things simple, just select the quantity you need below, and our experienced team will ensure you get the appropriate print method for your order.
Want to use a specific print process?
If purchasing custom printed garments, our system will use a number of variables to calculate the best and most appropriate production process. This keeps things nice and easy for you, and ensures you don't have to spend years gleaning the knowledge of a printer before making your order. Your order is then checked over by our expert team, ensuring the most appropriate process has been assigned and that your artwork is in the suitable format. Please note all of our print processes are of the highest quality and durability, so perfect for whatever you need. If you do require a specific print method to be used, you'll find details on how to do this & more information here.

"The go-to supplier for ethical and environmentally sound custom clothing & branded uniforms."

"Leading the way in Fairtrade with A.M. Custom Clothing"

"Another business with a canny growth strategy is Chester based, A.M. Custom Clothing, which provides personalised, printed garments."

"What sets this company apart is their option of fair-trade, organic and recycled garments to choose from"