Vinyl printing for sportswear, jackets and promotional merchandise
Durable vinyl printing, for your
business or brand.
Professional digital mockups and every order checked by an expert as standard. You can expect quality & service like no other.
How many items do you need?
Vinyl printing for sportswear, jackets and promotional merchandise
Durable vinyl printing, for your
business or brand.
Professional digital mockups and every order checked by an expert as standard. You can expect quality & service like no other.
How many items do you need?
Trusted by the worlds best:



Printing clothing for brands, universities, charities and bands
Printing clothing for brands, universities, charities and bands
Embroidered wholesale clothing for brands, universities, charities and companies - copy
Vinyl T-shirt Printing and Much More
We keep things simple, just select the quantity you need below, and our experienced team will ensure you get the appropriate print method for your order.
If you have print expertise and do require a specific print method to be used, you'll find details on how to do this and more information here. If you'd like to learn more about vinyl printing, read on.
Want to learn more about Vinyl Printing?
Vinyl printing is ideal when you need a simple design printed quickly and economically.
Also known as Cad Cut Vinyl printing, the process is very similar to Digital Transfer printing, with the main difference being Vinyl printing is more suitable for designs with 1 or 2 colours, rather than full colour designs.

This process is really popular with sports teams, construction companies, university student's unions, as well as colleges and schools. The popularity in these areas is a result of being able to have bespoke personalisation across every product, such as names, numbers or job roles.
This option is perfect for those that require fast turnaround times or printing onto non-conventional materials, such as high-visibility workwear, nylon fabrics and hard hats.
Vinyl prints come in an array of colours and are ultra-durable, ensuring a bold lasting print to help your team stand out.
What is vinyl T-shirt printing and how does it work?
The process starts with your artwork being digitally traced into our software, allowing our plotter (a digital cutter) to be able to cut the design out from a sheet of Vinyl. 
We then manually remove any remaining unwanted vinyl from around your design when undertaking a fiddly process called weeding. 
Once the weeding has been completed your design is the only thing that remains on the backing paper. Using a combination of heat and pressure produced by an industrial heat press, we fuse your vinyl design to the garment. 
The backing paper is then pulled away, leaving just your design emblazoned across your T-shirt or other garment.
Vinyl printing is the most appropriate solution for simple designs and comes available in an array of colours. It's also great for printing onto darker coloured fabrics.
This process is not appropriate for more complex design work or photographs.
What does vinyl printing feel like?
Vinyl printing has a plastic or rubbery feel to it, which is very popular for sportswear like leggings and team shirts as well as for custom personalised coats and softshell jackets. The raised surface and striking finish make it a great choice where your design needs to stand out against the garment fabric.
Need Support?
Not sure if Vinyl printing is right for you, or need some support? Get in touch with one of our experts.
Why Us?
Not sure if we're right for you? Take a look at some of our recent customers and what they had to say here.
You can also find out more on what makes us a little bit better than your average Vinyl printer here.
Quick Tips?
Not sure what format your artwork needs to be in for Vinyl Printing? Find out more here.
Need some design advice? Our Design Resources section is filled with lots of tips and tricks.
Don't worry, we make things easy. Our team of experts will select the most appropriate print method for your logo or design (unless specified otherwise). Shop Now.
What is the quality and durability of vinyl printed clothing?
Good quality vinyl printing doesn't crack or peel. Achieving this quality is very much down to the materials used and the people applying them to the garments.
We use the highest quality vinyl, industrial heat press machinery, and have a team of experts with years of print experience under their belts. This allows us to produce prints that will last the lifetime of your garments.
What is the price of vinyl T-shirt printing?
Unlike screen printing, DTG and embroidery, vinyl printing is a very labour-intensive production method. As a result of this and the meticulous approach we take to quality, our vinyl printing is one of our most expensive print methods.
If ordering in bulk you can expect vinyl printed T-shirts to cost around £9 per T-shirt.
With prices for vinyl printing being a little bit higher and the limitations around it, we generally only recommend this process for small volumes of personalised sportswear or items like waterproof jackets, softshell jackets and coats which due to their fabric composition are well suited to vinyl printing.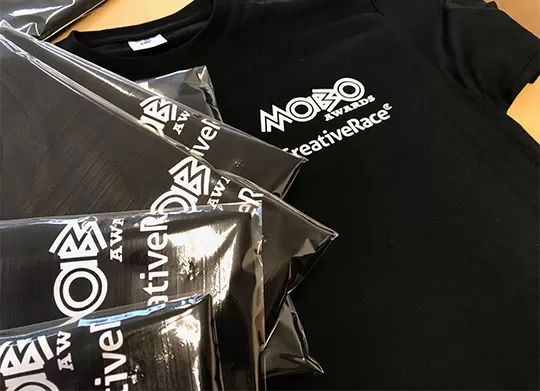 Products That Can Be Vinyl Printed
Vinyl printing works best on products made from synthetic materials like polyester. For the best results, we advise printing onto products with at least 70% polyester (or other synthetic fabric).
We can vinyl print onto a wide range of clothing items, however, our most popular products for this process include the following:
Vinyl printing pros and cons - is vinyl printing right for you?
Not sure if vinyl printing is right for you? The table below provides a brief overview of the pros and cons of vinyl compared to other production methods.
| | |
| --- | --- |
| Advantages | Disadvantages |
| Low minimum order | Limited colour options |
| Durable finish | Not suitable for fabrics sensitive to heat |
| Does not fade easily after washing | Not suitable for complex designs |
| Printed in the UK | Not suitable for large orders |
| Metallic and reflective (hi-vis) vinyl available | Not as eco-friendly as other print methods |
| Great for sportswear and coats | |
Vinyl Printing Most Popular Use Cases - It's perfect for them!
Due to the nature of vinyl printing, it's perfect for small volume orders of personalised jackets and coats, as well as custom sportswear. Below you'll find a more extensive list of the most popular products and use cases within these categories when it comes to vinyl printing.
| | |
| --- | --- |
| Personalised Jackets | Custom Sportswear |
| | |
Behind the scenes
You can get a behind the scenes look at all of our market leading print technology in the video below.
Why Vinyl Print with A.M. Custom Clothing?
The Best Quality Printing Company
Not all prints are born equal, machinery, materials and setups can vary greatly. With this in mind, it's hardly surprising that there can be such differences in vinyl print quality.
Your brand is everything and first impressions count, so when it comes to your printed clothing, don't settle for second best.
We've been regarded by Digital Arts Magazine as one of the "Best places for T-shirt printing" and by Forbes Magazine as "The go-to supplier for ethical and environmentally sound custom clothing and branded uniforms."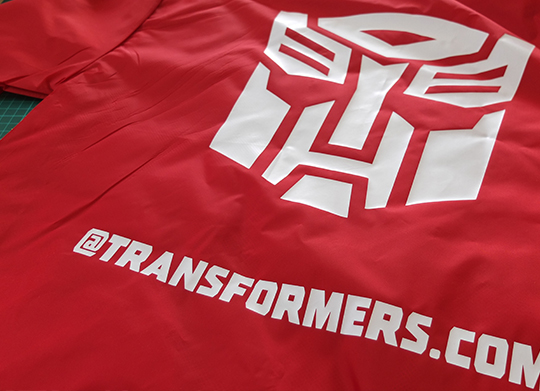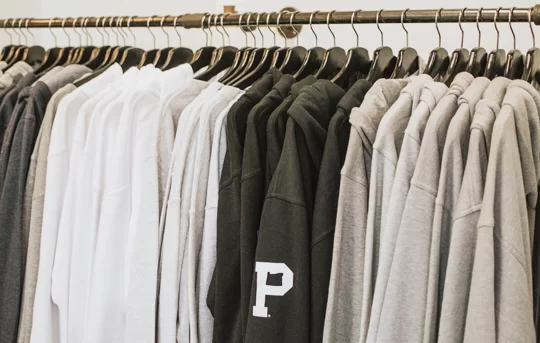 Lightning-fast quotes and easy online ordering
Whether you're ordering personalised teamwear, or promotional coats for a marketing event, placing your order online shouldn't be hard. Yet it often is, with confusing setup fees and antiquated quoting systems slowing everything down.
We're all about making things as simple as possible. Thanks to our pioneering technology, we'll have a bulk order quote in your inbox within seconds. Or if you're placing a small order of 25 or fewer products you can purchase printed garments online.
Every order checked and great customer service
While our process may feel a little automated, there's lots going on behind the scenes. 
Unlike others, your online order doesn't just go straight from your cart to our printers, every order is checked by a graphic designer and print expert. 
This ensures that your artwork files are print-ready and everything runs smoothly. If we think there is anything wrong or that it won't come out well, we'll get in touch with you before anything goes to print. 
This means that we won't print your custom printed clothing until you're happy with it. 
On bulk orders, you'll be assigned a dedicated account manager and graphic designer, ensuring you're supported at every stage of your order by someone who knows your order inside out.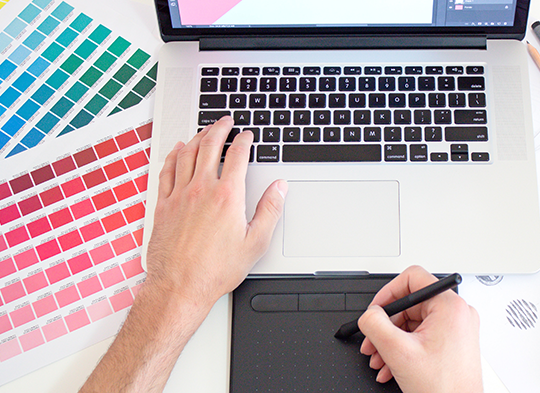 How many products do you need?
Frequently Asked Questions about Vinyl printing
Helpful Articles from the Blog
Want a specific print process used?
If purchasing custom printed garments, our system will use a number of variables to calculate the best & most appropriate production process. This keeps things nice and easy for you, and ensures you don't have to spend years gleaning the knowledge of a printer before making your order. Your order is then checked over by our expert team, ensuring the most appropriate process has been assigned and that your artwork is in the suitable format. Please note all of our print processes are of the highest quality and durability, so perfect for whatever you need. If you do require a specific print method to be used, you'll find details on how to do this & more information here.