Custom aprons for businesses and individuals
Personalised aprons for your businesses or brand.
How many items do you need?
With incredible UK service, innovation and sustainability as standard. We make buying custom printed & embroidered aprons easy.
Trusted by the worlds best:



Printing clothing for brands, universities, charities and bands
Printing clothing for brands, universities, charities and bands
Embroidered wholesale clothing for brands, universities, charities and companies - copy
Custom printed and embroidered aprons for your business
If you're a start-up business and require one custom printed apron, or a restaurant franchise requiring aprons printing in the thousands, A.M. Custom Clothing is a partner you can rely on. Here are some of the reasons why you can trust us with your brand.
No minimum order
No matter how big or small your business is, we can help.
Premium standards
Industry-leading machinery, inks and threads mean retail quality, every time.
Built on sustainability
From day one of business it's been our focus, it's in our DNA. 
Responsive support
Our team of print and design experts are here to support you every step of the way.
When speed matters
Our pioneering technology means you can order online, or get a quote in seconds, 24/7.
Custom aprons from as little as £4.08

 
At A.M Custom Clothing we offer sustainably sourced apron printing and market-leading embroidery technology to produce retail quality personalised aprons for businesses and individuals. Most of our wholesale aprons are suitable for printing and we can also provide embroidered aprons that give a professional, high-quality finish. Our print and embroidery processes produce high quality and vibrant prints so you can purchase personalised aprons with confidence. 
You can purchase custom aprons with no minimum order via our Online Shop or you can get in touch with us today for bulk orders over 25 units.
Fairtrade custom aprons
If sustainability is your top priority and you want something that shows off your brand values, our Fairtrade custom aprons might be the best option for you. These are our gold standard aprons when it comes to sustainability and ethics.
We have bar aprons, bib aprons and personalised hospitality aprons for all budgets. Whether you need embroidered aprons with text, or an apron with a photo printed onto it, we can help.
Custom aprons with no minimum order 
We have no minimum order for custom aprons with logos. Whether you are looking to purchase a single embroidered apron for yourself or wholesale customised aprons for your business, we have the solution for you.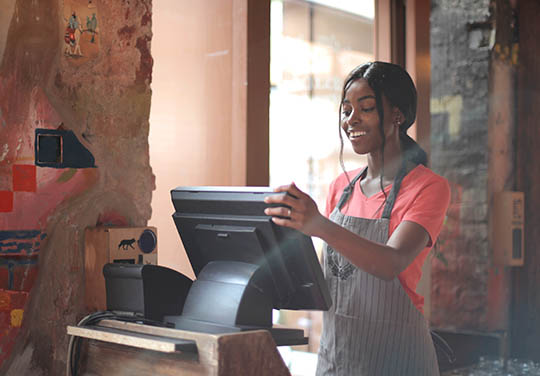 Organic custom aprons with your logo or design
Sustainability is A.M Custom Clothing's focus. We are committed to genuine sustainability throughout our supply chain; from raw materials through to garment finishing, shipping and marketing. Our award-winning commitment to sustainability is why some of the world's biggest brands trust us.
If you're looking for a balance between ethics and sustainability our organic aprons might be the best option for you. These are two of our most popular organic aprons. All of our organic aprons can be purchased blank or customised with your print or embroidery.

Until we managed to find A.M. Custom Clothing it was proving difficult just to get some of our questions answered and the exact help we needed. We didn't know where to begin in ordering new uniform for our team and we just needed the details simplified in addition to just a bit of care and honesty to help us get started. Other companies were unhelpful and inpatient, but how different were the team from A.M. Custom Clothing from start to finish. Right through from guidance on sizing and options, to going above and beyond when offering to reproduce our logo to make this editable.
Severnside Community Rail Partnership
Frequently asked questions about our personalised aprons

"The go-to supplier for ethical and environmentally sound custom clothing & branded uniforms."

"Leading the way in Fairtrade with A.M. Custom Clothing"

"Another business with a canny growth strategy is Chester based, A.M. Custom Clothing, which provides personalised, printed garments."

"What sets this company apart is their option of fair-trade, organic and recycled garments to choose from"