Custom tote bags, brands and businesses
Custom tote bags and bags for life for brands and merchandise.
How many items do you need?
With incredible UK service, innovation and sustainability as standard. You can expect retail-quality custom tote bags and a service like no other.

Trusted by the worlds best:



Printing clothing for brands, universities, charities and bands
Printing clothing for brands, universities, charities and bands
Embroidered wholesale clothing for brands, universities, charities and companies - copy
Custom tote bags for your business
All of our tote bags are premium retail quality. Combine this with market-leading print and embroidery technology, and you'll quickly see why the biggest brands, businesses and bands choose A.M. Custom Clothing for their personalised tote bags. Here's why you should too.
No minimum order
No matter how big or small your business is, we can help.
Premium standards
Industry-leading machinery, inks and threads mean retail quality, every time.
Built on sustainability
From day one of business it's been our focus, it's in our DNA. 
Responsive support
Our team of print and design experts are here to support you every step of the way.
When speed matters
Our pioneering technology means you can order online, or get a quote in seconds, 24/7.
Personalised tote bags and bags for life from as little as £1.74
Quality is key for your custom branded tote bags and that's why at A.M Custom Clothing we provide premium retail quality tote bags that are ethically and sustainably sourced. We combine market-leading technology with the largest range of print methods available in the UK to provide canvas tote bag printing suitable for all brands, big or small. You can purchase custom tote bags with no minimum order via our Online Shop or you can Get a Quote for bulk orders over 25 units.
Custom tote bags certified to the highest sustainability standards in the world
In a world with ever-changing needs, we stay ahead of the game with eco-friendly and sustainable personalised tote bags suitable for all budgets. 
If sustainability is your top priority and you want something that shows off your brand values, our Fairtrade organic tote bags might be the best option for you.
We are committed to genuine sustainability throughout our supply chain; from sourcing raw materials through to the printing, shipping and marketing. Our award-winning commitment to sustainability is why some of the world's biggest brands trust us with their custom tote bags.
Organic and ethical custom tote bags
If you're looking for a balance between ethics and sustainability our organic and ethical tote bags might be the best option for you. These are two of our most popular ethical and organic tote bags. All of our ethical and organic tote bags can be customised with your print or embroidery.
Budget-conscious promotional tote bags
We have tote bag options for even the tightest of budgets, all of which are printed and embroidered to retail quality, using our market-leading technology, no matter how big or small your order is. 
UK based printing and embroidery for your personalised tote bags
If you require branded tote bags, printing may be the right option for you. The majority of our reusable bags are suitable for printing in our UK print facilities. Our DTG and screen printing processes deliver the highest quality vibrant prints that will stand the test of time, so you can purchase logoed tote bags with confidence.
Embroidered tote bags are also no problem, embroidery can give a unique and premium feel to any tote bag. Although we have no minimum order, embroidery becomes more economical on orders of 5 or more products. For larger bulk orders of 25+, embroidery is a great option and can be as economical as printing. For single units, printing is typically the most economical option.
Our team of experts will always be on hand to help you select the most suitable tote bag printing option based on your design complexity and order quantity. To help, here's an overview of the tote bag print methods we offer.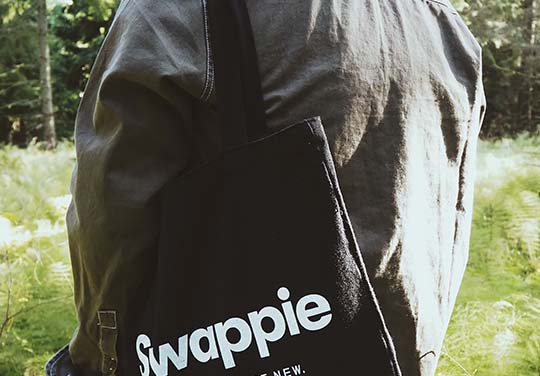 Screen printed tote bags
A process of transferring a stencilled design by pushing ink through a mesh screen and onto your tote bags. If you need 50 to 25,000 tote bags printing, screen printing is likely to be the most economical and durable print method. Read more…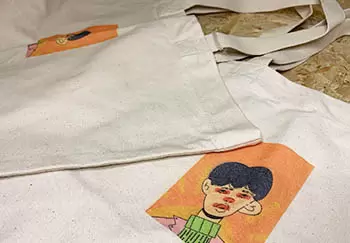 DTG printed Tote Bags
Using direct-to-garment (DTG) printing, ink is injected into the fabric, allowing your design to stretch and move. It's ideal for those with highly detailed design work such as full-colour photographs, or those requiring small order volumes. Read more…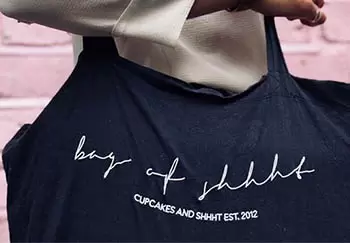 Embroidered Tote Bags
Custom embroidery is the process of stitching your design into tote bags using a needle and thread. Unlike printing, embroidery is stitched directly onto the fabric, ensuring maximum durability and adding a textured dimension to your design. It's perfect for thicker materials, like custom tote bags.  Read more…

Until we managed to find A.M. Custom Clothing it was proving difficult just to get some of our questions answered and the exact help we needed. We didn't know where to begin in ordering new uniform for our team and we just needed the details simplified in addition to just a bit of care and honesty to help us get started. Other companies were unhelpful and inpatient, but how different were the team from A.M. Custom Clothing from start to finish. Right through from guidance on sizing and options, to going above and beyond when offering to reproduce our logo to make this editable.
Severnside Community Rail Partnership
Frequently Asked Questions about our personalised tote bags

"The go-to supplier for ethical and environmentally sound custom clothing & branded uniforms."

"Leading the way in Fairtrade with A.M. Custom Clothing"

"Another business with a canny growth strategy is Chester based, A.M. Custom Clothing, which provides personalised, printed garments."

"What sets this company apart is their option of fair-trade, organic and recycled garments to choose from"