Ethical and Sustainable Wholesale T-Shirt Screen Printing & Embroidery
How many items do you need?
We are the future.
With award winning ethics & sustainability as standard.
World class environmental standards.
The garment industry is one of the most environmentally damaging industrial sectors in the world. Through the use of technology (eg. factories powered by renewables) and dynamic supply chains, we strive to reduce our impact as much as possible.
Much like our ethical credentials, our environmental standards are verified through reputable third party organisations (eg. Carbon Trust), monitoring our Manufacturing Partners; ensuring these standards are a guarantee.
Market Leading Print & Embroidery Technology
Printing & embroidery can be very resource and material intensive, so at A.M. Custom Clothing, making this element of our production as environmentally friendly as possible is crucial. We use some of the most advanced print technology in Europe, ensuring optimum efficiency and minimal environmental impact. A by-product of this technology is the superior quality we're able to deliver.
Through the power of technology, combined with agile and dynamic supply chains, we're able to make products essentially on-demand, ensuring we only make products after they have been ordered. What's more this has no impact on the rapid lead times we're able to meet. This means less wastage across the entire supply chain.
We use some of the most advanced print technology available in Europe. We use top of the range Kornit Atlas and Kornit Avalanche HD6 printers. These ensure we're able to print using some of the most environmentally friendly technology available.
The water-based NeoPigment™ inks are absolutely free of heavy metals, formaldehyde and Alkylphenol Ethoxylates (APE), making them non-hazardous, non-toxic and biodegradable. As part of our waterless printing system, the biodegradable ink and energy saving process makes Kornit an eco-friendly printing solution.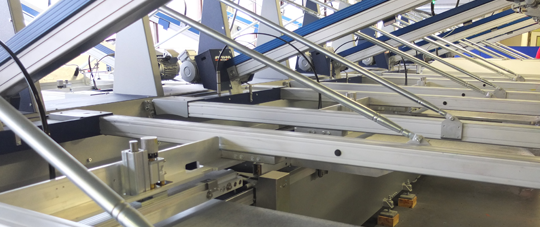 Where bulk production is required we use some of the most advanced screen print technology, ensuring minimal wastage and optimal production efficiency. When it comes to inks, we ensure our screen printing inks are as eco-friendly as possible. Many cheaper solvent based inks contain harmful compounds and endocrine disruptors (phthalates), that are damaging to the environment; therefore we use 100% Phthalate free screen printing inks. Where possible we use renewable energy to power our production. We use renewable energy at a number of the facilities we use both here in the UK and overseas. Our head office is also powered entirely by renewable energy.
Where embroidery is required we use Madeira Threads, the gold standard for embroidery threads. Madeira's threads harmonize style, quality and colour with all environmental and ethical needs. Madeira Threads are made in the European "green" city of Freiburg, Germany. They use dyestuffs & chemicals only from registered REACH suppliers, their AcquaZERO by Noseda patented processes for dyeing-reducing precious water usage by 60%. Recycled water is used in production, alongside holding world class OEKO-Tex Certification for their products. No APOs are used in finishing - so there is nothing to contaminate water courses when completed embroideries are washed. Additionally due to the Highest Quality in colour fastness & tenacity, we can ensure your embroideries are durable and you need replacements less frequently.
Madeira Threads have been recognised for standards even higher than those required by global brands such as NIKE, PUMA, New Balance, Marks & Spencer, etc.
Our printing and embroidery is done here in the UK.