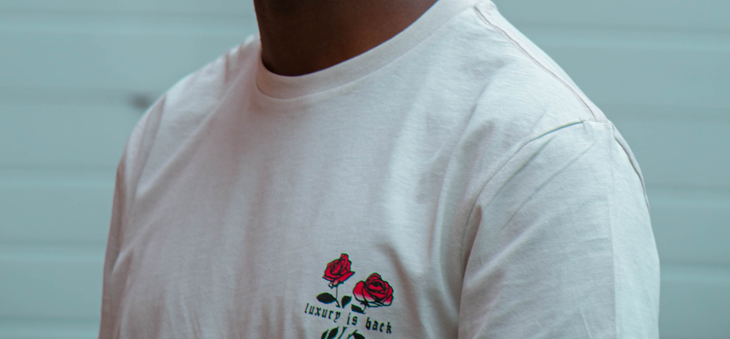 Unsure on what size to have your artwork printed or embroidered on your garments?    
While we do have recommended sizes, the best size to print or embroider your logo is quite personal and subjective. Some may want something small and subtle while others prefer their logo to be seen from far away.
Top tips on how to choose the right size for your logo or design:
Use paper

– Either print your logo out at a few different sizes onto paper, or just cut up blank paper. Position it on a T-shirt in the place you'd like it printed/embroidered, and keep adjusting until you're happy. Once you're happy, measure the paper, and you'll know the size needed.

Use a ruler

– It sounds simple, but it works. Just measure on a T-shirt the coverage you'd like, and hey presto, you know the size you need it.

Decide how visible you would like the design to be

- Some locations are better than others for advertising a brand. Take into consideration visibility from a distance and how easily the design will catch someone's eye. If you have a text element in the design, the T-shirt lettering size should be legible for everyone.
Our standard logo size recommendations:
Whilst there is not a definitive standard logo size for a T-shirt, each decoration area has a recommended maximum print or embroidery size.  The garment style and weight can also influence what size is best. To help you better understand the factors that need to be considered, take a look at our T-shirt logo size guide for our recommendations.
What size should a printed design be?
Large Logo / Design – For large print coverage (eg. big print across the chest of a T-shirt) we recommend having your design 297mm wide. This print size will fit on most adult T-shirts (both male and female), making it a good standard option. This is why we print most large prints at this size. We wouldn't suggest having embroidery this big as it'll feel very heavy, especially on lighter products like T-shirts.
Small Logo / Design – If it's a small subtle left breast print or similar, 70-100mm is generally a good size to have your design. Simple designs can look great at 70mm wide, but those with more intricate elements may need to go as large as 100mm or more to ensure the detail comes out clearly.
What size should an embroidered logo be?
Large Logo/Design – A large embroidered design should only be placed on garments that are heavier, like a sweatshirt, otherwise it will weigh the garment down. We suggest having large embroidery at a max size of 240mm wide.
Small Logo/Design – For a small embroidery area such as on the left chest or on the arm, we recommend having your design no larger than 75mm-100mm wide. If you have an intricate design, it is worth having it at the maximum size as the details could be lost with a smaller embroidery.
Embroidery size for T-shirts
If you're thinking of adding embroidery to T-shirts, smaller is generally better. T-shirts are relatively light and embroidery is pretty heavy, so a large embroidery will weigh down the front of the T-shirt and potentially be quite uncomfortable for the person wearing it. If you want a large embroidery, sweatshirts and hoodies are generally the best options.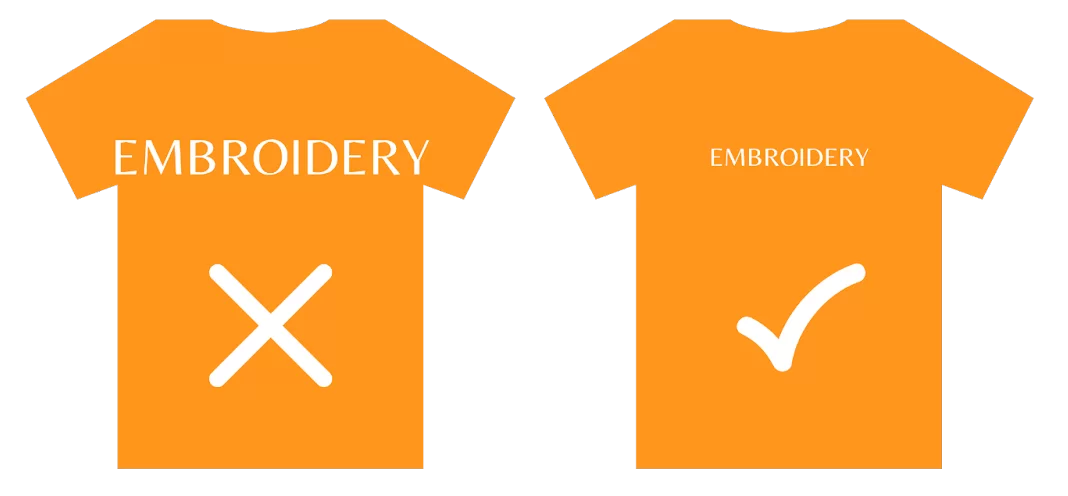 Where Should A Logo Go On T-shirts?
Although there are some quirky and creative T-shirt designs out there, there are 6 primary locations to print or embroider a garment with your design or logo. If you're looking to add some additional branding to the garments, the inside and outside of the neck are great for this. However, unless you're not an established retail brand, there isn't really any need for this and you're better off focussing on the six primary locations. 
You can read more on whether relabelling is right for your brand in our article, 'Do You Need Relabelling'.
A front body or back print is perfect for displaying a large design and will be visible from some distance, whilst an arm or small chest print is a subtle location to advertise your brand with a logo.  However, it will not be seen if worn under a jacket, so it is advisable to also have some branding on the front of the garment for maximum effect.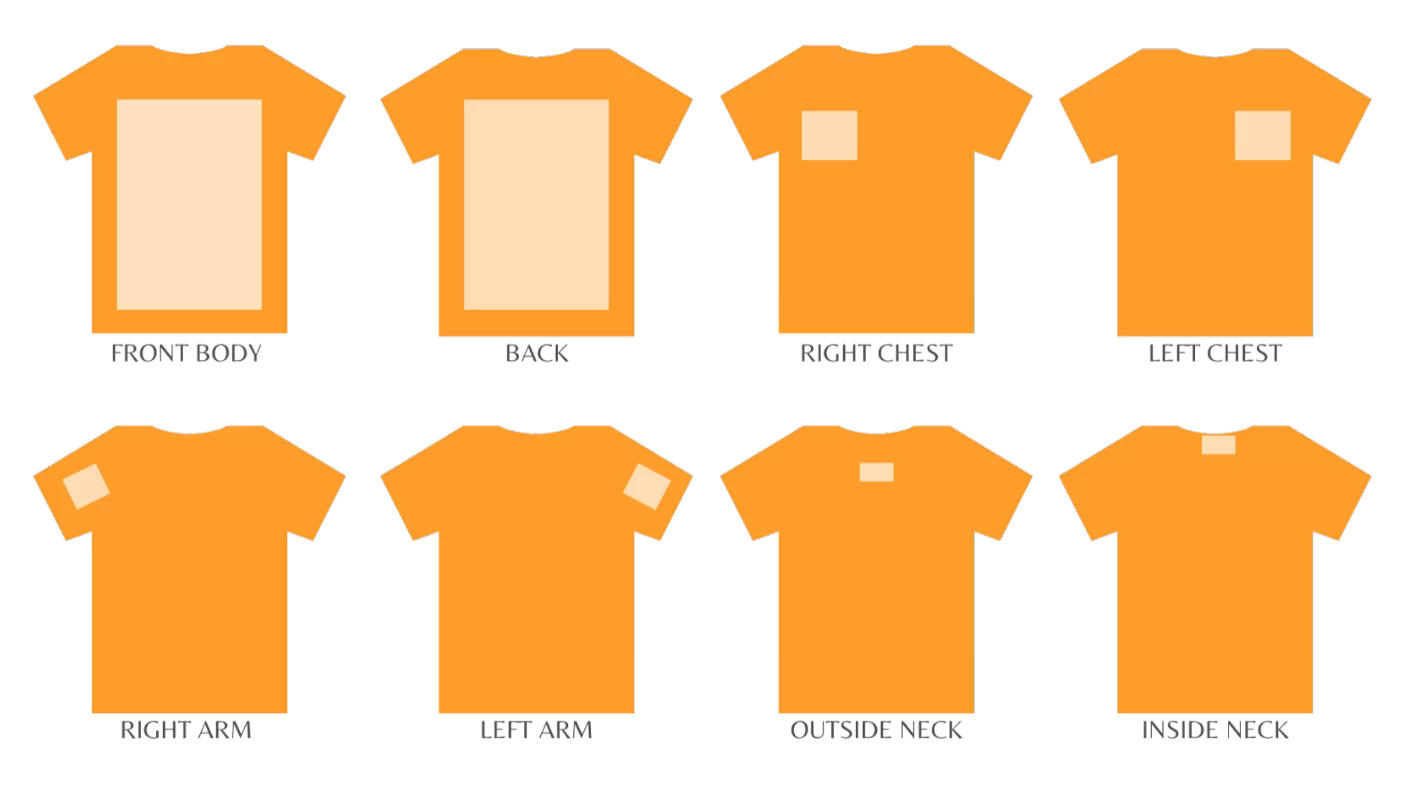 This guide and sizes mentioned are applicable to all garments, whether you're thinking of buying embroidered sweatshirts for workwear, custom printed organic T-shirts, or even tote bags.
Regardless of whether you purchase your products from us or somewhere else, we'd always recommend sending all design work at the size you'd like it printed or embroidered and following our Artwork Guide.
If you'd like to discuss how to print your logo or purchase personalised clothing, send us your requirements and our expert team will be able to help you. Alternatively, if you're looking to make an order of fewer than 25 products, you can buy your embroidered T-shirts online. Our expert team reviews EVERY single order, so you can rest assured if design isn't sized for optimal results we'll let you know before anything goes to production.
This post was updated in August 2021 with the most up-to-date information and advice from our expert print and embroidery team.
* Find this article useful?
Sign up to our newsletter, for the latest news, resources, trends and exclusive discounts.
If confirmation doesn't arrive in your inbox following subscription check your spam/junk mail.