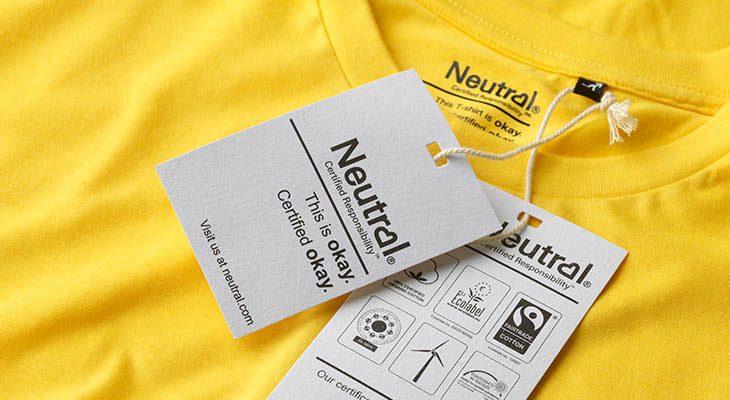 What does sustainability mean to you? For us here at A.M Custom Clothing, it is at the heart of everything we do. Our business strives to follow the most sustainable and ethical practices during our entire production chain. If you are keen to know more about some of the different sustainability standards our products meet and what they mean, then continue reading!
You might be wondering what sustainability standards are. These are guidelines to assess the sustainability of products, processes and organisations. The standards cover a wide variety of topics, including environmental impacts, social responsibility and economic viability. The standards have been developed by different organisations including non-profits, industry groups, and governments.
Most businesses use these standards as a way to improve their current sustainability practices, but also as a way to send the message of commitment to sustainability to their customers and stakeholders.
With so many different standards, certifications, and accreditations, it can be hard to know which ones offer what. To help, we've put together a guide that will allow you to understand the purposes of each one.
The Global Organic Textile Standard (GOTS)
The Global Organic Textile Standard is renowned as the world's leading textile processing standard for organic fibres, and is backed by independent certification of the entire textile supply chain. The standard covers the processing, manufacturing, packaging, labelling, trading and distribution of all textiles made from at least 70% certified organic natural fibres.
Any textile product that carries the GOTS label grade 'organic' must contain a minimum of 95% certified organic fibres. A product with the label grade 'made with organic' must contain a minimum of 70% certified organic fibres.
To find out more head to https://global-standard.org/
To see our range of Fairtrade Organic products head to our online shop.
SA8000
SA8000 is based on the principles of international human rights norms. It measures the performance of companies in eight key areas: child labour, forced labour, health and safety, free association and collective bargaining, discrimination, disciplinary practices, working hours and compensation.
This standard protects over 2 million workers worldwide in 4000+ facilities. It contributes towards better engagement between workers, continuous culture improvement and management systems, and therefore leads to far better worker well-being and working conditions.
REACH Compliant
REACH is the regulation of Registration, Evaluation, Authorisation and Restriction of Chemicals. The main aim of REACH is to ensure that both human health and the environment are highly protected. It shifts the responsibility from public authorities to industries, with regards to assessing and managing the risks posed by the use of chemicals, and provides safety information for its users.
Find out more information on the work REACH does.
The Soil Association
The Soil Association certifies to the Global Organic Textile Standards (GOTS) – the international gold standard for organic textiles. They are a charity that is striving to change how we eat, farm and care for our natural world. The entire supply chain from fields, to manufacturing, through to the final product must all be certified, as environmental and social standards are all checked against.
Did you know that 77 million cotton workers suffer from pesticide poisoning each year? That's why going organic is more vital now, than ever. Organic is important during every step of the process, on the farm, at the factory, all the way to the clothes on our skin. From field to shop, organic is the way of the future.
Head to the Soil Association website for more information.
Neutral Responsibility
Neutral responsibility is focussed on renewable energy such as wind power, being used instead of conventional energy. Wind power is the main power source at facilities and provides four times as much energy than what is actually used. Therefore, the excess energy is able to be sent to the network for the benefit of local communities, which reduces the CO2 emissions.
Overall, renewable energy is beneficial for the local environment but also for the global climate. Solar panels are also a great source of renewable energy as they have a minimum impact on the environment. The solar panels are connected to the facilities to provide the power. Clever, right?
OEKO-TEX® Standard 100
The OEKO-TEX® Standard 100 is an independent testing and certification system for textile raw materials, intermediate and end products at all stages of production. Examples for items eligible for certification include: Raw and dyed/finished yarns, raw and dyed/finished fabrics and knits, ready-made articles (all types of clothing, domestic and household textiles, bed linen, terry cloth items, textile toys and more).
In summary, if a textile item has the OEKO-TEX® Standard 100 label attached, you can feel reassured that each component of the item, including every thread used, buttons and all accessories have been completely tested for harmful substances and is completely harmless to human health.
Please see the link here to find out more – OEKO-TEX.com – Standard
Organic Content Standard (OCS)
The Organic Content Standard is a voluntary global standard providing companies with a criteria for third party certification that a product contains the accurate amount of given organically grown material. By certifying to OCS, businesses are verifying the organic content of their products, which provides the customer with reassurance, confidence and integrity.
The OCS scheme covers all parts of the production chain, from raw materials to the finished article. There are two types of OCS certification which includes:
OCS 100 which is used only for products that contain 95% or more organic material. OCS blended is used for products that contain 5% minimum of organic material blended with conventional or synthetic raw materials.
Read more on the Textile Exchange website.
Fairtrade
The Fairtrade Certification Mark is your independent guarantee that the cotton in a product has been certified in accordance with international Fairtrade Standards. We hear the word Fairtrade a lot in conversation, but what does it really mean? Fairtrade is a vital certification that aims to ensure that a set of standards are achieved in the entire production chain of a product or ingredient.
For farmers, this means fairer pay, safer working conditions and workers rights.
For shoppers this guarantees high quality ethically produced products.
It is so important in the current climate to choose and shop Fairtrade, as it shows our unrivalled support to farmers.
For more information on all things Fairtrade, visit the Fairtrade Foundation website.
The Global Recycle Standard (GRS)
The Global Recycle Standard is an international and voluntary full product standard which was originally developed in 2008 by the CU ( Control Union Certifications ). Its ownership was passed to the Textile Exchange in 2011. The aim of the standard is to set requirements for third party certification of Recycled Content within products.
The GRS is intended for use on any product that contains a minimum of 20% Recycled Material. The whole production chain is considered for it to be classified as certified. This standard is intended to meet the needs of companies looking to certify the Recycled Contents in their products and also verifies responsible chemical, environmental and social practices within the production chain.
We have a fantastic recycled range in our online shop.
Carbon Label
We have all heard of Carbon Footprint, but what does it really mean? In summary, Carbon Footprint is the amount of CO2 and other greenhouse gases that are emitted into the atmosphere from a products manufacture through to its distribution, use and disposal. Greenhouse gases trap heat into the planet which over the years has contributed to rising global warming and climate change, which has become so serious that it is now irreversible.
The above statistics prove why it is vital that we are reducing our Carbon Footprint in our daily lives. We should be focussing on purchasing products that have The Reducing CO2 Label as this is a certification that the products have had their carbon footprints verified by the Carbon Trust. They have been rigorously tested and are committed to reducing their carbon impact.
For more information head to the carbon trust website.
Earth Positive
All Earth Positive products are 100% organic with a 90% reduction in CO2. This reduction has been achieved through the use of green renewable energy sources (such as wind and solar) instead of fossil fuels, to power their manufacturing facilities, as well as low impact organic farming and efficient transportation practices.
Interestingly, just one Earth Positive T-shirt has been calculated to save 7 kilograms of Carbon Dioxide and a Hoodie saves up to 28 kilograms. These reductions are without any carbon offsettings! It is not until we see the above figures that we realise just how much carbon is being used within the fashion industry, and how by utilising renewable energy, we are able to protect our environment.
EU Ecolabel
The EU Ecolabel is an official voluntary label that helps to identify products that have reduced environmental impacts from the extraction of raw material through to production, use and disposal. Customers purchasing items with this label can be confident that they own a product that can be trusted with promoting environmental excellence.
Purchasing an EU Ecolabel product helps to make a contribution to some of the biggest environmental challenges, such as reaching climate neutrality by 2050.
Fair Wear Foundation
Founded in 1999, the Fair Wear Foundation is an independent, non-profit organisation that works with companies and factories to improve the labour conditions for garment workers. Currently, around 75 million people work within the fashion industry across the globe and statistics show that 85% of these are women. The Fair Wear Foundation aims to implement meaningful change into a wide variety of issues including, low wages, gender based violence, health and safety breaches, forced and child labour.
The above realities and figures are the driving factors as to why the Fair Wear Foundation exists. As much as the sustainability of fabrics is crucial, this organisation takes social sustainability incredibly seriously. Becoming a Fair Wear Foundation member certifies that a brand is committed to bettering the lives of garment workers across the world.
If you would like to find out more about their work, head over to the Fair Wear Foundation website.
Why do these certifications matter?
When an independent organisation checks and confirms that ethical and environmental standards have been met, it can make it easier for consumers and businesses to make informed choices. With certification labels, brands can be confident that the products and services they're offering have gone through a thorough evaluation process for ethical and sustainable sourcing, production, and disposal.
Certification can also balance the scales for businesses, particularly in industries where some companies might cut corners by engaging in unethical or unsustainable practices to save costs. By ensuring that everyone complies with the same standards, certification promotes fair competition and prevents unethical businesses from having an unfair advantage.
Overall, external third-party certification of ethical and environmental standards is a powerful tool for promoting responsible business practices and advancing sustainability.