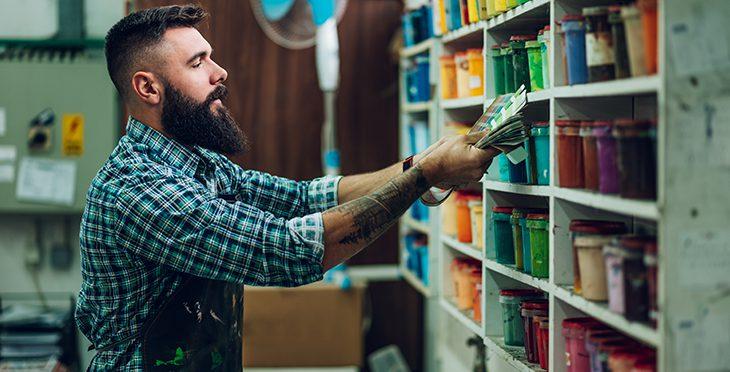 Choosing a custom clothing company for your upcoming project needn't be a stressful task, but there are a number of things to consider. We have curated a helpful guide of ten top tips when sourcing the right company for your requirements.
Are they sustainable?
Being eco-conscious is becoming an ever-growing priority for consumers when opting to purchase from a business. The clothing industry alone is currently the second largest contributor to pollution, meaning sustainability is at the forefront of consumers' minds.
At A.M. Custom Clothing, this isn't a trend we are following, from day one of business, our ethos has been focused on helping the planet and the people who live on it, and is why we stock over 17,000 variations of ethically sourced garments.
Do they offer exceptional customer service?
It's great if a company can produce exceptional custom clothing products, but does their customer service match this professionalism? Seek a business that offers unrivalled support and knowledge throughout the whole process, from the initial contact to the exciting delivery of your new clothes.
Here at A.M. Custom Clothing, we provide a dedicated account manager and graphic designer to assist during every step, giving customers the most personalised experience.
Have you checked their previous print and design quality?
Does your print company have solid case studies and examples of previous decoration projects to hand? Check that you are partnering with a reputable brand that can produce high-quality decoration work on your custom garments.
You can find photos of our previous work, along with client testimonials and case studies on our website and social media channels.
What print methods do they offer and can they Pantone Colour match?
It is vital to have an understanding of the print methods on offer before proceeding with your project. If you have a design which requires an all-over print method, known as sublimation printing, but the company only offers screen printing and direct-to-garment (DTG) printing, then this may not be the best option for you.
At A.M. Custom Clothing, we cater for all needs and offer screen printing, DTG, embroidery, sublimation vinyl, and transfers. So whatever your project, we are happy to work with you to bring your ideas to life.
If you have specific colours in mind, Pantone Colour Matching may be something to consider. At the moment, this service is only available with screen printing.
Do they offer the quantity and range of products that you are looking for?
It is sensible to research whether the company can supply the correct garment quantity that you require. In some cases, companies may only accept bulk order quantities and/or have a minimum order quantity in place.
On our website, you are able to purchase 1-24 items directly through our online shop. If you need 25 or more items, get in touch with us for a free no-obligation quote.
How quickly can they deliver?
If you wish to receive your custom clothing by a specific date, have a look at the company's lead times. Be cautious if a company is able to send your order out on next-day delivery – there is likely a reason for this, and potential corners being cut.
The ethos of our business is protecting the planet, meaning we specialise in waste reduction – we don't hold excessive stock levels, and we operate under a just-in-time manufacturing process. To read up more about our lead times and sustainable shipping methods, head to our help centre.
Are they able to work within your budget?
It is important to be mindful that quality should never be compromised when purchasing custom clothing. Opting for the cheapest supplier could mean the quality of your garment and printing is less than optimal. Buying cheap usually means buying twice as you'll have to replace items more frequently
It is recommended to stick with a company that offers industry standard prices to ensure that the print quality standards also remain high.
How trustworthy are their reviews?
There is arguably no better way to gauge the reputation of a company than reading through its reviews. Reviews give an honest view of how previous customers' found their interaction with the business and can provide you with much better judgement when making your purchase.
Do they provide mock-ups before your order enters production?
When placing an order for custom clothing, it is essential that every aspect of your design is to your liking. Receiving a digital mock-up will allow you to check that everything is as you would like it. If you are investing a substantial amount of money on a bulk order, a digital mock-up is essential
At A.M. Custom Clothing, we always provide digital mock-ups so that you can check the positioning of your designs, and give us the green light to go to print.
Do they offer samples prior to purchase?
If you are looking to commit to a large purchase, you may wish to receive a sample garment for peace of mind, ahead of pushing through with your full order. It is helpful to know if the company offers samples to check that this is the right printing business for you.
We offer single unit samples which can be purchased via our online shop. Samples are non-returnable or refundable, but we can provide up to £50 of credit against every £500 spent on your bulk order (up to a maximum of £150 of credit). Sounds like a good deal, right?
Want to get started?
If you require custom clothing for an event, staff uniform or just fancy owning your own personalised garments, get in touch and we will be sure to bring your creative visions to life!