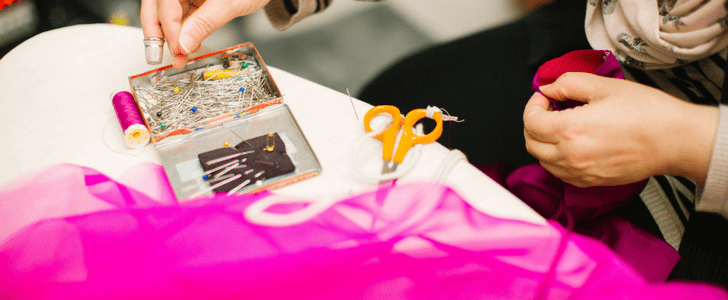 Choosing the right fabric for your sewing project is important. You need to consider several factors before beginning, ranging from color to durability. As well as taking the following things into consideration, you should also think about who inspires you. There are many great websites, like TwirlyGirl, which can give you some fantastic ideas about what to make.
The Spruce, similarly, provides a great deal of inspiration – this website has lots of great ideas for you to make using fabric.
Consider Fabric Durability
First of all, you'll need to think about what you're trying to make, and how much wear the fabric will need to endure. If you're making garments or furniture coverings that need lots of durability, then woven fabrics are always best.
Remember also that you should be thinking about thread counts. The higher the thread count and the tighter the weave, the more durable the fabric will be. The thread count refers to the amount of threads there are in one square inch of fabric.
Think About the Style
Style matters as much as durability! If you're designing something traditional, you'll need to ensure you have traditional patterns, for instance. Remember that your choice in fabric should reflect the style and character of the piece you are creating. A traditional fabric might have a high thread count and classic patterns woven into it.
More modern fabrics tend to be thinner and feature sleeker designs. Remember also, that some fabrics appear more formal than others. Whether you're creating a dress, a shirt, a pair of curtains, or new upholstery, these are all important things to remember. If you need help finding out which fabrics are best, don't be afraid to consult professional researchers and writers at websites like UK Top Writers.
What Fabrics are Best for Your Project?
There is a huge variety of fabrics out there, and while you must consider durability and style, the actual kind of fabric you use is really important too. Take a look at the following five fabrics to give you an idea.
1) Cotton
Cotton is one of the most versatile fabrics in the world. It comes in many different weights, and is often used as a light weight and durable fabric for clothing. You can use cotton for everything from handkerchiefs to jeans. You can purchase cotton in varying thicknesses, and it should prove suitable for most projects.
2) Polyester
Polyester is a man-made, synthetic, woven fabric that can be used for a range of projects. The fabric can be used as a cheap way of making clothes, and it proves popular owing to its crease-resistant nature. Polyester can also be woven with cotton.
3) Wool
Wool is much heavier than cotton, but it's still very versatile. Wool can be both woven or knitted, and the fabric is used for making heavy coats, suits, skirts and even dresses. It's a traditional fabric that has been replaced by the likes of cotton and polyester, but it is still an extremely high quality option.
4) Silk
Silk is typically one of the more expensive fabrics. It is a woven and slippery fabric that is light weight and formal. It can be used for things like luxury undergarments and neck ties, but it is often used to create luxury dresses and other formal clothes.
5) Linen
Finally, there is linen. Woven linen is extremely easy to work with, and it comes in a number of different weights. It does, however, crease easily.
So remember – consider the durability, style, and weight of your fabric, and you'll be on the way to a successful sewing project.
Author BIO:
Rachel Summers writes for UK Top Writers, local newspapers and is also a freelance creative writer and editor.
* Find this article useful?
Sign up to our newsletter, for the latest news, resources, trends and exclusive discounts.
If confirmation doesn't arrive in your inbox following subscription check your spam/junk mail.