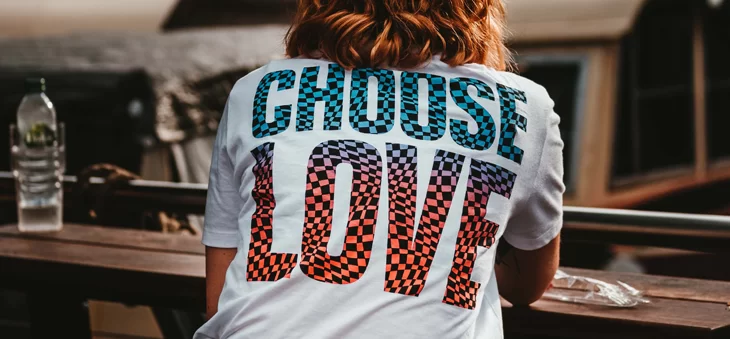 How to create awesome company t-shirts
Corporate branded T-shirts have become popular amongst businesses. T-shirts are a versatile product that can yield a high reward for low cost whether they are for staff uniforms, giveaway prizes or team events. Company branded T-shirts are also a great tool for increasing employee engagement and improving company culture.
A strong company culture can have a huge effect on employee happiness at work, with companies that have a strong culture averaging a staff turnover of 13.9% in comparison to a 48.4% staff turnover at those companies without a strong culture. Additionally, only 30% of companies have an employee engagement initiative. Those companies have a 20% higher revenue on average due to increased employee engagement. It makes sense then that companies should be looking to increase employee engagement and inclusivity. Staff T-shirts are a cost effective and fun way that all businesses can achieve this.
What makes a great company T-shirt?
Companies and their employees are diverse, so it is important to design a T-shirt that will appeal to everyone through design, fit and style whether that be work T-shirts with a logo or promotional T-shirts.
1. T-shirt fit
Unisex T-shirts are a great option for custom business T-shirts. The fit of the T-shirts means that they are suitable for all shapes and sizes as they tend not to be too fitted or oversized. Each employee will have their own personal style, some may prefer to wear fitted clothing whilst others prefer a looser fit, so it is important to have staff T-shirts that make people feel comfortable and in keeping with their own style.
2. T-shirt style
A crew neck, cotton T-shirt is a staple in everyone's wardrobe. It is flattering, practical and comfortable. A soft cotton T-shirt is breathable and moisture absorbing, so they will keep staff comfortable all day long whether they have a busy day at a team event or a quiet day at their desk. Cotton is also great for people with sensitive skin and organic cotton T-shirts are a great option for eco-conscious companies and employees. Opting for a T-shirt that is OEKO-TEX 100 standard certified also ensures that the materials contain no nasty chemicals that can irritate some skin types.
3. T-shirt price
A good quality personalised T-shirt doesn't need to be expensive. People are used to spending £10-£20 on their own T-shirts, therefore your staff T-shirts will have a high perceived value, when in reality, by purchasing bulk custom T-shirts, you could spend as little as £5 per T-shirt. Whilst quality can be subjective, a heavy-weight, cotton T-shirt will have a feeling of quality that your employees will appreciate without costing the earth.
The products below are great options for staff T-shirts:
Corporate T-shirt design tips
The design that is printed or embroidered on your personalised staff T-shirts is important as it represents your brand and your employees. The style of the design can also be adapted depending on when and where the company T-shirts will be worn. These tips will help you create the best corporate T-shirt design.
1. T-shirt designs for inside the office
Depending on the ethos of a company, staff T-shirts for around the office can be simple or complex. A simple design, such as a brand logo on the front is a great option for customer facing roles, as an office uniform lets customers know they are in the right place and helps keep employees looking smart and presentable. For non-customer facing roles, a fun design with bright colours can be in keeping with a more relaxed company culture. Each department could have their own colour T-shirt or a different design to increase cohesion in internal teams.
For special occasions such as employee of the month, the custom staff T-shirts could have a unique design or perhaps a bright yellow base colour for the winner to wear and celebrate their achievements. Employees may even wear their staff T-shirts outside the office on their way to and from work, so a simple company logo can be a great way to advertise your brand.
2. T-shirt designs for outside the office
With an increasing number of employees working from home, a company T-shirt can be a great welcome gift for new employees to help them feel included and valued by the company. Previously, for special occasions such as product launch days or Black Friday, offices often held team events for employees, however, sending a launch day T-shirt to employees can be a fun way to keep staff involved whilst working from home.
Company T-shirts to be worn from home don't have to be as simple as T-shirts for inside the office. The design could include a fun slogan or company mission statement instead of a simple logo. Bright colours or unique patterns can keep employees spirits up whilst they are away from the office.
Staff T-shirts for events such as trade shows also need to be eye-catching and represent the company accurately. When in competition with other businesses, the right T-shirt design can attract customers and help your company stand out from the crowd.If you are thinking of purchasing company T-shirts and would like any help finding the right products or would like to discuss your design with a dedicated account manager, get in touch with us and we would be happy to help.