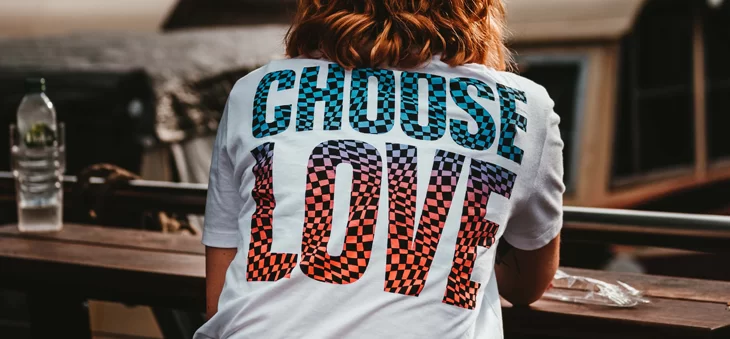 Whilst we're proud of our products and think you'll love them, we get endless requests for free samples from customers. While we understand the desire to test things out first, if we offered bespoke samples to everyone, we'd run out of time for bulk orders!
We believe we have a fair way to deal with samples:
For Purchases of Less than 50 products
If you're ordering less than 50 products, then don't worry, you can purchase single printed & embroidered products direct from our Online Shop.
We have a minimum of just 10 products for embroidery when the embroidery area is larger than 120x120mm (think large back embroideries etc) when purchasing through our Online Shop. If the embroidery is below 120mm wide there is no minimum order quantity.
If you're happy with the print or embroidery used on your single unit, just let us know in the notes for your full order following, so we can ensure the same process is used next time around. If you don't inform us, a different print method may be used to best match the quantity/design required (any requested print method will need to be approved by our team – if you do not get approval on this a different print method may be used).  
You will receive a full visual proof before your order goes into production, you will receive this regardless of your order size. Your digital proof will show the design placement, colour and size. Only when you are completely happy with your proof and have given us your approval to proceed will production commence.
If you are unsure on product colours, before buying one of every colour, we advise getting in touch and requesting product images for the product you're interested in. This will save you time and money.
Due to the wholesale, custom nature of our business we cannot provide refunds or returns.
If you're worried about the quality of our production feel free to have a look at some case studies of previous work here.
For Purchases of more than 50 products
On orders of this size the processes used may be slightly different. Below is an illustration of the typical print methods used.
pre-printed screen print samples here should you wish to test the print quality. We do not offer bespoke screen printed samples.
If ordering a quantity that will require DTG printing, you can also purchase a pre-printed sample, or alternatively you can purchase a single unit with your design in our online shop.
If printing onto polyester garments, we'd likely use digital transfer printing, vinyl, or screen printing, depending on the product type & quantity.
Embroidery can be used across all quantities.
Please be sure to specify to the designer doing your digital mockups the process you'd like if you have a preference (after your order has been placed), as depending on the design (among many other factors) we may opt to use a different process if we believe it'll work better on your chosen garments. The table above is just a guide and not a guarantee of the final process used.
Needs A Specific Print Method?
If you're after DTG Printing, Digital Transfer Printing, Vinyl or Flock Printing, when using our online shop to make your order select the 'full colour' option, for the number of colours in your logo (even if it's just a one colour logo). This will adjust the price for those processes on all quantities. Please be sure to specify to the designer doing your digital mockups the process you'd like – or by default it'll likely just be DTG printed.
If you'd like screen printing for your order, please use the chart above to ensure the quantity and number of colours in your design suit this process. Again please be sure to specify to the designer doing your digital mockups the process you'd like if you specifically require this particular process.
For Testing Sizes of Garments
All of our garments come with size guides (most of which are in the product description on our Online Shop), or can be provided upon request. We advise using the manufacturers size guides, as opposed to purchasing a product in every size. Or purchasing one product to see how the size comes up. Please note, we cannot provide refunds nor do we allow returns due to the trade wholesale nature of our business. You cannot send your products back to us to be decorated if you have ordered them blank. You'll need to order them with decoration if you require custom printing or embroidery.
For all-Over Printing
For all-over t-shirt printing, please get in touch for our guide, and price list for this. All-Over printed products cannot be purchased through our website.
* Find this article useful?
Sign up to our newsletter, for the latest news, resources, trends and exclusive discounts.
If confirmation doesn't arrive in your inbox following subscription check your spam/junk mail.