Recycled T-shirts and sportswear
Recycled custom clothing and sportswear for your business or brand.

How many items do you need?
With incredible UK service, innovation and sustainability as standard. We make buying recycled T-shirts and sportswear easy.
Trusted by the worlds best:



Printing clothing for brands, universities, charities and bands
Printing clothing for brands, universities, charities and bands
Embroidered wholesale clothing for brands, universities, charities and companies - copy
Recycled T-shirts and sportswear
100% recycled clothing and sportswear made from plastic bottles and recycled cotton. With retail quality production as standard, some of the UK's biggest brands and organisations trust A.M. Custom Clothing. Here's why you should too.
No minimum order
No matter how big or small your business is, we can help.
Premium standards
Industry-leading machinery, inks and threads mean retail quality, every time.
Built on sustainability
From day one of business it's been our focus, it's in our DNA. 
Responsive support
Our team of print and design experts are here to support you every step of the way.
When speed matters
Our pioneering technology means you can order online, or get a quote in seconds, 24/7.
Over 35.8 million plastic bottles are consumed in the UK alone every day. We're striving to find innovative ways to recycle them, helping to prevent them from ending up in landfill or our oceans.
Custom Recycled Workwear
In a world where consumers and employees are placing greater importance on brand values and sustainability, there has never been a better time to consider moving over to more sustainable choices for your workwear.
Sustainability isn't a trend, it's the future.
Using recycled plastic in your workwear is a fantastic way to demonstrate your commitment to your ESG and CSR values in a very genuine and visible way. Our wholesale recycled clothing is perfect for workwear, with lightweight, durable and breathable fabric, ideal for labour-intensive roles.
If you're looking to go all-in on sustainability, our organic clothing range is also a great option, with an incredibly wide selection of options.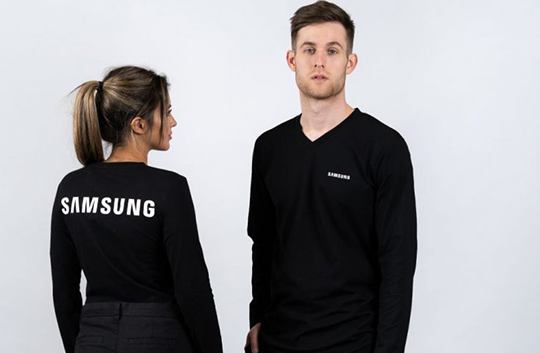 It takes 5-6 plastic bottles to make one of our RPET recycled technical t-shirts or running vests. As a result of this innovation our fabric suppliers have recycled
14.2 billion plastic bottles
so far, alongside avoiding
385 million
kilograms of CO2
.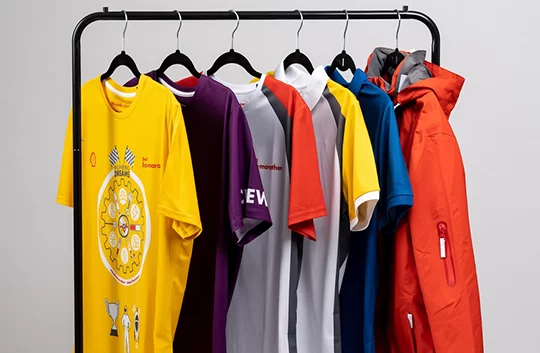 Custom Recycled Merchandise
Whether it's merchandise for a team event or products to stock in your store, recycled custom T-shirts are a great option. With low minimum orders and huge capacity, no job is too big or small.
Due to the high recycled polyester content in our wholesale recycled T-shirts and hoodies screen printing, transfer printing and embroidery are the best decoration options. These processes deliver the best results with simple designs, such as a logo or simple graphic.
If you're looking to have a full colour photograph or similar printed onto your garments, our organic product range is more suitable.
Recycled Custom Sportswear
We know that you need products that perform well, without costing the planet. It's this mission that has lead to the creation of our 100% recycled rPET custom clothing and sportswear ranges.
We have two options of recycled sportswear to cater for your needs. They are made-to-order recycled sportswear and standard recycled sportswear. Our bespoke made-to-order products are created from scratch, these are perfect when you require all-over print coverage. Our standard recycled sportswear, is our pre-made range which can be customised with your logo or design through print or embroidery. Our recycled sportswear products are lightweight and breathable, making them perfect for sportswear.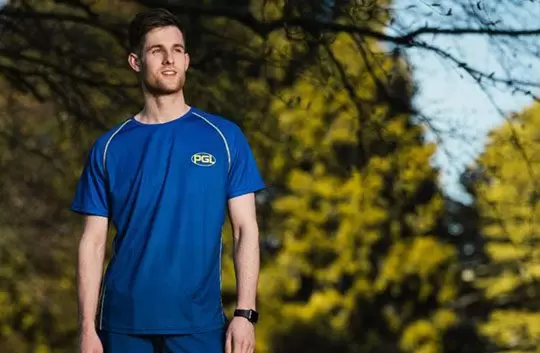 Made-to-order recycled sportswear vs. standard recycled sportswear. What is best for you?
To help make your decision a little easier, we have broken down the benefits of each option so you can see which range is best for your needs.
Bespoke made-to-order recycled sportswear 
Through pioneering Qwick-Dri™ technology combined with a super-flyweight composition, we've been able to deliver the UK's highest standard of recycled sportswear and activewear, ensuring a comfortable fit that performs in the most demanding conditions. To the naked eye it looks the same as our market leading standard bespoke sportswear.
Only suitable for all-over print coverage

Sublimation printed

Longer lead time (6-8 weeks)

More expensive (££)

Includes technical T-shirts, running vests, cycling jerseys and more.

Minimum order 25 (photo examples can be provided)
Standard recycled sportswear 
Our recycled sportswear products are made from a combination of 100% recycled polyester and regenerated cotton yarn (the exact composition varies across the range). Our recycled polyester is manufactured using post-consumption plastic bottles, and the cotton yarn is derived from cotton waste from the cutting room, which is normally destined for landfill. 
Our market-leading processes allow for a soft-hand feel ensuring optimal comfort. This combined with the sports fit and lightweight breathable fabric ensures you can perform at your best without environmental compromise.
Best suited for placement prints (max print size 297mm x 400mm)

Screen printed or transfer printed

Quick lead time (around 2-3 weeks)

More economical (£)

Includes technical T-shirts, recycled hoodies, sweatshirts and more.

No minimum order
Purchase online for small orders. If ordering 25+ get in touch for a quote
The benefits of using recycled plastic and regenerated cotton include:
This is a completely dry process – meaning there is no need for further dying.
Reduces the amount of waste going to landfill.
Avoids the CO2 emissions associated with growing and processing new cotton.
Reduces the amount of land needed to grow cotton.
Reuses plastic that would have otherwise ended up in landfills.
Our wholesale recycled clothing products
We stock a wide range of recycled clothing options, below are some of our most popular product categories.
Recycled polyester sportswear environmental impact and transparency
Recycled polyester provides a great way to improve the environmental impact of your sportswear. Recycled polyester is an incredible innovation for recycling plastic bottles, and another step closer to resolving the plastic crisis. However, from an environmental perspective, it's not 100% perfect as garments still generate microplastics during washing.
Microplastics are one of the unavoidable issues with ANY form of sportswear made from synthetic materials, recycled or otherwise (polyester, nylon, acrylic etc). 
In some instances sportswear is essential (if you've tried running an obstacle course race with a cotton hoodie in winter you'll fully appreciate this), and when it is, recycled sportswear is a great option. However, if it's not essential, we'd recommend using one of our organic cotton T-shirt options which are made from a natural material that doesn't generate microplastics.
If you're unsure on which option is best for you, your article on organic cotton vs recycled polyester is a great place to start.
Frequently asked questions about recycled T-shirts & sportswear