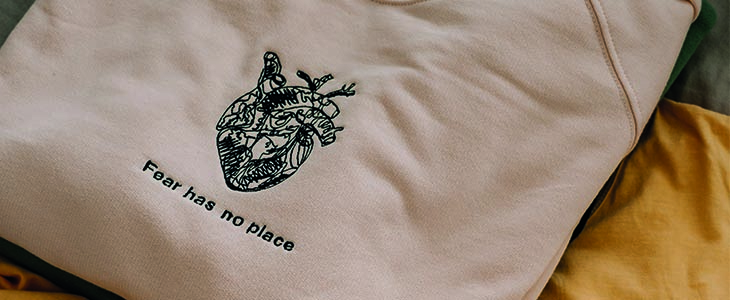 If you're soon to be investing in garments that are embroidered with your own logo or design, you want to ensure that every detail of your order is perfect. From the selected garment fabric and colour, right through to the size, positioning and font used in your embroidery.
There are a few important things to consider when selecting the best font for your embroidered garments. Let's discuss them below.
What's The Purpose Of The Embroidery?
Firstly, what is the purpose of the embroidery? Will you be showcasing your brand name on a staff uniform? If so, you need to consider how easily readable your design will be with your current font.
Size Matters
How big will your embroidery design be? Embroidery threads are often thick, and a small font does not lend itself well to being embroidered. It can appear rough and prove difficult to read. With this in mind, evaluate whether you need to increase the size of your font to ensure the text is readable.
The spacing between letters is also important to consider and can be crucial to the quality of your embroidered design. Stick to a font that is clean, easy to read and is well spaced out for the best possible results.
Simple Is Often Best
Fancy, cursive fonts can be tricky to embroider as small details can often be lost and the design can become messy. If you're wanting your design to look clean, polished and professional, stick to simple fonts such as Arial or Helvetica for the best possible results.
Have a real think about your brand identity – does your current font portray this? For example, a nursery may opt for Comic Sans as a logo font, but this would not be suitable for the brand identity of a solicitor's practice.
Another thing to consider when choosing the best font for your embroidered garments is whether you want to pay for a font. Some fonts are free for commercial use, but others aren't. Before committing to your order, it is worth exploring some paid for fonts on sites such as Adobe Fonts.
Additional Tips for Choosing The Best Font For Your Embroidered Garments
Check the size of your font is a minimum of 14pt before placing your order.
Avoid using multiple fonts in one design.
Avoid any outlines and shadows on your font.
Avoid narrow text and try to opt for one that is bold.
Perfecting Your Embroidery Order
Some fonts simply do not work well when embroidered. If you think this may be the case for your current logo, consider producing a second, simpler version of your logo using the best possible font for your embroidered garments to optimise your results. Alternatively, printing T-shirts and other garments can be a great option for complex fonts not suitable for embroidery.
If you're still unsure on whether you are using the best fonts for embroidery, you can always contact our friendly team who will be more than happy to advise you.