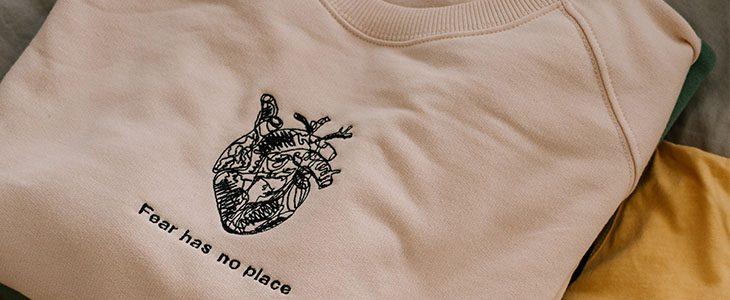 If you've recently purchased embroidered clothing or are considering purchasing a custom embroidered garment, you may be wondering how the aftercare process differs from printed garments.
Embroidered clothing features elaborate stitches and washing your garments with care can help to increase the longevity of your product. This guide is going to give you a full understanding of how you can help to maintain the quality of your embroidered clothing by following some simple aftercare steps. Please be mindful that it is always recommended to follow the fabric care instructions found on the care label inside of your garment.
Key care considerations for embroidered clothing
While you should always consult the care label in garments, here are the typical considerations for caring for your embroidered clothing.
Before washing, undo buttons, close zips and check pockets for loose or sharp objects
Wash at 30°
Wash inside out
Do not bleach
Wash with similar colours
Wash with similar textured garments
To avoid excess friction, do not overload your washing machine
Do not leave them in a wet environment
Do not tumble dry
Lay flat to dry to avoid shrinking
Do not dry clean – the chemicals used in dry cleaning can damage the embroidery on your garment
Never iron over the embroidery
Iron on the reverse side using the lowest heat setting
Other things to consider about caring for your embroidered clothing
Here are some other key considerations to keep in mind when caring for your new embroidered clothing.
Removing embroidery ring marks
Embroidery ring marks are a normal part of production. Whilst we endeavour to remove them, please note they come out in the first wash.
Embroidery backing
When ordering an embroidered item, embroidery backing is added on the inside of the garment to stabilise your embroidery so it doesn't pucker and is more durable. It can also make the back of your embroidery a little less scratchy on the skin.
There are two types of backing, cut-out, and tear-away. Tear-away backing is more suited to heavier items like hoodies where the garment itself is thick enough to prevent the embroidery from puckering.
On lighter items like T-shirts and polos, cut-out backing is used. Most of this backing material will stay within the garment and only the excess will be cut away from the edges. This ensures the embroidery stays in place and lasts longer.
Backing material is industry standard and is required for durable high-quality embroideries.
Key takeaways to help you care for your embroidered clothing
In conclusion, taking proper care of your embroidered clothing is essential to ensure its longevity and to preserve the intricate details of the embroidery. By following the key care considerations outlined in this guide, such as washing inside out, avoiding excess friction, and laying flat to dry, you can help maintain the quality of your garments and the embroidery itself. Remember to never iron directly over the embroidery and opt for the lowest heat setting on the reverse side.
Additionally, be aware of embroidery ring marks and the presence of embroidery backing, both of which are integral to the production process and necessary to ensure the highest quality results. By adhering to these aftercare steps and considerations, you'll help ensure your embroidered clothing lasts for years to come. Always refer to the care label inside your garment for specific instructions tailored to your embroidered apparel.