How much does a custom T-shirt cost?
The price of your printed T-shirts will depend on the quantity you buy, the type of T-shirt you choose, how many colours are in your design and how many different places on the T-shirt you want to print. Let's take a look at an example to better illustrate how much the price can vary:
A single personalised T-shirt can be as much as £13, however, when ordering 100 in bulk the price could be as little as £3.50 per item.
That's a huge difference and why it's worth trying to at least estimate how many products you need.
Why does the price of a custom T-shirt vary so greatly?
You go to buy a single custom T-shirt, but find that if you purchased 50 or even 500 it would be much cheaper per product, you may wonder why this is. Surely the price of the print and product isn't any more expensive?! And surely T-shirts are super cheap anyway?!
What many fail to consider when making these assumptions is the overheads that come with high quality custom T-shirt printing. There are many factors at play that do in fact make it more expensive (per product) to produce a single product vs tens, hundreds or even thousands. 
We're going to outline some of these below: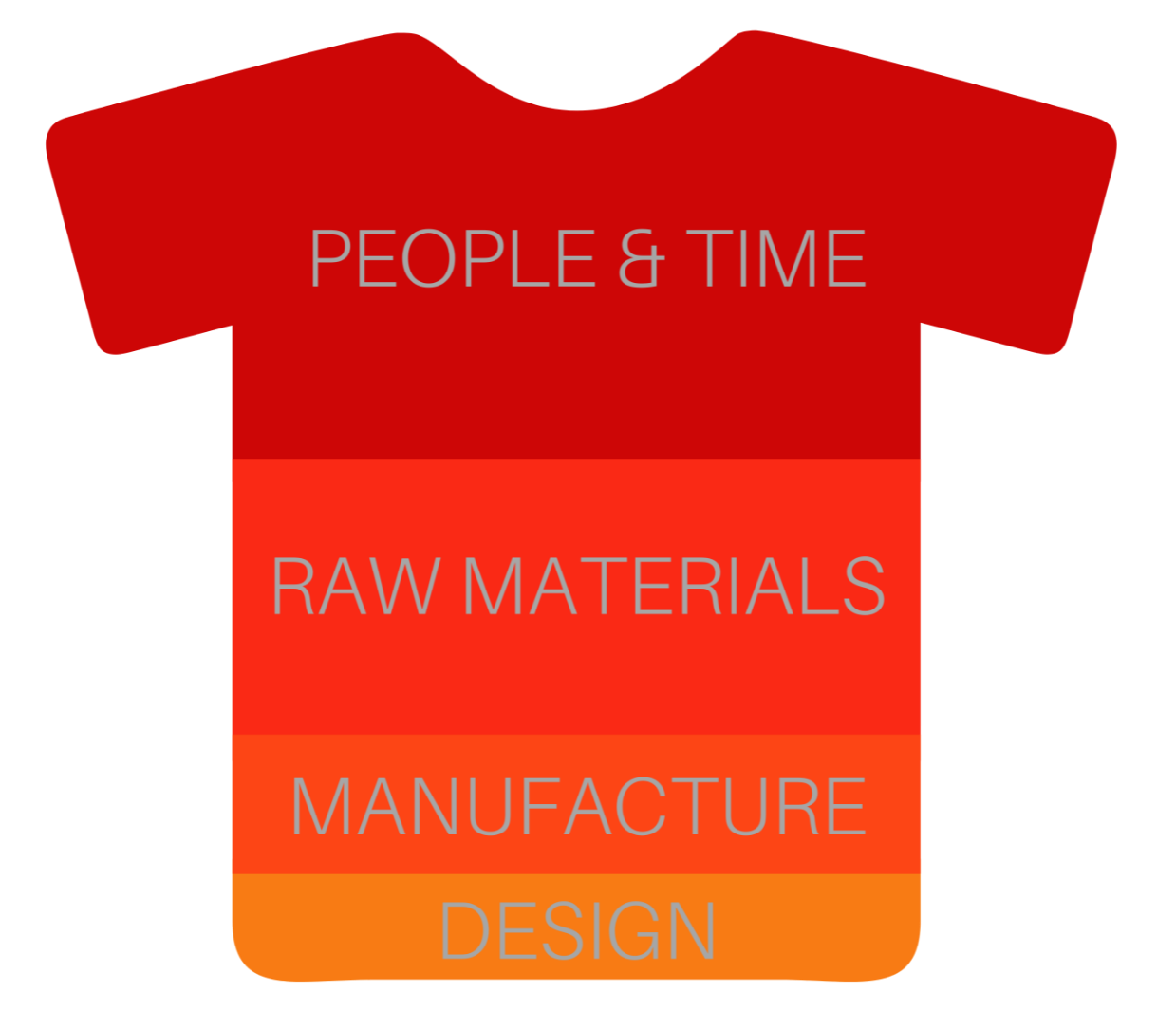 The costs involved in printing custom T-shirts
Setup Time
It takes a T-shirt printer almost as long to setup & administrate a production run for 1 custom T-shirt as it does for 100 or 1000. 
Assuming it's just 1 person involved in the setup and administration of your order, when you split that person's hourly wage across 100 units, compared to 1 unit, the rate becomes a much smaller proportion of the order.
For example, if that person was paid £20 an hour, on 1 printed T-shirt 1 hour of their time would be £20. However, across 100 units it would be just 20p per T-shirt. While this is quite a basic example, which doesn't reflect the true time, people and costs, it illustrates how the savings can add up very quickly.
The setup time accounts for the time spent answering any questions or enquiries via email or phone, the design work for digital mockups (plus any alterations that are needed), the setup of the printers, the loading of your artwork onto the machines (or screens depending on order sizes), and more.
T-shirt Manufacturing
Unfortunately, garments for printing are not free and can be fairly expensive depending on the design and manufacturing process. You wouldn't expect to pay the same price for a T-shirt from Gucci as you would from Primark. The steps below will demonstrate just how much time and skill is required in garment manufacturing:
Design - The T-shirt is designed to specific requirements and transferred to a pattern, ready for production.
Cutting - The panels are cut out individually for the garment, typically consisting of a front, back and sleeves.
Assembly - The panels are then stitched together carefully in a specific order to increase longevity of the garment.
Finishing - The neck band and labels are added and the hem is sewn.
Time Spent Printing
While our printers are fairly autonomous, people are still involved in the process. People have to load T-shirts onto the printer and line them up, alongside monitoring production to ensure everything is running smoothly. When everything is the same on a larger order, it's far quicker, compared to single T-shirt orders. 
There are also people involved in quality control, and people who pick and pack your order. Again this is faster on orders where everything is the same and going to the same place. 
As you can tell already there are a fair number of people involved in the printing of T-shirts.
The product and printing itself
We also have to consider the raw materials (inks, T-shirts etc), which get cheaper when you buy larger quantities. Materials needed for making T-shirts are more varied than you might think. Cotton and polyester are the most well-known materials for the body of the T-shirt, but there is also elastane, viscose, Nylon, Rayon etc which are often mixed in. Whilst these materials can be sourced fairly cheaply, you should expect to pay more for higher quality materials, or materials that have been sourced sustainably and ethically.
Ink and thread for decoration also vary in quality and price. Some inks have a higher amount of wastage which can mean quite literally pouring money down the drain, whilst other inks can be scooped back up to be reused.
Custom Clothing Employees
Most importantly, there would not be any custom T-shirts to purchase without the people who make them. There are many employees in the supply chain, from people who manufacture the raw materials, to the customer service representatives, to the people who operate the machinery that decorate your garments. In most cases, these employees are paid a living wage which is why some custom clothing business' products are seemingly more expensive than others, usually if a T-shirt seems too cheap, it means that not everyone in the supply chain is being treated or paid fairly.
Hopefully, this helps you to better understand why buying larger quantities of custom printed T-shirts works out cheaper per unit, and gives an insight into the processes involved.
No matter your order size, we can help. We have no minimum order for blank and printed T-shirts, polos, hoodies and more, when you make an order through our website.
This post was updated in October 2021 with the most up-to-date information and advice from our expert print and embroidery team.
* Find this article useful?
Sign up to our newsletter, for the latest news, resources, trends and exclusive discounts.
If confirmation doesn't arrive in your inbox following subscription check your spam/junk mail.