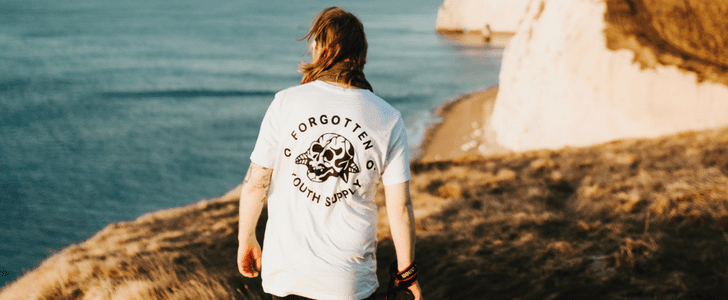 Creating a personalised t-shirt is an easy, creative skill you can add to your skill set. There are many easy and effective methods that you can use to create stunning designs. Our new t-shirt designer tool allows you to easily customise and create your own t-shirt in a matter of few minutes.
But, you will always need to dedicate a good amount of time if you wish to create a t-shirt with unique design. There can be multiple patterns printed on a t-shirt such as a photo, a doodle, a unique design or text. Plain, boring t-shirts will not make the cut for special events, or fashion conscious people.

Find a concept
Invest some time in gathering and collecting your concept. Take your time, and explore ideas. To begin with, you can always sketch out the various ideas on paper. One design is too limited of an option to choose from, so create a few variations of your design.
Imagine the design on a shirt
The next step is to imagine what the design will look like on a t-shirt. You can do this by creating digital mockups, either using graphics software or our t-shirt designer. You could also print out your design on paper, and hold it up to a blank t-shirt.
Keep the balance between detailed and simple design
Create a unique design, as everyone appreciates something new, be as creative as you can. It need not always be extremely detailed as some of the most classic designs have been the simplest. You should also think about the message that your design conveys.
Consider your market
This needs to be considered, as you should be aware whether you are designing for a male or female, young or old, as well as what their interests are, this is because you need a product that you want people to wear. Deciding on this reflects the skill of a good marketer; thus, focus on the targets you wish to attract for a particular design – who they are, what they like, what other brands they like and go from there.
Choose the right colours
Opt for complementary colours in your design, if you wish your design to be vibrant. Colours are what that will help your design to shine out and thus, you need to use your t-shirt colour effectively. In case you are using Adobe Illustrator, turn on Global Colours for great colour effect. Plus the feature is absolute time saver and gives only the best desired results. To make the best use of the restricted colours use Halftones.
Create your artwork without any errors
When screen printing, or any other method you should always consider what, and how many colours you use.. Your design will look even better if you outline text and expand any strokes you may have. For such design tips and tricks there are plenty of good tutorials on sites like YouTube.
Source a good printer
Though designing is your major focus from start to the end, the other major concern for you should be the printer from which your t-shirt will be printed. When your design is complete and your artwork is finished; ready to print, you need to hunt for a printer that will make the print on your tee look the business. You may wish to start here.
Understand the market
Consider every aspect, such as the weight, sizes, labelling options, cost, etc. It all affects the end product. You may have a great design, but, it is essential to consider the costs, lead times and service.
Get Educated
Aim to come up with something trendy, as every other designer is looking to move on to the next big thing. Remember t-shirt have arisen from every subculture that has ever existed whether it's tees from bands, skateboarders, street art, sports crossovers or general pop culture. There is always an inspiration out there, and so you should be able to come up with designs which will set trends.
You can start designing t-shirts from our Print On Demand T-shirts designer.
Guest Author BIO:
Lewis Khan - Guest Fashion Blogger
* Find this article useful?
Sign up to our newsletter, for the latest news, resources, trends and exclusive discounts.
If confirmation doesn't arrive in your inbox following subscription check your spam/junk mail.