Choosing a print method to produce your design can be a daunting prospect. Many people have heard of screen printing, DTG printing or embroidery and think that these are their only options, however, there is a myriad of print methods to choose from, each with their own benefits and disadvantages.
There is not a one-size-fits-all method and each order should be looked at individually, taking into consideration the client's budget, garment requirements, order quantity and artwork. If you are new to the world of online T-shirt printing, this guide gives a comprehensive overview of the main print methods that we offer and aims to help you understand why the initial stages of placing an order can be more complex than expected. 
While we know some of you will relish reading all about the best print method for T-shirts, we know some of you have simply pulled the short straw on who orders the company clothing. With that in mind, don't worry, we keep things simple, if you don't specify a print method, our expert team will choose the best process for your design and garment selection, ensuring the best results. 
However, if you do want to understand the difference between each of the print methods available, then read on.
Screen Printing – The Best Print Method for Large Bulk Orders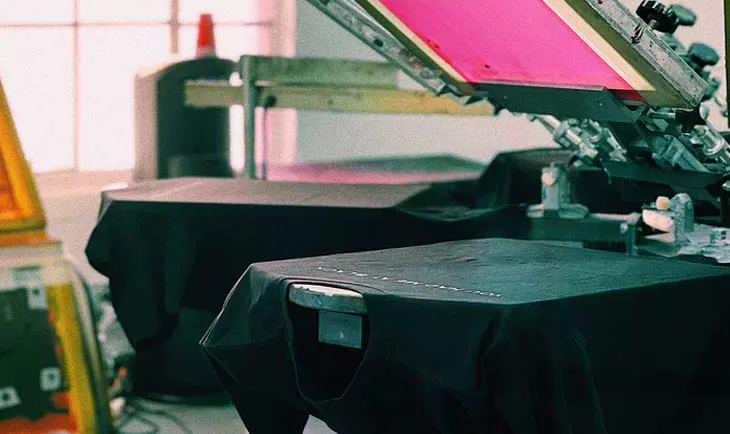 Screen printing is the most well-known and commonly requested method of printing. It is often assumed to be the 'best' printing method, but the reality is that there are other equally high-quality and durable methods.
Screen printing uses a thick ink that produces durable and true-to-life, vibrant colours that can be pantone matched, so it is a good choice if you wish to match a design to your brand colours. There are several different types of ink that can be used and can be a good option for sustainable T-shirt printing.
Due to the nature of the screen printing method, it is best suited to less complex designs with fewer colours, however, it becomes extremely cost effective on orders over 50 units and can be applied to almost all types of fabric.
How It Works
Vector artwork is transferred onto a mesh screen by using light and chemical emulsions
The screen is placed on the product and a squeegee is used to push the ink onto the fabric
The product is moved under a flash unit to dry
The process is then repeated until the design is completed
The cost increases with each additional colour applied so it is less cost effective on smaller volumes or designs with lots of colours
Screen Printing Is Right for You If:
You require 50+ units of the same design
You have a simple design with few colours
You require pantone matched colours
DTG (Direct to Garment) Printing – The Best Print Method for Small Orders or Complex Designs
Direct To Garment T-shirt printing is a lesser-known printing method as it is relatively new in comparison to screen printing or embroidery. Inkjet technology is used to print high-quality, photographic prints onto garments and is the best option for complex designs with an unlimited amount of colours.
DTG rivals the quality of screen printing, with many preferring this print method to screen printing due to its softer finish and great durability. However, it is only suitable for products with a high cotton percentage as the inks will not stick to polyester or synthetic fabrics. It is also ideal for smaller orders as there are fewer steps than with screen printing, keeping it cost-effective.
The quality of DTG prints can vary vastly depending on the machinery used, with high-quality machinery costing upwards of £250,000, it is important to use a printing company that has this technology available or the results may not be as vibrant as promised.
How It Works
Derived from the domestic inkjet printer, the machinery is much larger and prints directly on garments
The ink is embedded into the fibres rather than sitting on top
Gives a soft finish that cannot peel off
DTG Is Right for You If:
You require less than 50 units of the same design
You have a complex design with many colours
You disklike the texture of screen print or transfers
You require photographic prints
Digital Transfer Printing – The Best Print Method for Sportswear or Synthetic Fabrics

Digital transfer printing combines the bold colours of screen printing with the ability to print onto almost any material. Screen Printing and DTG produce high-quality prints however, they work best on high percentage cotton garments. Digital transfer prints can be used when printing onto polyester garments such as waterproof coats or sportswear.
Due to the process, digital transfer printing is suitable for either simple or complex designs and can be used on low quantity orders which is perfect if you require individual, personalised sportswear or school leavers products. This method gives the prints a plastic feel as they sit on top of the fabric rather than being injected into it, however, the technology means that they are highly durable with the right care.
How It Works
The design is printed onto transfer paper
A heat press is used to transfer the design from paper to garment
The design is bonded to the garment rather than sitting within the fibres
Digital Transfer Printing Is Right for You If:
You have a small order quantity
You require individual personalisation
You are printing onto materials other than cotton
Your designs are simple or complex
Vinyl Printing – The Best Print Method for Simple Designs Onto Synthetic Fabrics
Also known as CAD-Cut Printing, Vinyl printing is similar to digital transfer printing. This method is most suited to products that require individual personalisation with numbers, names or job roles such as sports team uniforms, construction worker uniforms or university societies. These prints are very durable and can be placed on synthetic materials such as hi-vis workwear, hard hats and nylon.
Conversely to digital transfer prints, vinyl printing is only suitable for simple designs with 1 or 2 colours.
How It Works
Artwork is digitally traced into CAD software
A digital cutter then cuts the design out of a sheet of coloured vinyl
The vinyl is removed from the backing sheet and heat pressed onto the product
Vinyl Transfers Are Right for You If:
You have a simple design with 1 or 2 colours
You need individual personalisation
You have a small order quantity
Dye Sublimation Printing – The Best Print Method for All-Over Printed T-Shirts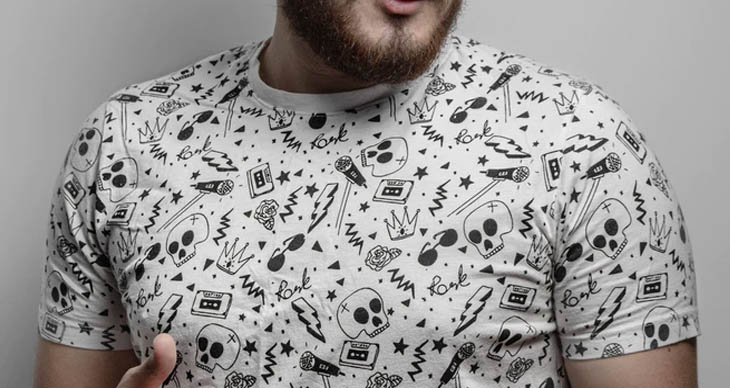 Dye sublimation printing is a unique method that allows an all over print on a garment. This style of printing has taken the fashion world by storm however, we are seeing an increasing amount of interest from businesses looking for staff uniforms and for band merchandise.
Dye sublimation is the only print method that can give a front and back all-over print. Additionally, as the ink fuses with the fabric, the garments have a soft touch feel and the design will not easily fade or peel off.
This method is best suited to 100% polyester garments as sublimation inks will not stick to cotton, therefore, the products that are suitable for dye sublimation are limited in comparison to other techniques.
How It Works
Artwork is digitally printed
The dye-based ink is heated causing it to change state from solid to gas and back to solid
The dye in gas state joins with the polyester in the garment to become part of the fabric
Dye Sublimation Is Right for You If:
You require an all over print
You have a simple or complex design
You have a small or large order quantity
Embroidery – The Best Production Method for Durability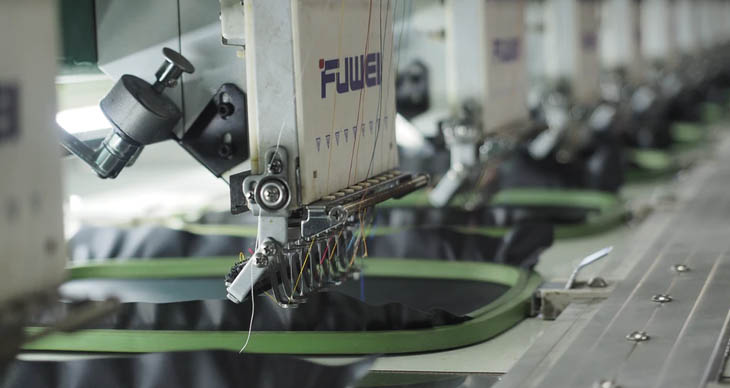 Embroidery provides a high-quality and professional look on any garment, no matter whether it is used for a small logo or a large 'feature design'. Commonly used in the workplace, typically on polo shirts, embroidery is becoming the go-to method for branding and fashionable clothing lines.
This is generally the most durable decoration method, however, embroidery can be a little pricey in comparison to print and is most cost-effective on larger orders.
The most suitable design for embroidery is a simple one with fewer colours. As embroidery uses threads rather than ink, intricate details in the artwork can be lost. The colour of the threads will be matched as closely as possible to your design however, it is not possible to Pantone match them.
Embroidery for large designs can also become very heavy and uncomfortable for the garment wearer. Larger designs should be printed if on a lightweight garment like a T-shirt, however, they can be embroidered on heavier products such as hoodies or jackets.
How It Works
Artwork is digitised in a suitable format
The design is loaded onto embroidery machines
High Tech embroidery machines automatically sew the design onto the garment
Embroidery Is Suitable for You If:
You have a larger order quantity
You require a durable and professional design
You have a simple design with few colours
Print Methods Overview 
The table below provides a brief overview of the information outlined above, to help you quickly and easily compare the differences between each of the print methods.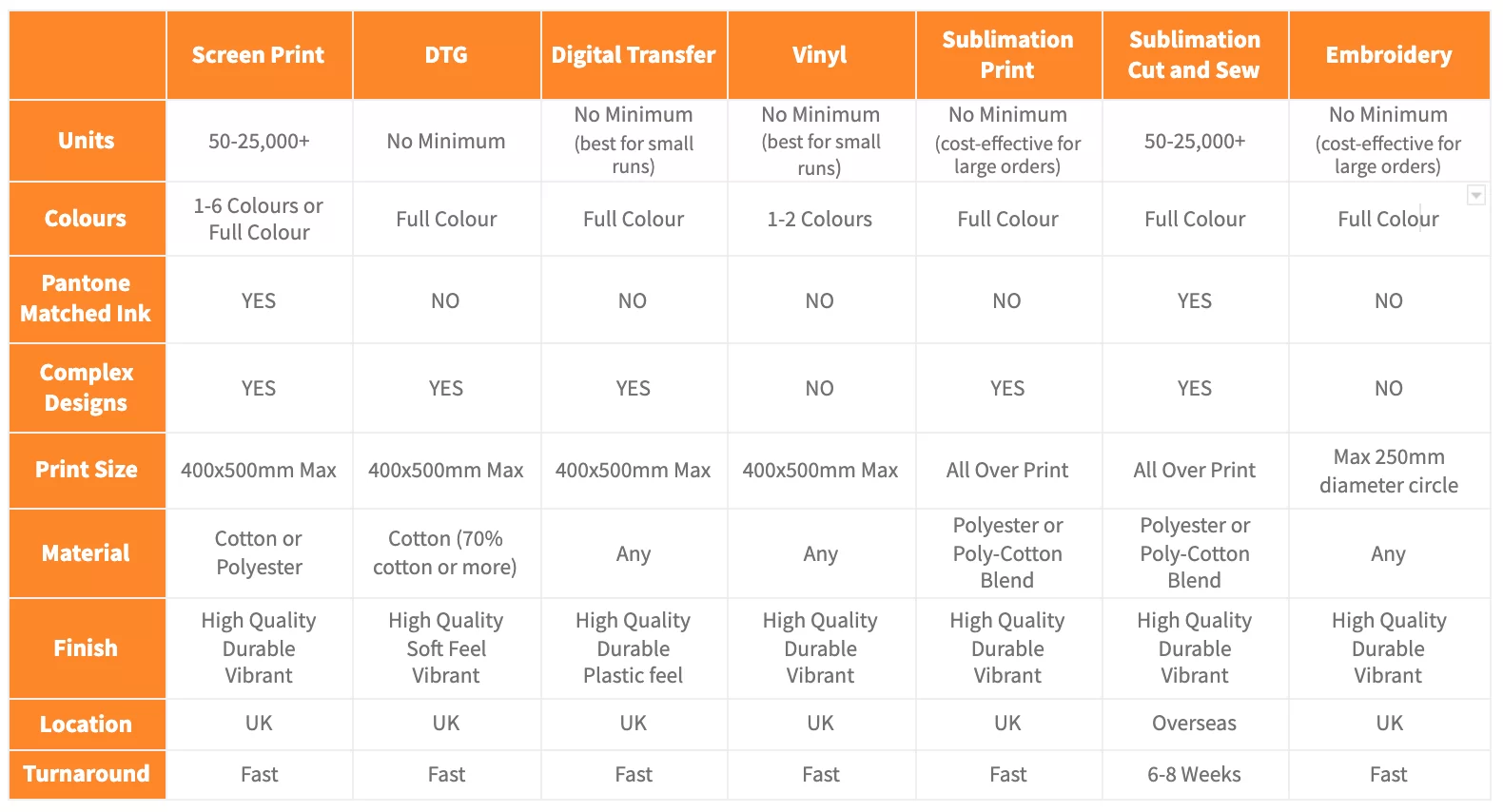 What Is The Best Print Method for Custom T-Shirts?
Ultimately, there is no one-size-fits-all method when it comes to printing or embroidering a design. There are intricacies in the rules that require all orders to be taken on a case-by-case basis to find the right print method. Often, people will have a firm idea of which print method is right for them and later discover that there is a better alternative available, therefore it is important to be open minded. Our in-house designers and account managers will help you to find the print method that will produce the most high-quality and cost-effective results for your needs.
If you'd like to discuss the best method for your logo or design, send us your requirements and our expert team will be able to help you select the best print method for your order. Alternatively, if you're looking to make an order of fewer than 25 products, you can buy your custom T-shirts online. Our expert team reviews EVERY single order, so you can rest assured if there is a more suitable print option for your design we'll let you know before anything goes to production.