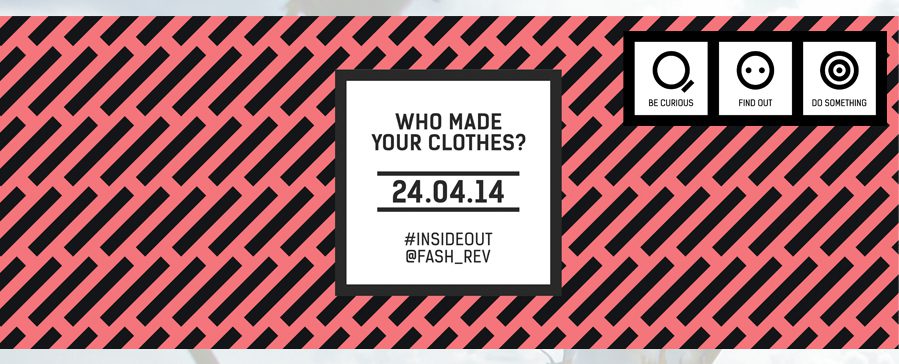 On 24th April last year, a disaster occurred that struck many in the world by surprise. The collapse of the Rana Plaza factory complex. For those aware of the horrendous conditions in the fashion industry, we knew it was only a matter of time before something of this scale occurred, waking the world up to the realities behind their clothes. 1133 people were killed and 2500 left injured, as a result of the poor conditions, conditions no human being should be forced to work within.
The one thing that this event did bring is awareness of the harsh reality, of which was presented on a global scale. In the wake of this disaster a global movement has formed, working to create change, ensuring those producing our garments don't just get forgotten. This year on 24th April, Fashion Revolution Day will be held; where millions around the globe will be holding events to mark this anniversary, as well as to mark a point of change, for the better. Furthermore there will be numerous events and activities taking place in the lead up to the day, helping to really bring the issues to the forefront and help encourage tangible sustainable change in the fashion industry.
Fashion Revolution Day, will be held each and every year to keep the most vulnerable in the supply chain visible and in the public eye. Ensuring the unsustainable, unfair fashion industry doesn't just carry on.
Many have lost the connection with the supply chains of products they buy, they don't know about how the products are made or where. Nor do the public know about the conditions the clothes are made in and the harsh chemicals used within them. Fashion Revolution Day is here to celebrate change and using fashion as a positive.
A.M. Custom Clothing was founded with the goal of maintaining the highest ethical and environmental standards, whilst also bringing the best quality across a range of fashionable products. The company now stands as one of the UK's leading ethical and eco friendly custom clothing suppliers. We ensure all of our garments are made in the most ethically sound conditions, with all of our standard lines accredited by external organisations; ensuring our ethics are not just wishful thinking, but a guarantee. We furthermore strive to be as transparent as possible, which is why we have opened up our supply chains across a number of our leading product lines. This ensures you can see exactly where your products are coming from and the journey from the cotton fields to your shelves.
We strive to make a difference and aim to lead and encourage the rest of our industry to do the same.
If you would like to find out more about Fashion Revolution Day or want to get involved, please head over to their website, help be a part of the solution.