1) Can you tell us a bit about how you got started as an Artist and your journey so far?
I graduated from Humberside University in 1990 with a degree in Graphic Design, specialising in illustration. For several years I worked as a freelance illustrator for various publishers, including the BBC. However outside of illustrating I continued to explore my own ideas, through painting. Following an interview for some illustration work at Faber & Faber in London in the mid 90's, I left my portfolio on the tube. This was the catalyst for a determined change of direction. I immediately gave up freelancing, moved to London and got a job as a Park Keeper for Camden Council, followed by a position as a Guard / Emergency tube driver on the Northern Line. At the time I was one of only 6 women front-line staff at the depot. This job supported my growing art practice and because of working ships allowed me time to experiment with my art.  Working on the underground also gave a sense of being a small cog in the wheel of the beating heart of an epic metropolis. It provided invaluable life experience, often seeing life at its best and worst. When my family moved from Scotland to Northumberland, I left London in 2003 to join them and become a full time artist.  Since then I have been exhibiting my work in group and solo exhibitions, making products, delivering Biro drawing workshops to all age groups and in schools, and also making work to fundraise for conservation organisations.
2) What inspired you to start your business, and how difficult was it to get it off the ground?
One of my exhibitions was an installation called 'The Woodcutter's Cottage' at The Mercer Gallery, Harrogate. The Woodcutter was an avatar I created, a hermit who sits at the edge of Europe's forests making art and objects in response to all he sees; war, peace, nature, destruction and beauty. I made many objects for the exhibition including 'The Wolf's House' which was an interpretation of a cuckoo clock.
Perhaps an unhealthy penchant for collecting ceramics inspired me to make a series of Biro drawings 'In Homage to the Last Great Carnivores of Eurasia' created as designs for a set of fine English china plates, as part of the instillation. This series highlights the majesty of some of Europe's beautiful predators such as Amur leopards and Siberian tigers and the reasons for their decline. I wanted the plates to be made in the UK as well as a high end product, so worked with a prestigious ceramic manufacturer, the New English from Stoke on Trent who made the plates for exhibition.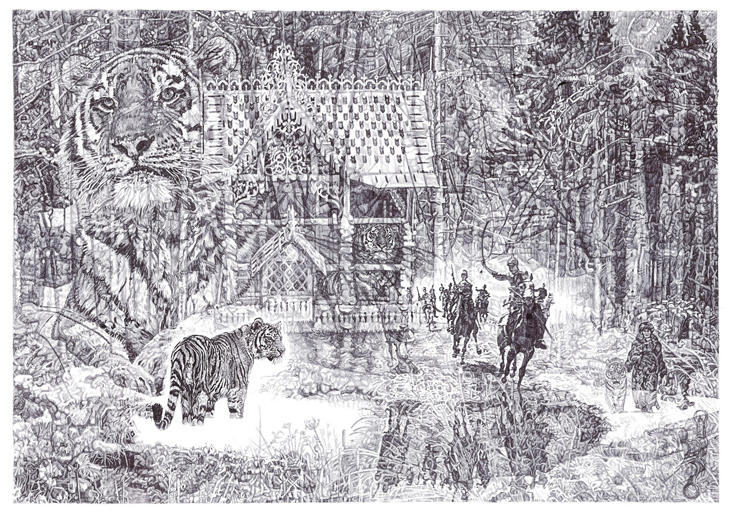 Shh, it's a Tiger! 2012 Biro drawing In Homage to the Last Great Carnivores of Eurasia Series
Following the exhibition I decided to release the plates as limited edition pieces.  This was really the starting point for becoming a product designer as part of my art practice.  Last year I released a set of six fine English china mugs to accompany the plates.  Both plates and mugs are currently in store at Wolf & Badger's US flagship store in New York.  It has been an incredibly hard learning curve both in terms of learning about manufacturing and financing the work particularly as I choose to make high quality products.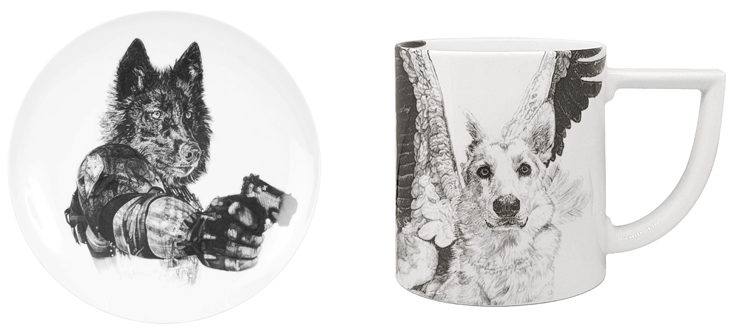 Revenge 2013 fine English china coupe plate; Sweet 2018 fine English china mug
In Homage to the Last Great Carnivores of Eurasia Series
3) Tell us about your influences, and how you developed your unique biro drawing style?
When I worked in an office in London, during my lunch breaks I used to make small pieces of art drawn in Biro on Post-it notes. Following my move North, I picked up Biros again and began to study the old master's drawing techniques. By 2008 I had settled on the Biro as my chosen medium as well as reaching my art practice's main objective, to explore loss generated by human destruction and create memorials to lives lived, both human and animal, and lives lost. Inspiration came from my interest in war, the environment, films, travel as well as fairy tales.  Personal possessions and individuals from my life also feature in my work.
I often draw layers of images as if projected on top of each other. My working method also involves photographing films as they play on my TV screen to capture inspirational images that add movement and aim to generate a cinematic quality within my work. I draw what I see, which is why my drawings often contain pixilated patterns and screen lines. All my drawings are full of symbolism.  They take weeks to research and months to draw. Russian Doll 2009 Biro drawing symbolises violence against women being used as a weapon of war and also features a self-portrait.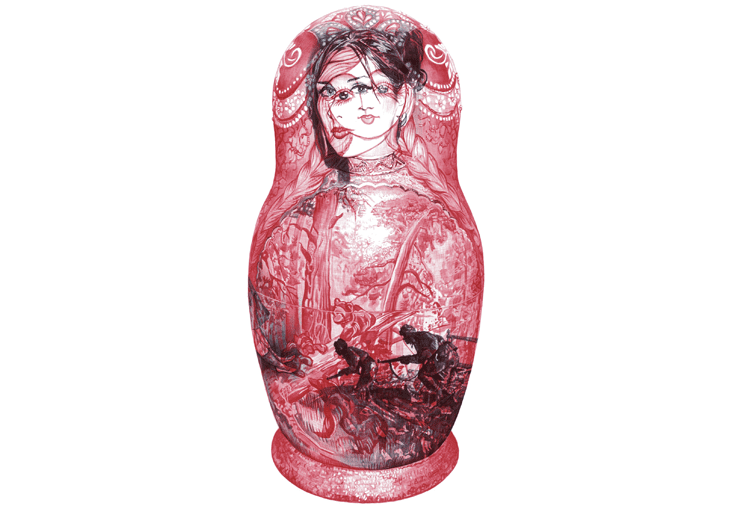 Russian Doll 2009 red, blue, green and black Biro drawing
Destruction of the environment, particularly endangered species is something I often explore in my practice. I have made a lot pieces that feature endangered species. Since I was a child my sadness and concern for the decline of many species, has influenced a philosophy that using images of endangered species in my work warrants giving something back to them. I took a year out in 2014 - 2015 to make Biro drawings for conservation organisations to sell in fundraising auctions, and continue to do so aside from my own work.
Butterfly Lover 2014 black and neon orange Biro drawing for Save Wild Tigers
4) Do you have any top tips for young artists looking to get their work or products stocked in shops?
Determination, never give up! You will always face rejection, which is very hard but try and prepare for it. Try not to take it personally. Keep pushing. As I live in the North East I had the idea to make a drawing for a T-shirt design of Newcastle, inspired by the city and football club, many years ago. I contacted people with the idea but got no interest. I kept the idea alive in my mind and the idea grew into a city inspired project. Then last year I pushed ahead, made the drawings, which took 6 months to draw and then the designs. Despite adversities, I now have a new collection for two cities, Newcastle and Sunderland, which include T-shirts manufactured by A.M. Custom Clothing, posters and limited edition prints. I have just gone into partnership with Newcastle United Foundation where 5% profits from the sale of Newcastle T-shirts will go directly to the foundation. If you believe in your product and others around you believe in it, keep believing!  It's a long road and be prepared for it to take time, but you will get there if you keep persevering.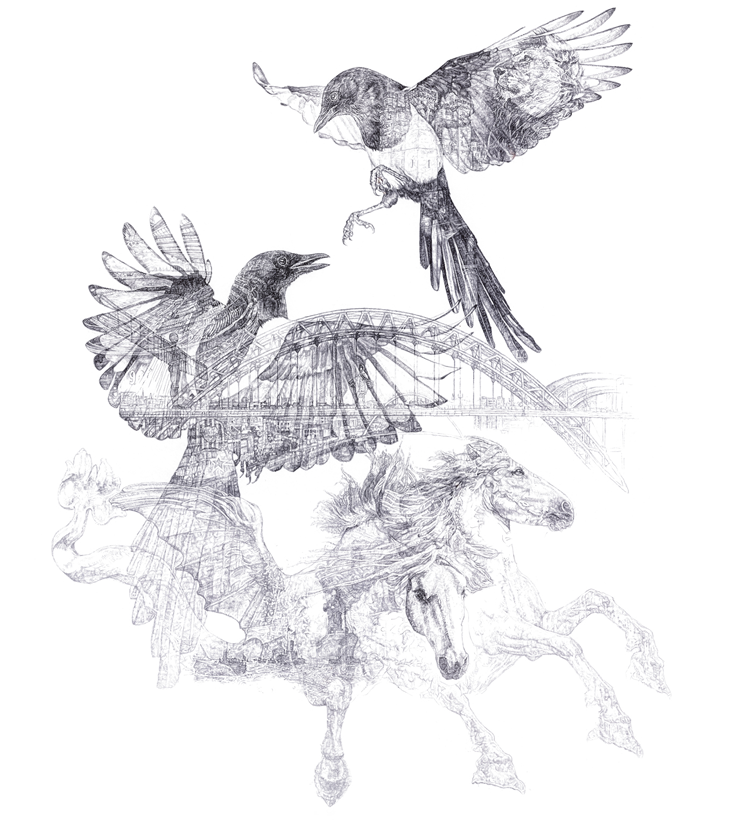 NEWCASTLE 2018 Biro drawing
5) What's the most important lesson you've learnt while running your business?
I think communication, patience, honesty, belief and perseverance.  Things don't happen overnight! From inception to completion of a project, particularly if it involves manufacturing it all takes time. You have to keep pushing to get a project finished but also be aware that everyone is busy and juggling work. Good communication is also key. In my experience being honest really helps achieve high standards and builds good working relationships. Having really solid friends and family around you is also helpful.  Ask for honest opinions from those you trust. If you ask for advice take it on board even it's hard to hear.  Take a step back but ultimately go with your own instinct.   And be prepared to work really hard!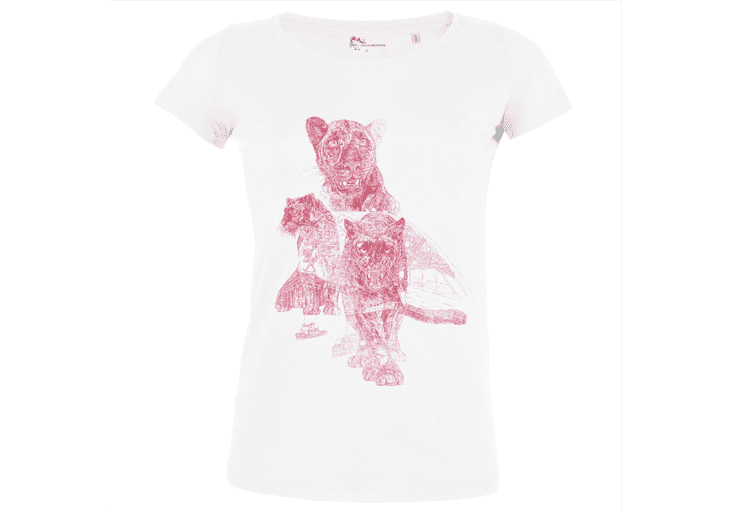 SUNDERLAND

 

2018 Women's 100% organic T-shirt
6) How do you use A.M. Custom Clothing products for your business?
A.M. Custom Clothing manufacturers high quality, digitally printed 100% organic cotton T-shirts for my I LOVE THIS CITY COLLECTION. As my work is very detailed with tonal variation I am thrilled with the quality and workmanship of the digital printing they have achieved for my collection. I love their ethical and eco-friendly approach too, something that is very important to me. I am currently exploring a separate range of T-shirts using other designs to be manufactured by A.M. Custom Clothing.  They are also brilliant at communicating and take such pride in getting the product just right for you.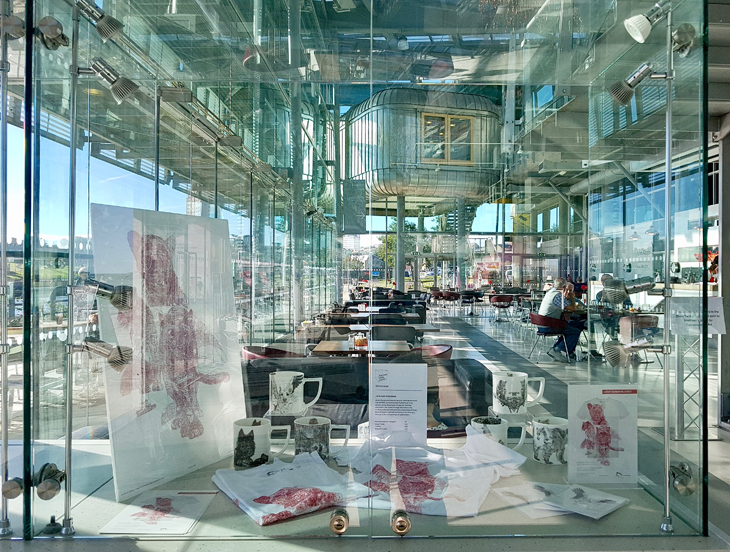 SUNDERLAND

 

COLLECTION including T-shirts at the National Glass Centre
Jane Lee McCracken
Inspired by Jane? You can view more of her work on here website here.
You'll also find her beautiful t-shirt collection in her online shop, alongside many other stunning products.
* Sign up to our newsletter, for the latest news, resources, inspirational interviews and exclusive discounts.
If confirmation doesn't arrive in your inbox following subscription check your spam/junk mail.