Case Study
Green Chester - Chester University
We love getting creative, as well as others who share our passion for the environment and ethics; so when the University of Chester's Green Chester campaign got in touch with us to source and design them a range of t-shirts we were eager to get involved! Especially as Green Chester is the University's campaign designed to drive environmental sustainability at the University of Chester.
We were initially approached by them for a small run of T-Shirts, to be used for the Universities Environmental Champions; as a reward for their commitment to Green Chester, and all of their hard work throughout the year. We managed to have some fun, producing some great artwork that went down a treat with students and staff alike. As well as sourcing Climate Neutral, Organic Tee's, allowing Green Chester's products to really stand by their values.
The fashionable design meant that we had a t-shirt that was desirable to wear out and about, rather than something to lounge around the house with. This meant that Green Chester created itself some walking billboards in and around campus, helping to create brand awareness.
We're now looking forward to working with Green Chester on their next campaign!
Alice Rose Elliott- Sustainability Manager, said
"Sustainability is at the heart of what we do so it is important for us that the Green Ts we provide for our volunteers are sustainable and reflect our principles. A.M. Custom Clothing's solution ticked all of our boxes, making them fashionable as well as organic, ethical and having 90% reduced CO2 emissions."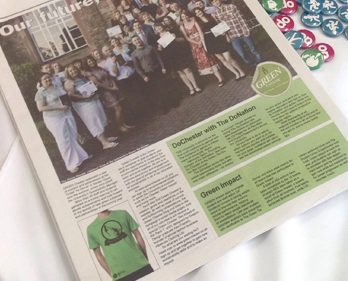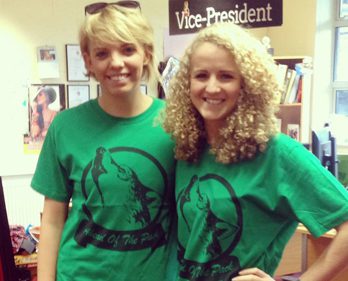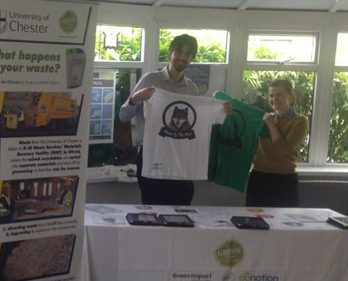 Case Study
Endeavour Society - Chester University
We're really keen on working with young people and societies, and are heavily involved ourselves in a number of student and University initiatives. We've helped with 'bootcamps' and 'boiler rooms', providing support to students wanting to pursue careers in business, as well as having delivered talks on entrepreneurship & sustainability in business at number of Universities across the country.
So we were delighted when Chester Endeavour (the University of Chester's entrepreneurship society) got in touch with us. As an innovative forward thinking group they immediately saw our products as an opportunity, and invested in a number of them. They went on to use our products in a marketing campaign to raise awareness of their core project, Mission Moscow. Allowing them to provide walking billboards with students involved having the projects branding and design work on t-shirts. This gave the project some great exposure across the University, and the local area, as well as providing those involved with something to have, creating a sense of belonging amongst the students involved.
They chose to print onto our Organic range, providing soft products that are kind to the skin, as well as produced ethically and without harsh chemicals.
Tom Haworth - Vice President
"Chester Endeavour has been keen from day one to provide a sense of belonging with students, but it has often been difficult. Our Mission Moscow t-shirts were a great way to tick several boxes, we got brand exposure, marketing and created a buzz on campus; all this from just a t-shirt! We'll definitely be back for more next year."